I've spent the past 6 years helming a SaaS (software as a service) product – SocialPilot and the challenges I face while marketing the product are quite different from those that other types of companies face.
If you run a SaaS company or are responsible for its marketing operations, I am sure you would understand and face similar challenges.
A few challenges I face on a daily basis are quite unique and thus require a novel approach dedicated to SaaS social media marketing. Why?
For one, it isn't easy for me to market and advertise on every platform.
Two, the digital nature of the product makes explaining SaaS to people who are not familiar with it is a daunting task.
Three, there are many SaaS products on the market today, and quite a few of them are the product's direct competitors.
Given these unique challenges, SaaS companies need a unique SaaS social media marketing strategy – a strategy that'll emphasize the value their products provide to the customers and gain the desired traction from social media.
In this article, I will use some marketing examples of SaaS products to suggest helpful tips on how to grow your SaaS business and show you why social media marketing tools can prove indispensable in the process.
Pre-Launch Strategy
The first question you need to ask yourself is what you want to achieve with the launch.
What is the purpose of your product? Its desired impact?
The next step is identifying your USP (Unique Selling Proposition).
Do comprehensive research of the competition and see what makes your product unique. It's most important to identify the problem your USP can help resolve.
1. Identify and Understand Your Target Audiences
Take part in meetups and online discussions connected to your product and the industry as a whole.
Look for target audiences on- and offline, and talk to competitors' customers to learn what they perceive as the pros and cons of the respective product.
For example, Fieldboom, a SaaS point solution, purchased Facebook Ads targeting customers of SurveyMonkey, a leading company in the niche. They used the following ad: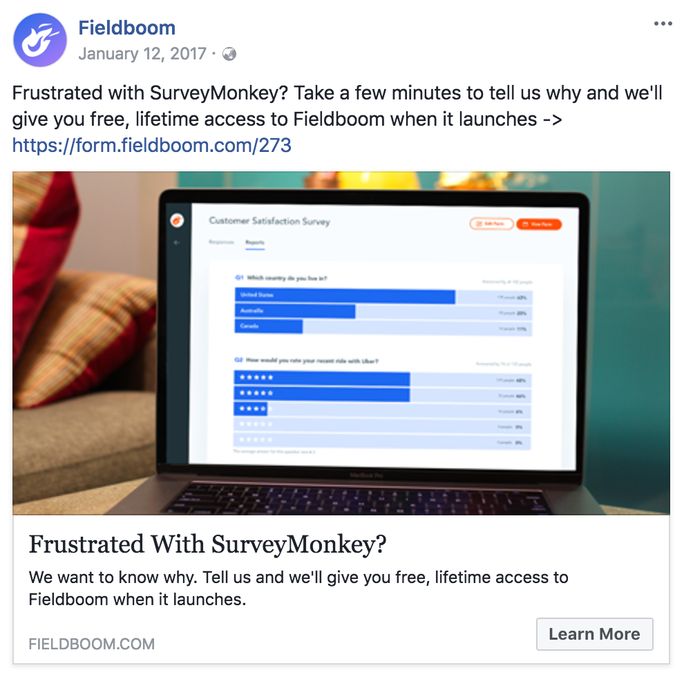 It wasn't difficult to reach out because SurveyMonkey had around 200,000 followers on Facebook at that time.
When customers clicked on the ad, they were led to a survey. The survey included questions such as whether they were currently customers of SurveyMonkey, what they liked the most and the least about this tool for SaaS, and what they would like changed about it, if anything.
Finally, respondents were asked to provide their first name and email address.
Fieldboom collected hundreds of responses and saw the possibility to focus on the simplicity of their product and automate a lot of the manual work.
Out of the hundreds of respondents, 8 agreed to pre-pay for lifetime access to Fieldboom at a discount, and did so. Each person paid $200, so Fieldboom generated earnings of $1,600 in just one day and obtained proof they were "on the right track."
2. Set a Definitive Launch Date
…but don't do so before you can make a minimum viable product available. Also, consider the potentially seasonal nature of your SaaS and take other launch dates into account for SaaS social media marketing.
3. Use a SaaS Social Media Calendar
These are internal tools that let you plan, create, assign, and schedule content that you will be posting to different social networks. A social media calendar helps you keep all your social media marketing activities in sync in a timely manner. But don't post everywhere – focus on the social platforms that are suitable for your SaaS product.
4. Determine the Most Effective Social Media Channels
The warning against putting your eggs in one basket does not apply to social media. On the other hand, spreading your resources thin on diverse platforms will incur financial losses.
So, choose only the key social media platforms and join existing conversations to find leads. Ultimately, transitioning to email subscription should be your objective.
5. Generate Curiosity for Your SaaS Product
Create curiosity about your product by being active in social media groups, topical forums, and Quora. If you give helpful answers, Q&A sites and forums can generate traffic over a lengthy period of time, as can blog comments.
Refrain from the urge to promote – let your profile links do the talking.
You could use a viral signup form. This involves getting people to sign up to use a free trial. This approach has increased overall signups for some SaaS businesses by encouraging word of mouth.
Zoom's social media campaign contest and giveaway is a great example that the company introduced during Covid-19.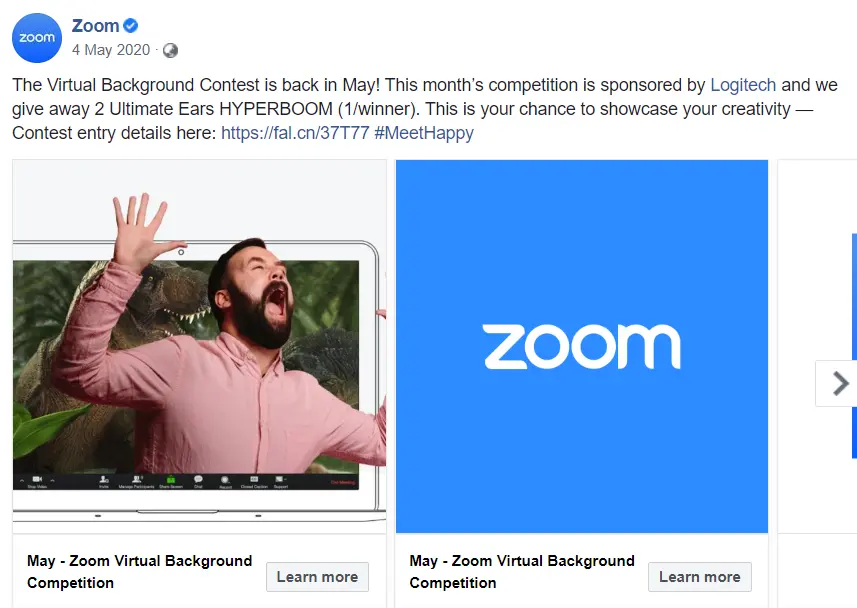 6. Develop Compelling and High-Quality Content
Gary Gaspar (the founder of Marker.io) is an example of how significant quality content can be.
When Marker started out, they got just 20 upvotes and 2 comments on ProductHunt.
For the second launch, Gary and his team created a highly detailed action plan, made shareable demo videos, and sharpened their copy and visuals.
The outcome?
They got 600 upvotes in just one month. What's more, around 3,000 people signed up. Here are 12 tips from Gary for your pre-launch SaaS social media marketing strategy.
7. Build a Social Community of Early SaaS Adopters
You could do this after acquiring leads by using a social media scheduler for SaaS social media marketing.
Then, offer incentives like a discount, free lifetime use of the SaaS, or a reward to the first signups.
Keep leads and signups in a special list. Converting them into supporters of your brand should be your ultimate goal.
Your pre-launch leads are your biggest potential advocates and deserve VIP treatment. On top of their loyalty, they're likely to do you a favor by spreading the word.
If you're planning new features, your earliest sign ups might be the ideal testers.
Chanty, a SaaS tool which markets itself as a Slack alternative, has done an impressive job creating a truly engaged Facebook community of its early adopters.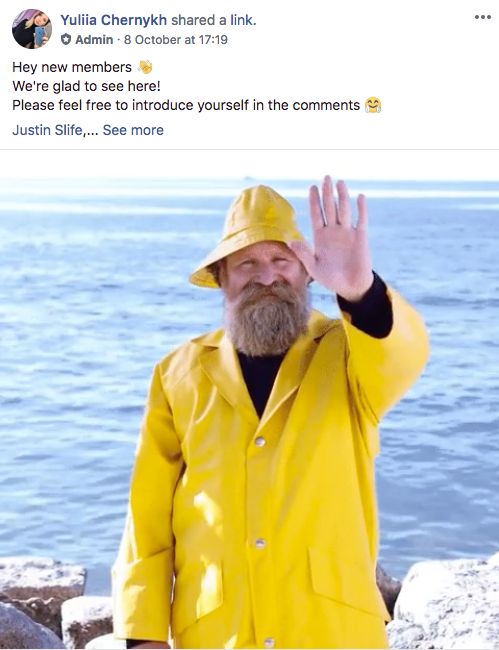 8. Thoroughly Test and Refine Your SaaS Product
There are many ways to make sure you're releasing a solid, reliable first version of your product. Test it thoroughly and fix any loose ends. The image below lists the steps: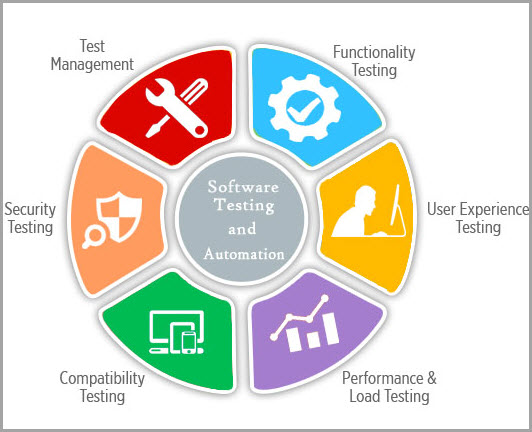 Post-Launch: Sustaining SaaS Social Media Marketing Momentum
An effective post-launch Saas marketing strategy involves providing great customer service on social media.
Complaints about poor customer service will reach a multitude of users at the speed of light, inflicting huge losses.
Data of global market research company Ipsos shows it costs 5 times more to acquire a new client than to keep a current one.
To keep your customers, they need to feel appreciated and satisfied. It's vital for a SaaS business to get customer feedback not only to prevent complaints but also to achieve continuous improvement of a product.
9. Collaborate with Influencers
Connecting with relevant influencers can be a key component of successful SaaS social media marketing.
Data of Advertising Age shows that 86% of consumers buying IT products use social media to help them decide on a purchase. A study by Dell found that more than 70% of B2B purchase decision-makers use influencers' posts on social media to make decisions.
Two of the top influencers today are Marc Benioff and Brad Feld. Benioff, an Internet entrepreneur, philanthropist, and former CEO of Liberty Software and Salesforce.com, tweets on all SaaS trends and news regularly.
So, here the key is to follow influencers, and if you want them to share your content, share theirs too.
10. Foster Ongoing Engagement with Your SaaS Community
One way to do this is by creating a blog after you've set up your marketing website.
Blogging is a fantastic way to increase awareness about your SaaS business.
According to HubSpot, B2B companies that maintain blogs generate 67% more leads than ones that don't. Blog content allows a company to infiltrate practically every community on the internet without looking promotional.
Share your blog posts on social media pages, syndication sites, and forums.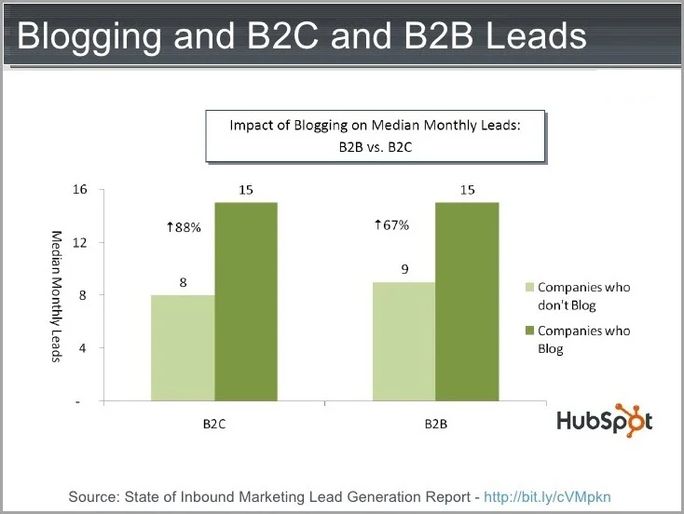 11. Identify and Address Pain Points
Try to find out what your target audience's pain points are.
What problems do they face? What efforts have they made to solve the problem? What solution are you proposing?
Point out how your SaaS will help them overcome barriers and resolve their issue. It's a good idea to create a list of ideas to communicate this idea across, including videos and testimonials.
12. Promote Exclusive Discounts & Offers on Social Media
Facebook is a great platform to promote upgrades and plans.
One way is by encouraging free trial subscribers to upgrade their accounts. You need to target custom audiences by email and retarget lists of people who have recently signed in on your site to their accounts.
For the latter group, you might want to run ads promoting the advantages and features of your paid product. You could also promote coupons and special deals.
Facebook retargeting is among the most lucrative campaigns. Ideally, you'd run retargeting campaigns via Facebook Ads platform.
Set them up as unique campaigns to track results easily.
Instagram has been around for a few years and has a big following. Its main audience comprises of teens and millennials.
Make high-quality videos, post images and create Stories to promote your SaaS product on this platform.
To manage your Instagram posting, use an Instagram automation tool and see how effectively your Instagram campaigns are managed.
13. Promote your Content on Social Media
Social media is absolutely indispensable to your marketing success with its over 3 billion users.
That's almost 50% of the world's population! Facebook has over 2 billion active users, so make sure you get a Facebook business page.
I also recommend creating a Twitter page to share updates about your SaaS product.
Post updates to your LinkedIn company page regularly. It's an excellent source of customers, especially for SaaS products. It enables you to promote your SaaS by publishing articles on LinkedIn Pulse, posting updates on your personal profile or company page, and sharing useful content with relevant groups.
Most startups open several communication channels and finds it hard to manage all of them. You can't be all over the place when you're launching a SaaS business!
You could use services like UserVoice to get feedback right then and there.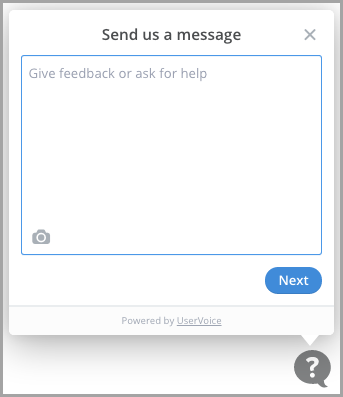 How Can SocialPilot Help?
Whether you are looking to build noise around an upcoming product launch or you are trying to get more people to interact with your content – promoting it on social media is a tactic that is virtually free of cost and effective.
If it is free, then why should you invest in a social media scheduler like SocialPilot?
Well, the short answer is you can't be omnipresent.
As a SaaS owner, the whole world is your playing field. So your audience can be either in a time-zone that's 7 hours ahead of you or even in a time-zone that's 10 hours behind you!
In order for you to cater to a global audience you need to take care of 3 things –
Be omnipresent – give the audience an opportunity to consume your content whether they're sitting in Australia or Northern Canada or India. Set up a schedule for sharing your content across various time-zones

Optimize your feed – deep-dive into your platform analytics and understand which type of content resonated best with your audience?

This would help you understand what form of content should you share across platforms. For Twitter it could be a GIF, for LinkedIn it could be an explainer video, for Facebook it could a carousel post.

Find your audience – you need to understand which platforms are made for your SaaS and which ones should you steer clear off. Once, you've identified your stars, let SocialPilot promote your content on those on autopilot!
14. Leverage Ads
You don't have to get it right in the first attempt. As you go along, keep optimizing your ads – sharpen the copy and visuals, target specific groups, and create better landing pages.
For your inspiration, here are two of my favorites:
Mixmax uses emoji in tandem with an image to communicate the space travel theme more effectively. Moreover, the benefits of the product become obvious.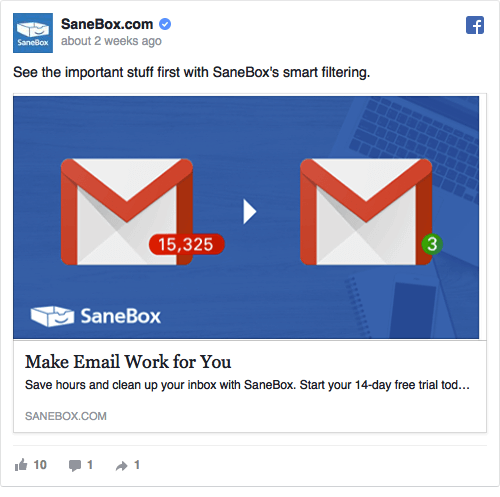 The colors stand out, and the ad succeeds in showcasing product value, seemingly without effort.
15. Choose the Right Tools
You have a lot to do. Hence, eliminate all those tasks from your to-do list which can be (easily and efficiently) with the help of tools. Here's a list of tasks I use tools for and to help get me up and running:
Tools for testing and deployment
Tools for team collaboration, documents, emails, and storage
Tools for designing
Tools to help with website analytics
A social media scheduler for managing social media efficiently
Content curation tools for discovering new content ideas
Conclusion
It's important for your SaaS business to make the most of social media marketing as it provides you with a great way to achieve your goals with minimum expenditure.
To cut down on your and your team's efforts and potential losses, look into social media management tools for SaaS that can prove extremely helpful and efficient.