Have you ever thought which social media channel is best for your business?
Well, of course, you would have!
Social media has given brands the power to learn on a first-hand basis about what is relevant to consumers, allowing them to build campaigns tailoring specific interests for relevant groups.
In fact, with the birth of social media channels, targeting prospective customers is even easier than ever!
But,
According to you, which social media platform will help you attract more audience towards your brand?
Well, here's an easy guide to help you choose which social media channels are best for your business.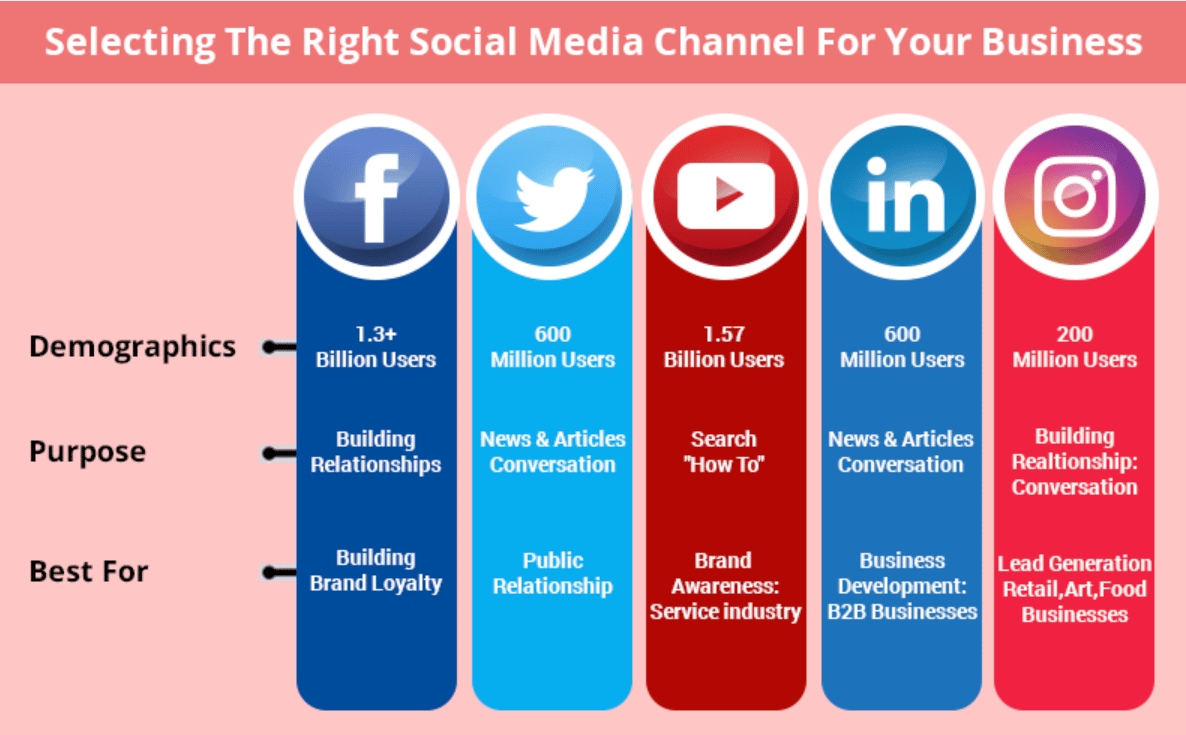 Let's prepare a hierarchy of various social media platforms that will give you a clear idea, which social media to opt first for your business.
Facebook
Facebook is by far one of the most powerful social media channels for businesses.
Well, you might be thinking that on what grounds Facebook is preferred, right?
With more than 1 billion users, Facebook allows users to connect with family and friends and to stay current on topics that matter to them. Not only that, within the last couple of years, Facebook has welcomed advertising, brand building and allowed the business to completely revolutionizing the way brands market to their customers.
In fact,
When asked the marketers their most important social media platform, 62% of marketers choose Facebook.
Well, these benefits of Facebook for business will help you know in a better way!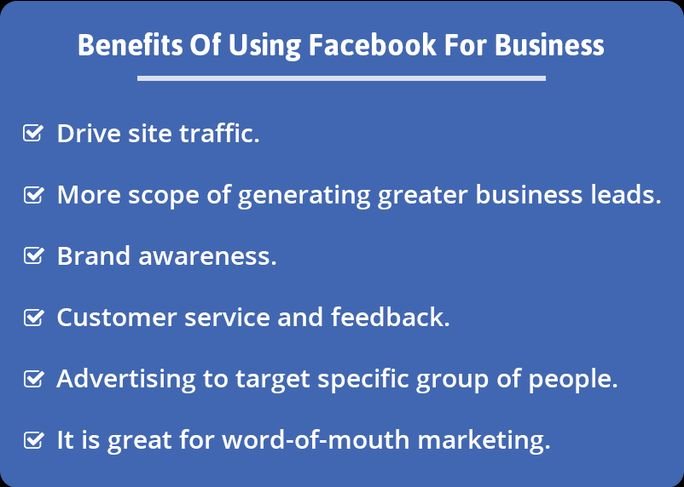 But, if you want to know the actual tactics to implement when using Facebook for your business, here are certain things you can do with Facebook…
Surprisingly 93% of social media marketers regularly use Facebook ads. You can create your ads by precisely targeting your group of the audience on Facebook. Even targeting interested people, connections, behaviors, and existing customers sound to be a great way to attract more followers.
Create Facebook business pages and groups to directly engage and connect with your audience.
Use mobile devices to advertise your business brand on Facebook.
You can strategize with creative and unique ad formats such as audience network, newsfeed, and mobile desktop.
Run Facebook ad campaigns with various objectives such as increasing brand awareness, growing local awareness, increasing traffic to your website, or lead generation.
Use advanced analytics and metrics to measure the performance of ads you ran on Facebook to know audience's interest.
So, before spending dollars on various Facebook strategies, try out these things. You never know these things can help you attract more organic traffic!
Twitter
With 330 million active users on Twitter, this social media platform is more commonly addressed as a "modern newsroom" of social media.
These days, Twitter has become a platform that you essentially need to be present on. In fact, there are a lot of blogs that are writing about how Twitter can be fruitful for business awareness.
In fact, Twitter marketing is called as the "Social Currency". Now you might come up with a question that what is social currency, right?
Well, basically it is the knowledge that people share with others on one social media platform. It refers to the actual potential of your business presence, which will benefit both your customers as well as your business.
But,
You might still have a doubt why to choose twitter for growing business?
Here are some reasons that can be considered as a great answer to your question!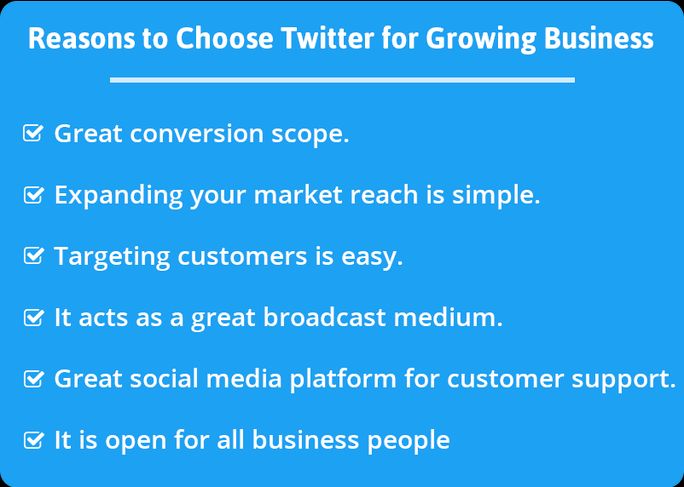 Although, if you're looking for a clear viewpoint, check out some of the interesting things you can do with Twitter for growing your business.
You can build networks with relevant brand advocates and influencers.
Improve brand awareness by communicating directly with your targeted audience by responding their tweets, mentioning them in your tweets, replying to their tweets, commenting and liking their response and more.
Build your brand image through customer service by responding to their queries and giving positive feedback.
You can measure the performance of tweet ads with the help of available metrics and analytics.
Indulge in the current happenings and the topics running in the minds of your users.
Implement and try using different campaigns for various objectives such as increasing traffic, accumulating high-quality leads to the landing page, etc.
LinkedIn
LinkedIn is a great social media platform for business to business marketing. With 500 million active members, Linkedin is a platform that allows you to target the audience of your niche.
Unlike other social media channels, LinkedIn prioritizes relationship more than any other platform. So if you want to get your hands on LinkedIn, it is better to build connection first than to directly lead with a sales pitch.
In a nutshell, LinkedIn is by far one of the most important social networks that can help you in reaching out business buyers and connect with professionals. Thus, you can consider LinkedIn as one of the prime B2B social media networks.
Well,
These 6 reasons for considering LinkedIn for business growth will assist you take your decision.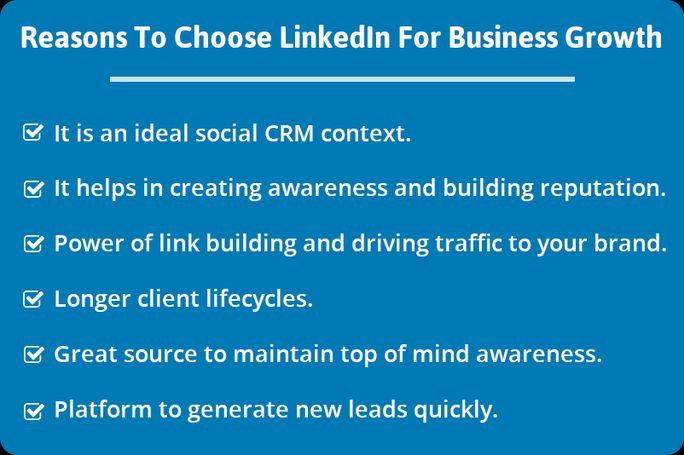 In fact,
To optimally utilize LinkedIn as a marketing platform, here are some LinkedIn marketing hacks you can implement for growing your business.
You can grow your email marketing list and create a draft saying thanks for being connected on LinkedIn.
Using sponsored updates of LinkedIn will help businesses to push their post up onto an individual's LinkedIn feed.
Post directly on LinkedIn and go viral. It is one of the most powerful tools and if your posts gain momentum, LinkedIn will put a spotlight on it, which can result in getting tons of views.
Joining LinkedIn groups or creating your own group will help you create a buzz about your brand and is also a great medium to know what your audience is thinking.
Create a company page on LinkedIn to tell your company's story, showcase your products and services, and to share updates with your targeted audience.
Instagram
Instagram is one of the fastest growing social media platforms with an extremely powerful social media presence globally.
It has more than 800 million active users, which definitely makes Instagram a worth social media platform for growing business.
In fact, research suggests that 1 in every 5 minutes of mobile user time is spent on both Instagram and Facebook. Well, as Instagram is a visual platform used for uploading beautiful pictures and videos, these days people are opting to Instagram for growing their business because the digits of the users speak for the platform.
The benefits of using Instagram will convince in a better way!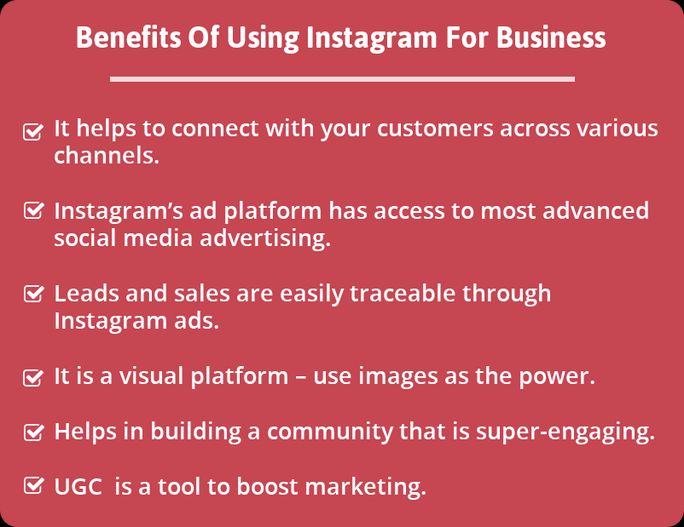 Here are certain things you can implement when planning to use Instagram for your business.
You can use in conjunction with Facebook to have an expanded audience set and unified management.
You can easily connect to your targeted audience through your official Instagram profile and engage more audience by following, liking their posts, commenting, and responding to their messages.
Instagram helps in driving high-level of brand awareness. You can also consider creating unique ad formats by adding compelling videos and pictures to attract more audience.
You can measure the performance of ads through data, which is available on Facebook.
Paid advertising on Instagram is worth enough because through advertising, there are more chances to grab your audience's attention.
Well, there are many social media platforms entering the industry every day, but if you will ask, which social media platform is the most relevant for doing or growing business then these social media platforms are best suitable for your question.
And it's a Wrap!
No doubt, social media platforms have become a medium to connect with people globally, but we cannot deny the fact that social media platforms have also become a medium for brands to promote their businesses.
And with so many options available on social media like Facebook, Twitter, Instagram, LinkedIn, Pinterest, and more, it has become difficult to choose the correct social media channels, right?
Well, you've come to the right place as the stated information will help you choose your ideal social media platform for business. If you have any stories or questions, let us know in the comment section below!