Most businesses commit the classic mistake of running Facebook ads without any serious thought on budget allocation and KPI planning. Everything is mere guesswork with flaky results and burnt pockets.
But Facebook marketing isn't as complicated as you think. Marketers are still using this social media platform to get qualified leads in mass. What's the secret weapon, though?
Facebook ad management software is the answer to this. It streamlines every step of your marketing strategy. In case you are wondering if Facebook ad tools are worth investing in, have a look at these social media statistics.
Facebook has 2.89 billion active users.
Facebook ads are displayed in the news feed of the right users, thanks to targeting options.
74% of users visit the platform daily.
To top it all off, Facebook can be a powerful selling tool, as 78 percent of American consumers have discovered products there. With all these compelling reasons for trying out Facebook ads, your only question should be: "How can I start?"
One promising way to begin is to use Facebook tools. Not only do they make it easier to manage the entire process, but they also save you money.
This blog will talk about 9 such Facebook ad tools to make your next ad campaign a roaring success. Let's go!
Best Facebook Ad Tools You Should Know
Trusted by 115,000+ online businesses, SocialPilot is an excellent tool for managing Facebook ads that work for solo entrepreneurs and agencies. When it comes to promoting your ads online, it's one of the most straightforward Facebook Ad tools to use on this list.
It literally takes a couple of minutes to add a Facebook account and get acquainted with an intuitive dashboard. Just connect your Facebook Ad account and manage everything using one menu.
In fact, many SocialPilot users say that the learning curve is surprisingly minimal, and they were able to achieve expected results pretty quickly.
The process of boosting Facebook posts with SocialPilot is easy. You don't have to wait for posts and ads to be published for boosting. Schedule them in advance and boost them even before publishing. This ability will save you time so you can focus on things that need your attention.
SocialPilot has powerful audience targeting options to reach Facebook users who are most likely to engage with your ads. Just select the audience you've targeted already or create new ones.
SocialPilot's powerful integration with Facebook lets you publish, boost and create a Facebook Lead Ad with a complete analysis. Get a complete overview of the engagement generated by your campaigns for improving them further.
Another important thing about SocialPilot is that it gives the user complete control over ad campaign options. You can adjust the duration of the ad, choose days to display them, change spending parameters, and make other changes to achieve the maximum impact.
But wait, there's more.
SocialPilot Features
Schedule and boost Facebook posts according to your social media strategy
Analyze and monitor the performance of ad campaigns with Facebook analytical reports
Choose from multiple ad goals to engage more Facebook users (Reach, Engagement, and Traffic)
Powerful targeting options to reach the right audiences (age, gender, location, demographic, etc.)
Optimize your campaign by defining custom budget, duration, etc..
Choose among 4 platforms to view ads: Facebook feed, stories, Messenger, or Audience Network
Pros
Easier to learn for first-time users of Facebook ad automation tools, thanks to an intuitive dashboard.
Quite affordable for small businesses when compared to other popular Facebook marketing software. SocialPilot's plan for small businesses costs only $29.75 per month, while AdEspresso and Hootsuite's small team plans cost $59 and $99, respectively.
Schedule Facebook ads to give them a boost later for efficient ad management.
Gives statistics for each ad account for measuring campaign performance.
SocialPilot User Reviews
Palak J.
A very easy and simple to use software. It helps you manage to post on all the social media platforms and get the analytics, respectively. You can also connect the Facebook ads account to it and manage the ads and posting from a single platform. I like the dashboard of SocialPilot and how it helps you group the social accounts of one client.
Travis R.
The price was extremely friendly compared to other options out there. It was able to accommodate a large number of accounts we managed and worked relatively reliably. Easy to set up.
Tal T.
What can you NOT DO with SocialPilot? The ultimate friendly all-in-one marketing platform, with features such as: scheduling, ads, analytics, social calendar and planner, URL shortening, content creation, and many great value tools. I highly recommend any marketer out there to check it out and give it a chance to prove its massive powers.

---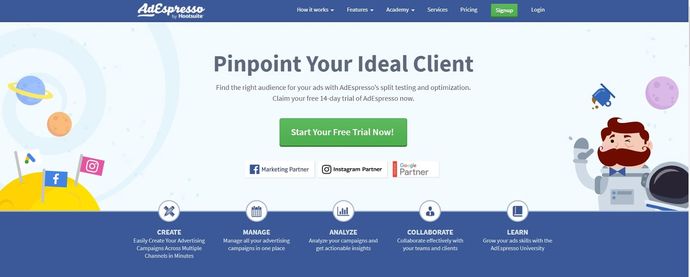 Another popular web-based Facebook ad manager tool, AdEspresso, is a comprehensive platform for businesses. Created specifically for creating, testing, and optimizing ads for social media, AdEspresso provides advanced options like generating custom PDF reports of each Facebook ad campaign.
With this Facebook ad tool, you can create complex campaigns and do a lot of A/B testing to find the best-performing versions. Running tests to check the performance of multiple ad elements is also available. For example, if the user adds different variations of one ad in the AdEspresso editor, the tool automatically creates split tests and runs them.
AdEspresso is a solid Facebook ad automation tool, but many users have reported some difficulties with campaign setup and testing. AdEspresso doesn't allow ads to be added to a campaign once it's submitted to Facebook, which slows down the process of campaign creation. Also, some users have found AdEspresso's customer support unhelpful in resolving critical issues.
Pros
Professional campaign testing options to define best-performing variations
Auto-generated PDF reports with campaign performance
Useful analytics that provides more data compared to Facebook Ad Manager
Stats on worst-performing Facebook ads
Emily M.
The best thing about AdEspresso is that it allows you to create ads from different platforms in one place. Monitoring the ads is easy since they are organized in a single panel, and visually it is easy to see the performance of each ad.
Cons
Numerous reports of unhelpful customer support in online communities
Need to create audiences manually
Free trial available only with credit card
Compared to other similar Facebook ads analytics tools, the overall cost rises as the user spends more
Verified AdEspresso User
Its price is high; it does not offer high-level functions that justify its price. Outside of being able to organize each ad in a single panel, I can't get more out of AdEspresso.
---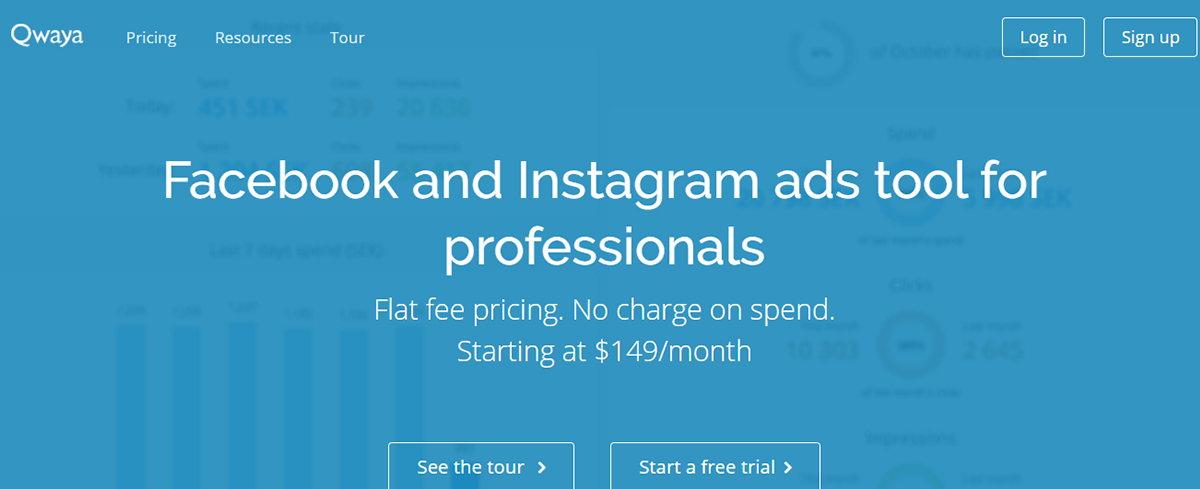 Qwaya is another popular Facebook ad management software to manage and optimize advertising on Facebook. It is created specifically for professionals. This makes it more advanced compared to other tools on this list, including AdEspresso.
However, more features make Qwaya a bit difficult to use, especially if you're new to the world of social media advertising.
One of the best features worth mentioning is a superb audience A/B testing for generating an advanced report with a side-to-side comparison. Filter the results using different criteria to target the most promising audience for your campaigns.
The process of creating ads is fairly simple. All you need to do is click through a special menu. A collection of ad templates is available to help you with the design. Qwaya also has a target audience search engine that finds relevant Facebook users.
Choosing Qwaya, however, is a good option only for those with years of experience with social media advertising. The app's advanced options could easily confuse beginners and those who lack much experience in the field. The focus on professionals also resulted in a very high cost of the tool, making it unaffordable for small businesses.
Pros
Powerful target audience search options are available
Simple process of creating ads for social media
A library of ad templates with customization options
Custom ad campaign automation rules (end campaign prematurely if the ads aren't converting enough)
14-day free trial available
Verified Qwaya User
I like that you can create templates and use those for your campaigns. You can easily publish 600 campaigns in an hour or 2. Doing it manually would take you ages.
Cons
Created for professionals and agencies, so can be hard to use for beginners and small businesses
Price is very high compared to other Facebook ads analytics tools (starting at $149 a month!)
User reviews suggest customer support problems
Verified Qwaya User
Horrible customer service, mediocre product. Terrible customer service; I got locked out of my account without a refund. When I was charged after canceling, they informed me that I had not canceled through their website (only via email), so nothing could be done so far as a refund.
---

Adroll is a Facebook ad management software designed for medium and large-sized businesses using automation and CRM tools. You can target specific audiences on Facebook at different customer journey points and get detailed analytics on campaign performance.
This Facebook ad automation tool supports single-image, video, and carousel ads. AdRoll offers a single format for the single image ads, which is optimized for use in all possible placements on Facebook and Instagram. As for carousel and video-based advertising, Adroll supports all available formats and provides best practices to follow.
The availability of the free version makes AdRoll an attractive option for businesses, but there's a catch. The tool was created for agencies and large businesses, which means it could be fairly complex to use for inexperienced users. It's common for many small businesses and beginners to start with free accounts and end up investing thousands of dollars on campaigns they weren't sure how to manage.
Pros
90-day free trial is available
Broad ad targeting capabilities
Easy creation and promotion of ads for both Facebook and Instagram
Simple setup of retargeting campaigns
Javier Z
AdRoll has been improving its capabilities and offering its users more ways to fulfill programmatic campaigns. Being retargeting, one of its best ways to make sure they are taking back their client's prospects to the things they are interested in the most.
Cons
Free version is very limited (no custom audiences, performance benchmarks)
Could be difficult to learn for beginners
Could be more expensive to use in the long term due to broader targeting options
Upfront monthly payments that make it too expensive for small businesses
Verified AdRoll User
Reporting is incredibly slow; UI can be slow, laggy, and unresponsive. Workflow generally is poor. Performance mostly is strong, but in deep dives, we've determined that AdRoll's remarketing is a bit aggressive and potentially overinflating conversions and revenue associated as it tries to take credit for conversions which in some cases it shouldn't.
---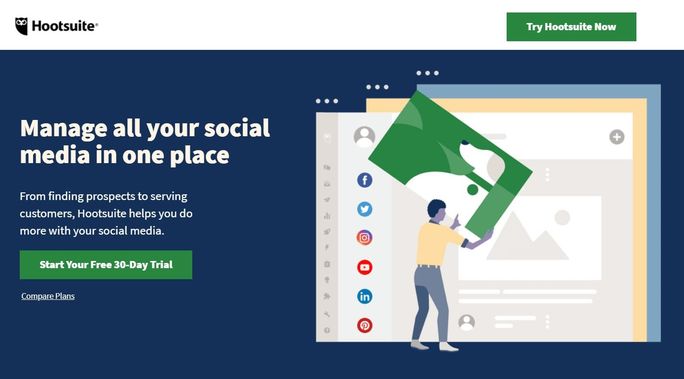 Hootsuite Ads is a known Facebook ad tool because it comes from Hootsuite, a popular social management platform.
Even if you have little experience with social media advertising, you'll find designing your first ad with Hootsuite Ads a breeze. It has a built-in tool for defining such ad characteristics as shape, photo, and copy, so you'll get a head start on that. Although the builder makes ad creation easy and fast, it's still recommended to write your own copy to make the ad more unique.
While being user-friendly in terms of ad creation and promotion, Hootsuite Ads can be a bit heavy on analytics. Moreover, the most affordable plan supports only 3 social media accounts, which could be not enough for a small business. That's why I'd suggest using Hootsuite alternatives like SocialPilot, which offers 25 accounts at just $50.
Pros
Feature-rich tool, suitable for use by large advertising agencies
Automatic scan of Facebook content to choose posts for promotion
Automatic creation of ads
Analytical reports on campaign performance
Difficult to access ad comments due to a lack of Facebook comment stream
Yaroslav K.
I have used HS for about two months as part of my work at the company, and I was rather happy with it. However, for my personal projects, I have stopped using it after finding alternatives. I have used Hootsuite briefly for some of my clients, and I was rather satisfied with the performance and the results. Hootsuite is pretty easy to use and comfortable to perform posting tasks.
Cons
Plan for 3 operators costs $129 per month
Hard to navigate, outdated design
Expensive compared to other similar Facebook ad tools
Highly detailed reports that might be too complex for beginners (Analytical reports cost extra money)
Rebecca F.
Its interface is not so appealing, and you have to spend much time to figure out the features; it is necessary to get to it through learning videos; only then can you create effective plans.
---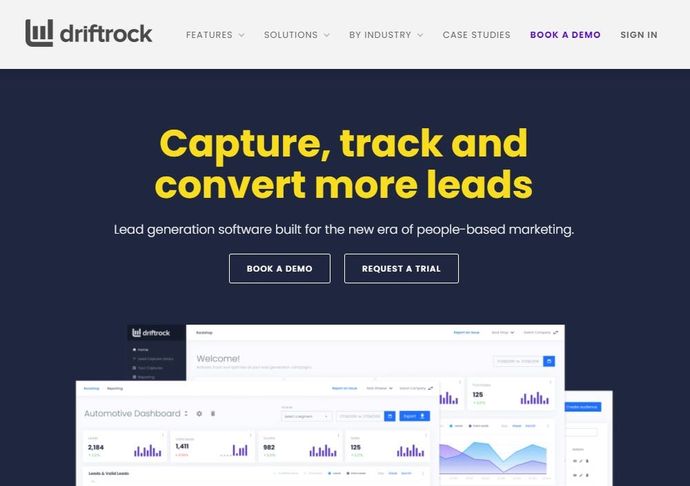 Driftstock is a Facebook ad tool for automating the process of creating ads. Overall, the process of ad creation and promotion is pretty straightforward, so you save a lot of time by optimizing these processes.
Thanks to the built-in Drfitstock Create, you can design good-looking ads in minutes and boost them on Facebook. In addition to Create, Driftrock also has Flow, a tool for the automatic update for Facebook Custom audiences and targeting similar audiences; and OpenBook, designed to run a detailed analysis for Facebook ad campaigns and define ROI.
The user of Driftstock also can have a custom bidding strategy and preferred payment methodology for ads.
What was really disappointing is the lack of free trial. Instead, the company invites you to book a session and use the demo version of the software.
To request a demo, one has to fill out a form (phone number and emails are mandatory) and wait for the review and approval by Driftrock. The demo is only a part of the session with strategy advice.
While demos are a legit lead generation technique, it seems a bit unreasonable to rely so much on it, considering that the majority of competitors offer free trials of their solutions.
Pros
Easy content reuse to create new versions of campaigns
Bidding strategy customization options
Easy creation of Facebook ads with Driftstock Create
Save targeted audience groups and apply all possible ad variations
Verified Driftrock User
It's super simple to set up. Within minutes I was able to start creating audiences. We have a tag-based CRM, so we are able to create a Google audience from anyone that completes the desired task on our site.
Cons
No free trial
Slightly expensive compared to other options; 2-month subscription to the most affordable plan costs $74 (the same features cost $50 with SocialPilot)
Outdated design, can be difficult to learn for both beginners & experienced users
Gets expensive very fast, especially if you have a large client database
Supports only the English-language interface
Jeff Chieh
It's an absolute mess of a product with horrible support. The constant failures aren't worth the headaches even if the service was free! Constant failures of syncing (which is what the entire purpose is). And techs that then blame the issue on user error when I haven't even logged into the platform for weeks.
---
This list would've been incomplete without this one. Facebook Ads Manager is a part of the general Facebook Business Manager and a native application that gives access to marketing tools for focused ads to reach specific audiences. In this standard tool, you can create, manage, and optimize your campaigns.
A beginner in Facebook advertising will appreciate that using the essential features is really easy. Thanks to a Facebook-like environment, frequent social media users should find the environment quite familiar. That's why many people often start with the Manager and later make a transition to more functional Facebook marketing software.
It's even possible to spend about $5 per day on Facebook advertising and get some results. You can set this budget, but also remember that you'll only pay more than your competitor by a penny. Let's say you set a bid to $3, and the highest bid from a competing advertiser is $1.50; you'll have to pay only $1.51.
However, the main problem with the bidding system on such a popular tool like Facebook Ads Manager is constant cost fluctuations. One day, $1.51 could be enough, but it's not the set-the-price-and-forget-about-it kind of deal. Just a couple of days later, the price can easily jump to $3.50, and there'll be nothing you could do.
Pros
Facebook-like dashboard for familiarity
100-percent free platform, pay for ads only
Add employees, advertising agencies, and even partners to manage the account
Provides an easy introduction to the basics of Facebook advertising
Complete visibility of pages and ad accounts you manage
Allows accessing all Facebook business apps in one place
User Review
Facebook for business has infiltrated the small business marketplace in a really impressive way; the first thing most new companies do is set up a page for their endeavor that can then be used to promote and share their services, products, or events. Likes and follows generate a buzz, enable reviews to further the shop's reputation, and in general carry the store further than word of mouth ever used to. That's what I appreciate and like the best – the universal nature of the process.
Cons
Difficult to set up for large businesses and agencies
Impossible to remove ad accounts
Thousands of reports of bugs, crashes, and other performance issues both with Ads Manager and the mobile app
User Review
Features either don't work at all or work in ways that don't make sense.
---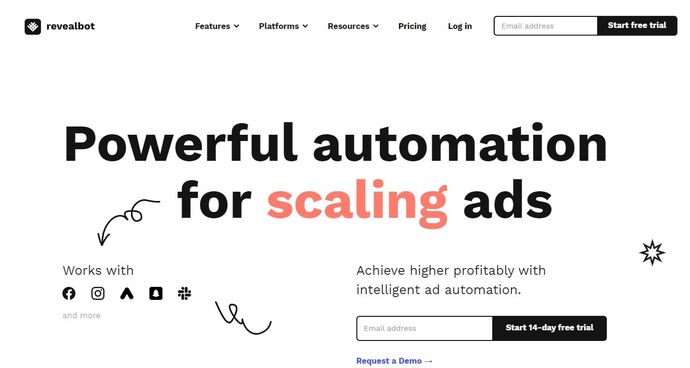 Revealbot is a Facebook ad automation tool. With Revealbot, advertisers can put the day-to-day management of ad campaigns on autopilot, freeing up time to do the things automation can't do, like creating the next great ad.
Revealbot's easy-to-use automated rule constructor offers advanced features to write complex automation not possible in native platforms, such as AND/OR operators, custom metrics, custom timeframes, metric comparison, and ranking comparison. Revealbot's plans start at $99, and it also comes with a 14-day free trial.
Pros
Advanced automated rule constructors allow ad managers to automate the exact management processes they already do to automatically pause or restart ads, manage budgets, bids, and more.
Custom metrics allow ad managers to create their own formulas to make a custom metric, which can then be used in automated rules.
This Facebook ad tool can run automated rules every 15 minutes instead of Facebook's native 30-minute frequency.
Revealbot has a free Facebook ads course to learn Facebook ad automation using Revealbot to help new users get started (no sign-up required).
Mike M.
Revealbot automates your Facebook Ads with ease. Overall I have been really happy with this unique program. It is a must-have tool for scaling your Facebook ad campaigns, is easy to use, and well worth the money. Helps save time and money immediately.
Cons
There is an initial learning curve to making advanced automated rules, especially if you've never used automated rules before.
Revealbot cannot automatically create an image or video ad.
This Facebook ad tool cannot automatically bulk-create new audiences based on performance.
Andrew L.
We didn't like the fact that you couldn't choose the right times to enter the ad auctions (at a certain cost) and pull out at optimal times per day. Overall, their customer service was poor and wasn't helpful when we tried to speak to them regarding billing issues.
---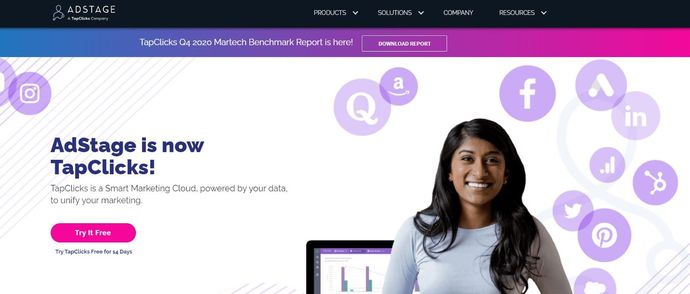 AdStage is a phenomenal Facebook ad automation tool that saves you hours spent on reporting hassles. Create your customizable dashboards in seconds and get started with inbuilt templates. You can also automate your ad optimizations with AdStage. Customize your ad specifics as per its real-time performance.
Get analytics from Google Adwords combined with Facebook insights for a comprehensive idea about your online presence. Numbers bore you? No worries. Access charts for visual depiction when auditing Facebook campaign data.
Pros
Easy to pull out account details and ad campaign metrics with Google sheet integrations
Responsive and helpful customer service
Trinity J
We love how AdStage allows a report on a campaign, adset, or ad and allows so many different ways to filter and view information. By using date ranges, keywords, and adset titles, we can show everything we need to about our clients' paid spend on social media and beyond.
Cons
The ad tool is quite pricey for the features it offers.
This Facebook ad tool has a steep learning curve.
J.P. V
The platform is fairly new, so new features are being added, and bugs pop up. Maybe your rules will run, and maybe they won't. Maybe they'll switch the authorization token to a different user. Maybe your reports won't run as scheduled.
Are Facebook Ads worth it?
Facebook has one of the largest user bases. Facebook ads outperform traditional advertising strategies because of their targeted nature and the sheer volume of potential customers.
But managing ads takes time and effort. Sometimes you end up spending a significant amount on disheartening output. This is why investing in Facebook ad tools is crucial. Conducting campaigns with a reliable, affordable, and easy-to-use advertisement tool is necessary to entice customers who have hundreds of options to choose from. Along with ads, it is also important to streamline your organic activities. This calls for a tool like SocialPilot, which is capable of managing all integral marketing ventures. Don't wait anymore now. Start your free trial to get one step closer to being a pro-marketer.