Amidst the covid-19 pandemic, lockdown pushed people indoors and online. In this scenario, we have realized how important it is to be connected and have a sustainable social network online.
Even marketers are aware of this unique benefit of social media sites for their business in allowing them to be always connected and talk directly to their customers. As time went by, the market has filled with numerous new social media apps.
Now you have to figure out which social media apps to use and devote your time and energy to them. The right social media apps will save you time, help you create better content, connect with the right audience and will make your work life a whole lot easier.
Though it was quite unfair to make the list of social media apps based on their popularity. As there are apps that rank top in other criteria. So to sort such results we came up with an idea of evaluating top social media apps on basis of the criteria mentioned below.
But before we take a look at the best social media apps for marketers in 2022. It is important to recognize the pioneers of the game. We couldn't finish the list without these social media platforms, so we started with some of the biggest stars in the business.
Let's begin!
Facebook
Facebook's name has emerged into the no.1 social networking site in the world in just a few years. A platform where you share knowledge, connect with friends, family and acquaintances across the globe. Promote or represent your business with other small business owners.
With more than 2 billion active users, Facebook makes sure the time we spend on Facebook is time well spent. Facebook tools and plugins are just perfect to attract new customers, keeping your fans' eyes glued to the page. Marketers of all sizes and shapes can incorporate tools on Facebook and you don't necessarily need to create big-budget commercial content and campaigns either. To grow your business, Facebook is the tool you should get on to immediately.
Youtube
Youtube, which was started with an idea of a dating website is now home to more than 2 billion users worldwide and drives more than 30 million daily visits, making it a great platform for small businesses looking to market with video content.
Marketing is moving towards video over static content, and Youtube is a key player. Creating a Youtube channel can be a great side hustle, especially if you produce engaging content that can attract such a large audience. If you're a big-time Youtuber with a strong following, companies are going to want to partner with you.
Twitter
Over the last few years, the microblogging website has made a ton of progress. Its popularity is growing like no other. With surpassing the other competitor's Twitter marks to 186 million DAUs
Whether you want to grow your business or connect to your existing customers, your audience is here listening to you. Twitter is the social platform where you can connect and engage with your audience instantly.
Instagram
A popular photo and video sharing social platform owned by Facebook – Instagram is entirely a visual platform to allow users to share pictures and videos with your audiences.
With its mobile compatibility and improved versatility, the platform has expanded its possibilities. Pinnable hashtags and Instagram reels are meant to attract visitors with trending short vlogs.
The Instagram platform makes it easier for people to discover your products, services, and business socially, as opposed to Facebook. Businesses can open an Instagram business account to provide extensive information about their products, services and businesses.
With so many busy users and photos floating around on Instagram, it's time to take advantage of the best IG features.
Pinterest
Growing on Pinterest works for all kinds of business, whether you are creating content or looking to get brand exposure as a retailer. This visual social media platform offers benefits extended to a wider potential customer base.
On Pinterest, you can create a business account from the ground up or convert your account to a business one. The app lets you save information on the internet using images and, on a smaller scale, GIFs and videos as pinboards. Once you know which Pins are doing well, promote them and reach more people.
There are more than 459 million active users on Pinterest, so it is more than just a social network. Pinterest is a visual search engine and productivity tool.
Here is More for Marketers.
Businesses are faced with the dilemma of choosing the right social media tool for their needs, which ultimately leads to picking the wrong tool and hurting their interests.
Customers are already interacting with brands through social media platforms. Let's continue with
Best Social Apps for Business in 2022
Compatibility – Android, IOS, Cloud and Web-Based
SocialPilot is best for automating, scheduling, publishing, analyzing and monitoring your social media posts. Not just this it analyzes your social media marketing activities, to help you increase your social media efficiency and reach.
Capterra has featured SocialPilot in the top 20 social media marketing software 2020.
Whether you are a small business or large enterprise it would be the best choice when looking to unite all your social campaigns on one platform. Improve your social media efficiency with automated post scheduling and many other features, look no further than SocialPilot.
You could use SocialPilot to post to all your social media accounts, bulk upload posts, get good reliable customer service, pay a reasonable price, and be sure it is reliable and dependable for your business.
Post to Facebook, Twitter, LinkedIn, Google My Business, Pinterest, Instagram, TikTok, Twitter, and Vero with one dashboard.
Key Features
Share as many as 500 posts and connect over 100 profiles with just one SocialPilot account.
Never stay out of new content ideas, curate content suggestions and save them as drafts for later use.
Analyze your social media marketing activities with easy to understand Social Media Analytics and Reporting.
Boost your Facebook posts right when you are scheduling them.
Schedule 100s' of posts at a time uploading a CSV with the Bulk scheduling feature.
Visualize your social media content strategy with the help of a content calendar.
Users love SocialPilot
John R
I have tried and researched a lot of websites that perform the services that SocialPilot does and I can say without question that SocialPilot is by far the BEST. I was looking for a website that would allow me to post to all my social media accounts, to bulk upload my posts, to have good reliable customer services, to be at a price I could afford and is reliable. SocialPilot does all of this fantastically. The competition all falls on one or more of these factors but SocialPilot shines!
Wendy P
As with any platform, there are the occasional glitches. Just yesterday, I was having trouble accessing the system (a very rare occurrence). I contacted them – and they responded in a couple of hours – but made my issues a priority and followed up to make sure everything was working properly for me. I had some downtime, but given my experience with their support in the past, I was confident they would get the issue fixed.
---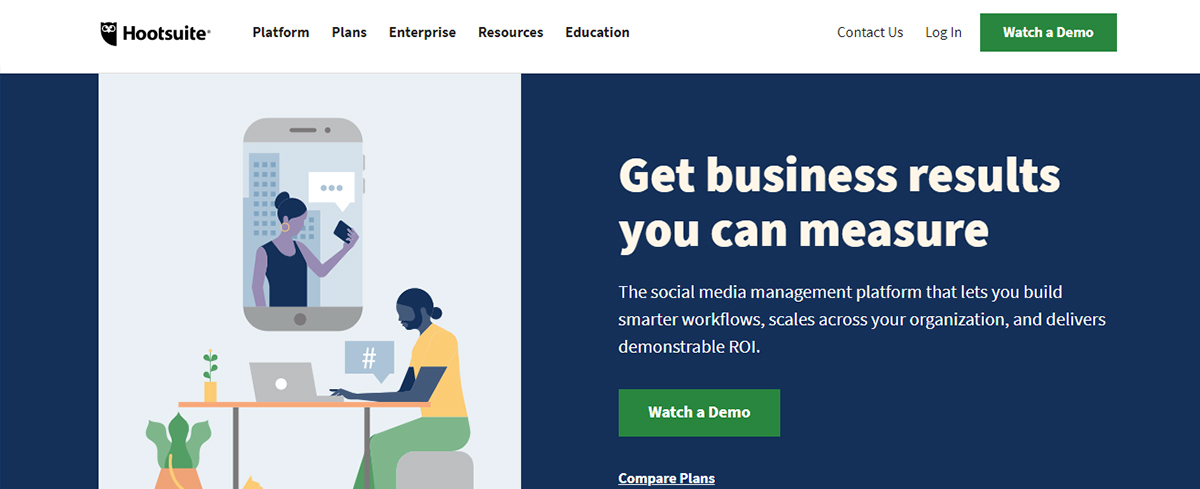 Compatibility – Android, IOS, Cloud and Web-Based
Hootsuite is trusted by 18+ million users in 175+ countries for managing social media, with this social media app all your social media needs can be met. One of the first social media management tool to enter the market.
It lets you schedule and publish content to the right channels at the right time, with an overview of all your social media channels and you'll be able to see what your followers are saying.
Hootsuite's unparalleled expertise in social selling, social customer care, and social media management will strategically grow your brands' business and customer relationships with social.
Pros
Hootsuite lets you integrate with multiple social media accounts and schedule posts in real-time with a single dashboard.
It saves you a lot of time and problems by being able to analyze the advertisement metrics across different social media platforms from one place.
You can monitor your social media feeds from the Hootsuite dashboard.
Cons
The dashboard is a bit clunky and comes with a learning curve. The desktop version of the app is less user-friendly.
Hootsuite pricing is more towards the higher side. It becomes difficult for a small business and agency to invest in a tool like this that freezes out their budget.
Customer support is always not very active.
User Reviews
Kacy W.
What I like best about Hootsuite is the ability to see many channels and content output/input at once. We have 5 brands to watch daily, so the way you can customize your stream makes it easy to see a lot of content at once..
Mark I.
Becoming a bit outdated as competitors have made in roads with broader reach. It's clunky, outdated, and way too expensive.
---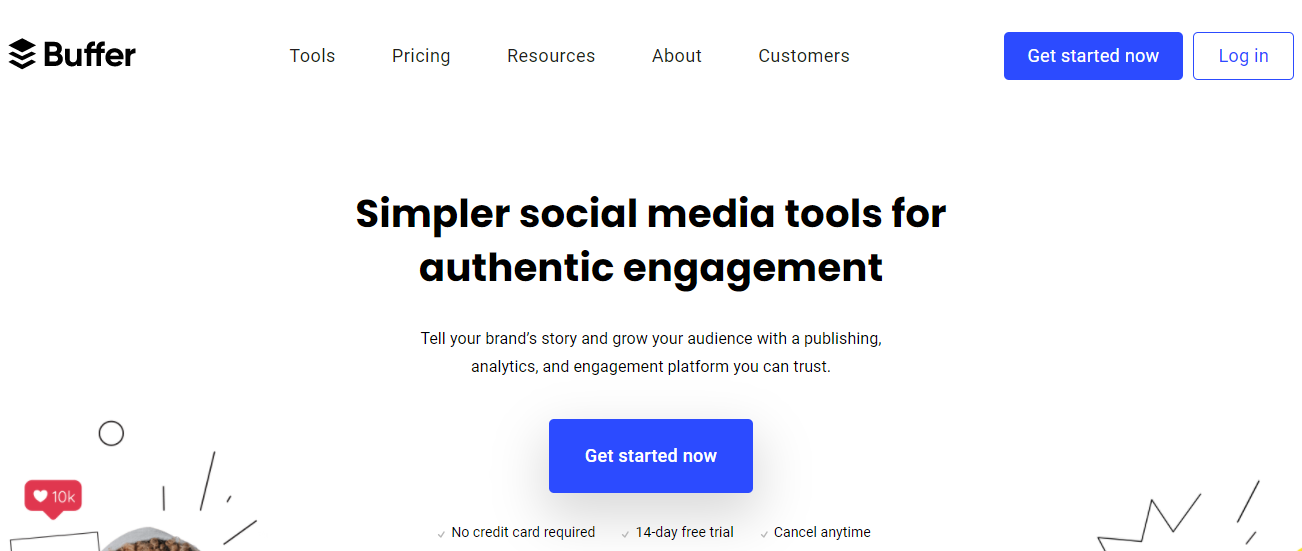 Buffer was crafted with small businesses in mind, though it is the most popular social media app for marketing trends for SMEs. It is used by more than 73,000 customers worldwide. Buffer's extensive scheduling and monitoring features offer assistance for all common social media platforms.
It can save you a lot of time by allowing you to schedule your posts on social networking sites such as Facebook, Instagram, Twitter, LinkedIn and Pinterest.
Buffer offers a free plan as well where you can connect 3 social media profiles.
Pros
Buffer has a user-friendly interface with a clean-looking dahsboard.
Buffer offers a free plan that helps solopreneurs grow their brand presense on social media without shelling a big chunk of the budget
You can customize posts for individual accounts with the Buffer Publishing
Cons
Buffer is a bit expensive compared to its competitors. If you want a full suite of social media management you need to subscribe to their Publishing, Analytics and Reply all separately
If you are out of content – Buffer lacks with the feature of content curation
You wouldn't be able to bulk upload posts to your scheduling queue with Buffer.
User Reviews
Matt. P
The only downside I've found while using Buffer is that sometimes scheduled posts don't post. I may get an email stating a post had trouble going through, so I'll have to log in and manually share the post.
Jorge L.
The Buffer is missing some crucial collaboration features offered by other softwares that makes it hard to use for working as a team. And the pricing is just too high for the present standard on social media pricing applications. If you have the money, it is not a problem.
---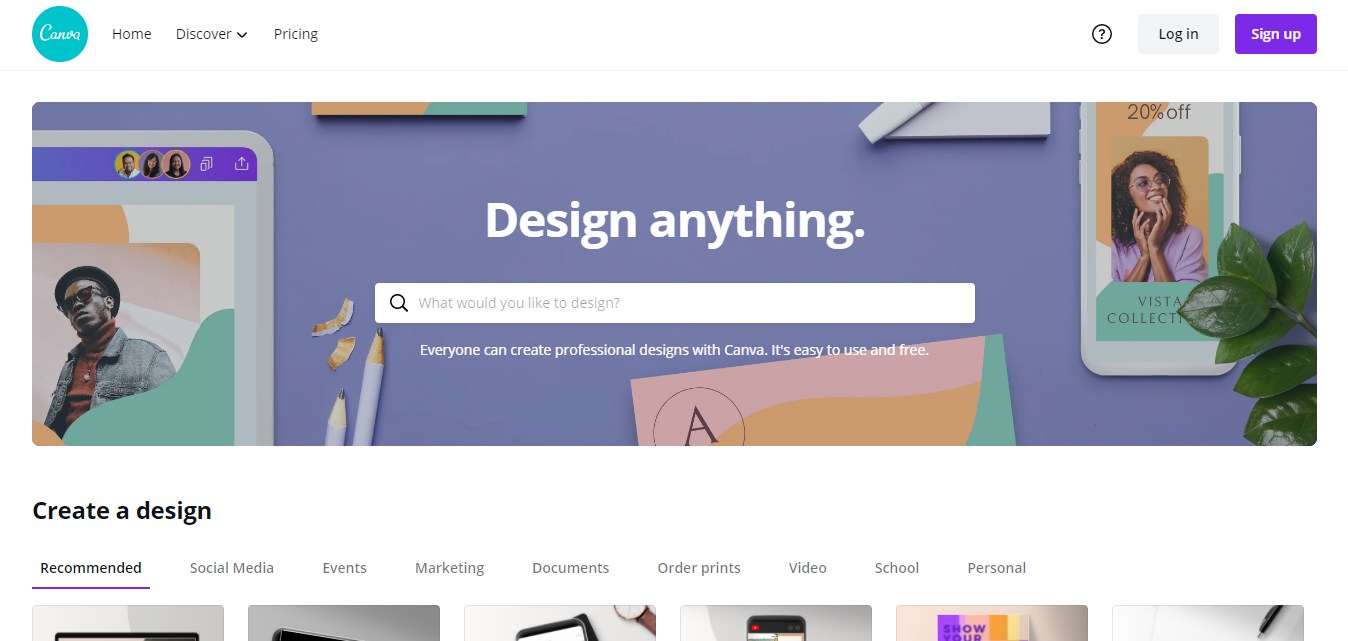 Compatible for web, iOS and Android
Whether you're a designer or not, whether you're creating an invitation or a graphics, this is an ultimate package for creators, just anything they want. Almost all pre-made designs in Canva are customizable, such as social media images, letters, cards, cover images, etc. With this tool, adding content is simple. Just click on your chosen template, enter the content, and you're done.
This social media app is a design app that helps people create graphics, posters, presentations and other visual content for social media. With a simple drag & drop user interface and a vast library of templates and design elements such as fonts, illustrations, stock photography, video and audio content,
Design tools, tutorials, templates and more are available in Canva, so anyone can make virtually anything. With Canva, marketing teams with limited experience can still create stunning content and gather a larger audience.
Pros
You would love the templates! You can just pick the one that you like and Canva will give you the required size (eg. Linkedin background, Twitter profile picture etc.).
Stock image library is substantial, you can find a relevant image with rights to use and implement into your designs with just 1 click.
Fonts libraries are great too.
Cons
If you want to resize your created image into another dimension, you'd have to upgrade to paid version. And if you try to re-create the same design in another dimension, sometimes they don't have that template available.
Canva's free version has some good limitations to it.
User Reviews
Ravi R
The ease of usage and their huge templates library is one thing that everyone's gonna love! Over the years have been using multiple tools to design or posters, Facebook ads, YouTube thumbnails and whatnot, no tool has ever come closer to Canva!
Supratim S
Canva is great but I don't like that you have to get canvas credit for each premium photo. Free assets on Canva are limited. Plus in the mobile app, they recently updated the UI which is not great. Previous Canva mobile UI was very good and easy to understand the features.
---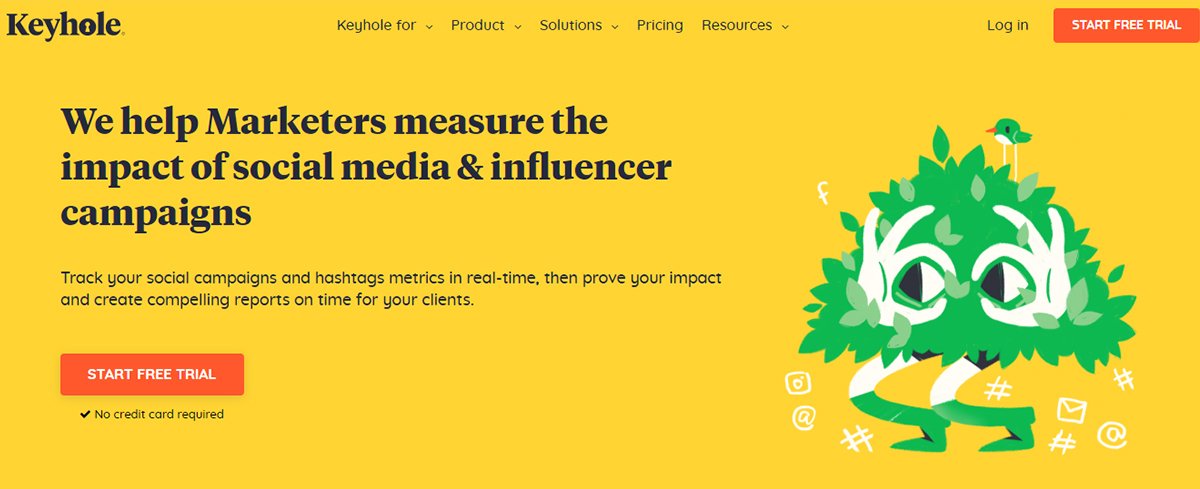 Keyhole helps marketers measure the impact they make on social media and report on its effectiveness. Keyhole's social listening, influencer tracking and social media analytics products enable brands to monitor real-time conversations to protect their brand online, stay ahead of the competition and improve their social media strategy.
Increase your marketing ROI by reaching out to influencers. Additionally, you can sort influencers by the exposure they generate and engagement levels. Also, If you do not want to deal with complex dashboards, Keyhole would be the perfect solution. Keyhole's dashboard makes it easy to build and share reports instantly, saving hundreds of hours a year.
According to many users, Keyhole is extremely user-friendly and a joy to work on. With its customizable options and flexible data banks, Keyhole offers all the features you need for teams of any size.
Pros
The dashboard gives you a thorough overview of your entire campaign and provides all the details and KPIs you need.
Keyhole metrics are unmatched and they help us set KPIs and measure results accordingly.
The layout is also very user-friendly and exportable so that's great.
Cons
Keyhole has changed its policy and stopped showing historical data now. It used to be very convenient.
Price is high and excessive.
It is a little different from the free trial. I think that besides the call with customer support if there should have been a tutorial video to help you catch all the little details of Keyhole.
User Reviews
Jon R
Keyhole allows our company to give deeper and richer analytic reports for Social Media Campaigns to our clients. This allows us to be one step ahead of the competition when bidding for Social Media Campaigns against larger international agencies that use other software that is more expensive but doesn't give the same level of details.
Alessandra C
The pricing has been a limiting factor for us since we don't always need multiple keywords or accounts. A "mini" plan for 1 keyword and 1 account would be helpful so that it can be a quick finger on the pulse of only the most important keyword or hashtag we want to track when we don't need for more than 1.
We hope this comparison helped find a tool that meets your needs. Though each tool has its advantages and disadvantages and offers different functions for different users.
SocialPilot, a social media management platform with everything you need in one box, makes it easy to manage your social media.
There's a 14-day free trial to get hands-on and find out if you like how it works.