Social media marketing has become an integral part of modern business strategy in the last decade. In 2022, social media ad spending hit the $230 billion mark and is expected to reach $300 billion in 2024.
Social media marketing is thus a highly competitive domain. If you are a marketer or a brand looking to outrank competitors, you need to focus on content creation, publishing, brand voice, posting consistency, and performance monitoring, among other key elements. Taking care of all these areas can get tricky without a handy guide.
Where should you start? What are the checkboxes for executing a social media marketing strategy? How can you execute each stage effectively and efficiently?
To answer these questions, you need a social media marketing checklist. This can serve as a ready-reckoner so you can tick off every task and remain on track to execute your marketing initiatives.
In this blog, let's look at what makes for an ideal social media marketing checklist. We have also provided a downloadable checklist that you can use to kickstart your strategy audit process.
Here is your free downloadable social media marketing checklist that you can take away and customize to meet social media marketing goals effectively.
Key Steps for an Effective Social Media Marketing Strategy in 2023
As a new-age marketer, whether you are advocating for your brand or marketing clients' products, you are bound to struggle without an actionable social media marketing checklist.
Here is a 10-step social media marketing checklist that can help you handle complex tasks from content planning to performance analysis to hit your marketing goals.
1. Define Clear Goals for Your Social Media Marketing Strategy
Setting a goal offers a clear direction for your marketing strategies and helps you measure the success of your marketing campaigns in definite numbers. To achieve the best results from your marketing campaigns, you need to set a SMART goal.
What exactly is a SMART goal? It is a goal that is:
Specific: Define your goal clearly and specifically. For example, "Increase your Instagram followers by 25% in the next six months."
Measurable: Determine how you will measure progress toward your goal. In the above example, success can be measured by the increase in followers on the Instagram account.
Achievable: Set a goal that is attainable with your available resources and capabilities. Make sure your goal is realistic and aligned with your campaign timeline.
Relevant: Ensure that your goal is aligned with your overall marketing and business objectives. It should be relevant to your audience and add value to your brand.
Time-bound: Set a specific timeframe for achieving your goal. In the above example, the timeframe is six months.
Here is a format that you can use to write your social media goals.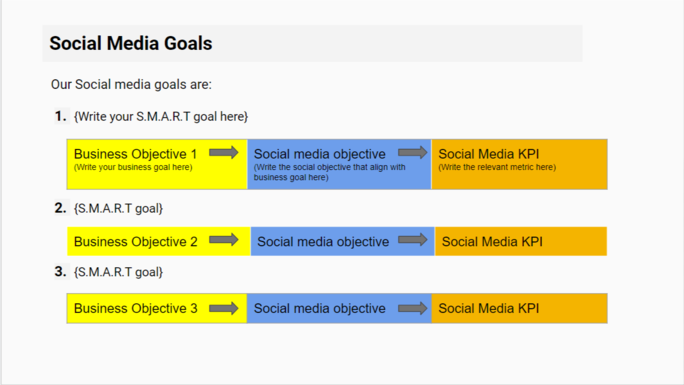 Consider this example of a SMART goal: Create a social marketing strategy to boost engagement by 20% in the next three months through consistent content creation.
2. Understand Your Target Audience and Craft Buyer Personas
Defining your target audience and creating an ideal persona helps you target the tastes and preferences of your viewers and create lead-driven marketing campaigns. For effective social media marketing, you have to understand audience demographics and behavior.
Here are some important questions to answer to define your target audience:
Who are your ideal customers?
What are their needs and interests?
How can you engage with them effectively?
To get a complete understanding of the above, start by conducting market research. Analyze your existing customer base and create customer personas that depict your target user.
You can define your targeted audience and their persona based on their age, demographics, interest, behavior, and language. Look at the platforms that they are using consistently, how often they are using these, and the kinds of content they are engaging with. The analytics section of your social media management tool is the best resource to mine this data.
Also, consider your competitors' strategies and the types of content they are publishing to reach the same audience.
Once you have your audience's persona created, you can develop effective marketing campaigns for all your targeted social media platforms that are highly focused on customers' preferences and pain points.
3. Select the Optimal Social Media Platforms for Your Brand
The success of your social media marketing initiatives also depends on which social media platforms you choose for marketing. To choose the right platform, pay attention to your business category and the type of products or services you offer. You also need to consider whether your business follows a B2B, B2C, or C2C model.
Next, you need to refer to your audience's persona and make a note of the social media platforms they use the most. For example, if you are a B2C brand selling fashion apparel, Instagram, Facebook, and TikTok could be the most suitable channels for you.
On the other hand, if you are a B2B platform that sells software or sources talent for other businesses, platforms like LinkedIn and Twitter can be better suited to execute your marketing strategy.
To choose the right social media platform, you need to know:
Who is your audience?
How can you reach them?
What are your goals?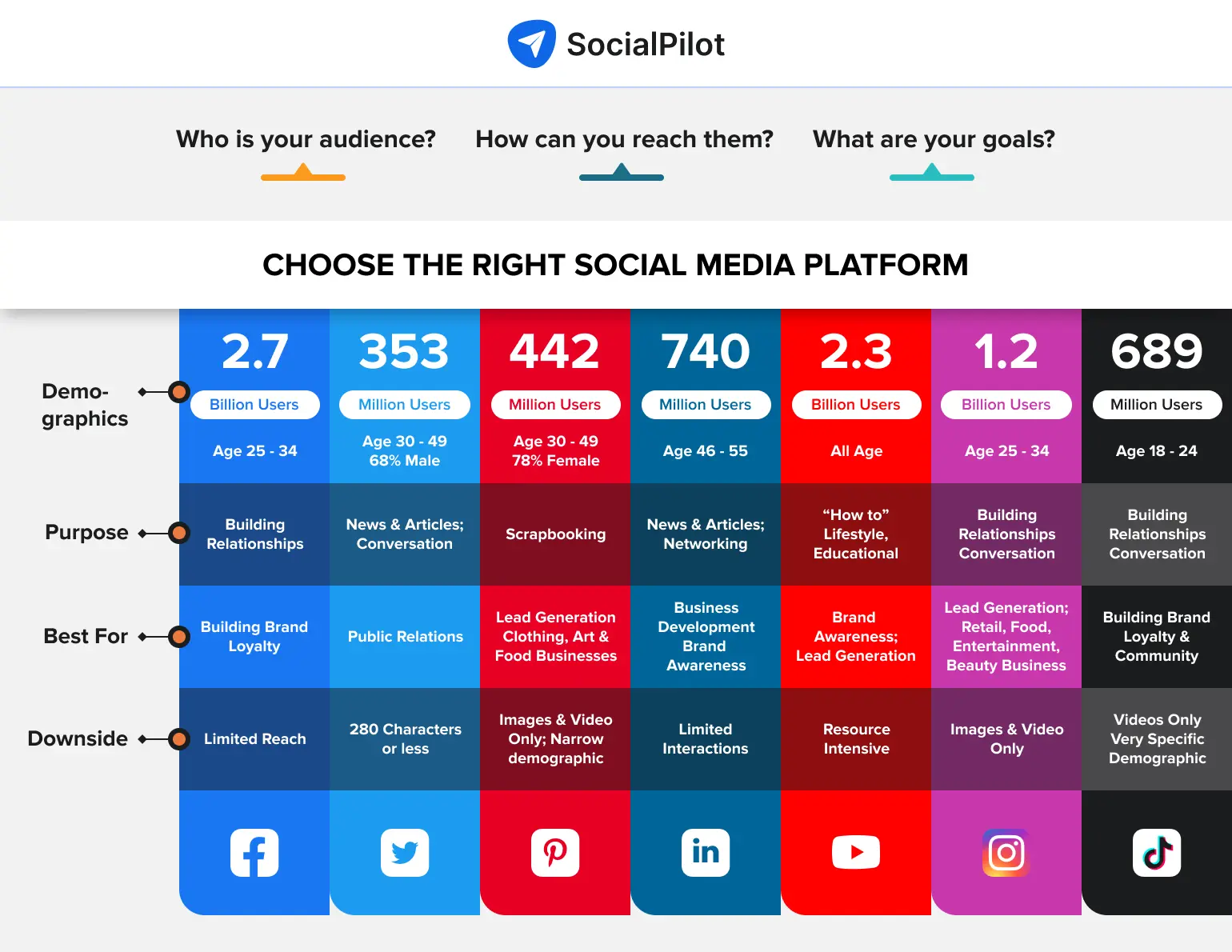 However, every business has unique constraints, so you must consider your available resources, such as time, budget, and team capacity, in choosing the right platform. Prioritize the platforms that best align with your social media marketing goals, target audience, and available resources.
4. Develop a Unique Brand Voice for Social Media
Do you know what most distinguishes you from your competitors, particularly on social media? It is your brand voice.
Your brand voice helps in establishing a connection between you and your audience. It can also help your brand develop trust and credibility with your target demographics.
To cultivate a unique brand voice, start by defining your brand's core values. Then, understand your target audience and establish a consistent tone across all of your communications.
Authenticity helps to build trust, so don't try to be someone you're not. Test and refine your brand voice over time to ensure it resonates with your audience and effectively promotes your brand identity.
Netflix is a winning example of a brand with a unique voice that is witty, funny, and entertaining to keep customers hooked to its social channels.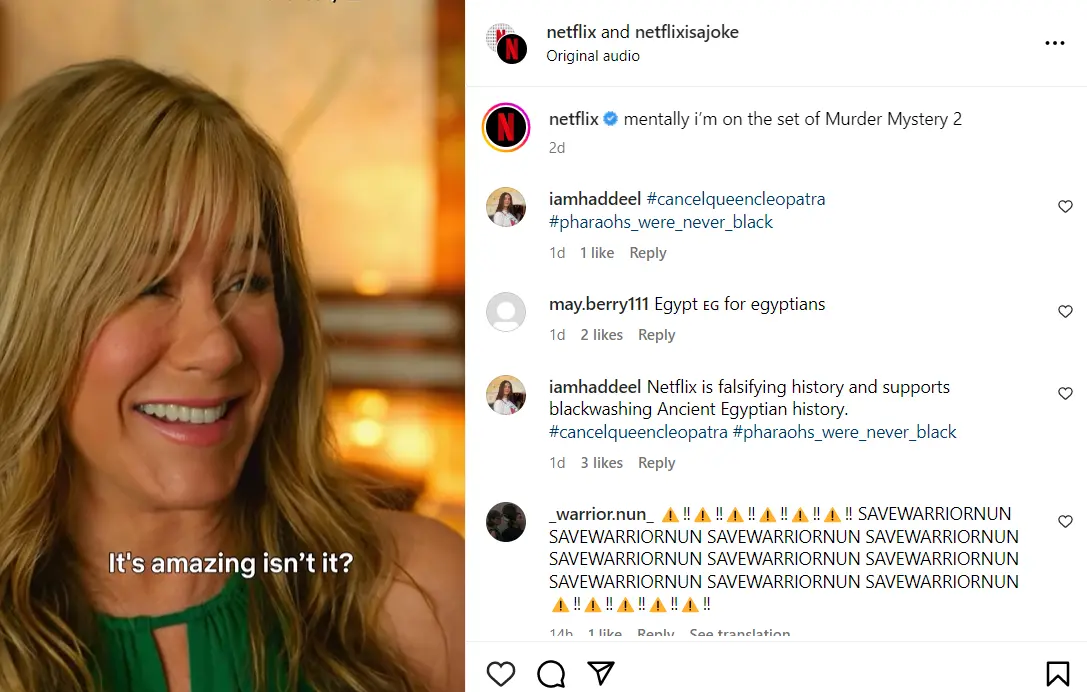 In the above post, you can get a hint of the friendly and informal tone of Netflix, which keeps the conversation flowing among the users it targets.
So, the key to grabbing eyeballs is to focus on what your audience wants to listen to and create a cohesive and consistent brand voice that stands out in the digital market.
5. Optimize Your Social Media Profiles for Maximum Impact
The next crucial step for social media marketing is to optimize your social media profiles. This process is about integrating the necessary information into your profile, including who you are, what you do, and your area of expertise.
The basic idea behind optimizing your profile is to ensure that you showcase your capabilities and make a good impression on visitors to convert them into your followers.
If you don't optimize all your social media profiles, they may appear disjointed and uninteresting to profile visitors.
The result? Losing new customers, subscribers, and lower visibility on social media. So, don't take that chance and perform complete profile optimization.
You can start by selecting a high-quality profile picture and cover photo that reflects your brand identity. Write a compelling and concise bio that highlights your unique value proposition, includes all relevant information about your business, and uses relevant keywords for search.
Here is a perfect example from Burt's Bees' Twitter profile, which is completely optimized for attracting new visitors and more followers. They have showcased a high-quality profile and cover image as well as a concise bio with relevant keywords to rank for search queries.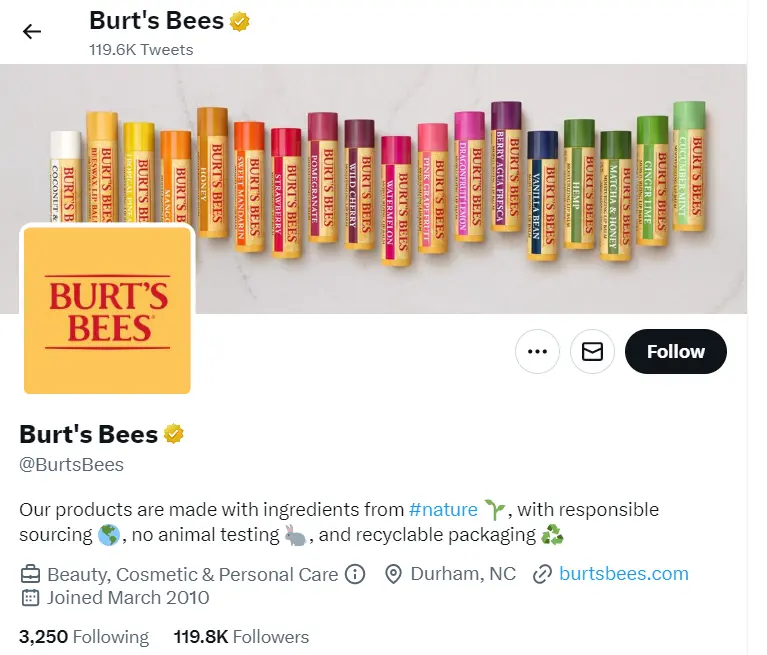 To further optimize your profiles, cross-promote your social media accounts by linking them to each other. Doing this will also increase your visibility with your target audience.
However, taking care of optimizing your profiles while taking care of all your marketing initiatives can be tricky. To save time, you can get your free social media marketing checklist from here and leverage it to upscale your marketing efforts.
6. Build an Effective Content Strategy for Social Media
A content strategy forms the base of your social media marketing efforts. A content strategy tells you what you should post, where you should post, and how often you should post. A content strategy helps you stick to your social marketing goals through the content creation process.
To develop a successful content strategy, start by understanding these key factors:
Know what problem you are solving for your audience Always keep in mind that the purpose of creating content is to address the problems of your audience. So, identify their challenges before you begin creating your content strategy.
Make sure to identify the right content formats You cannot begin creating content until you know which content formats are preferred by your audience. You will then have to develop the content accordingly. For example, if you are creating tutorials for your audience, a video format will be more suitable for you than a blog post.
Identify the right publishing channels for you Once you know the preferred content formats for your audience, you need to shortlist the right publishing channels. To identify the right publishing channels, analyze where your audience spends most of their time, whether it's YouTube, TikTok, LinkedIn, or others.
Keep in mind that refining your content strategy over time is equally important as creating it. So, keep experimenting by using a mix of formats and monitor the performance metrics to know what is working well. Based on your analysis, adjust your strategy as needed to optimize your results and come up with a final content strategy.
Also, remember to keep your content engaging, informative, and relevant to gain the desired results from your marketing efforts.
7. Create and Maintain a Consistent Content Stream
Creating content consistently is as important as creating high-quality content. However, ensuring consistency can be difficult when you have to perform multiple tasks to execute your social media marketing campaigns.
A primary tool to ensure a smooth flow of content out of your gates is a content schedule for creating and publishing content. Stick to this schedule as much as possible so your audience knows when to look out for new content and stays engaged.
Maintaining consistency isn't as easy, but it can be made easy when you have a content calendar tool.
With SocialPilot's content calendar tool, you can avoid the hassle of manually planning your content calendar and posting content. Our content calendar tool can help you plan your calendar and establish a posting schedule, save time, avoid manual effort, stay organized, and avoid last-minute scrambling leading to publishing delays.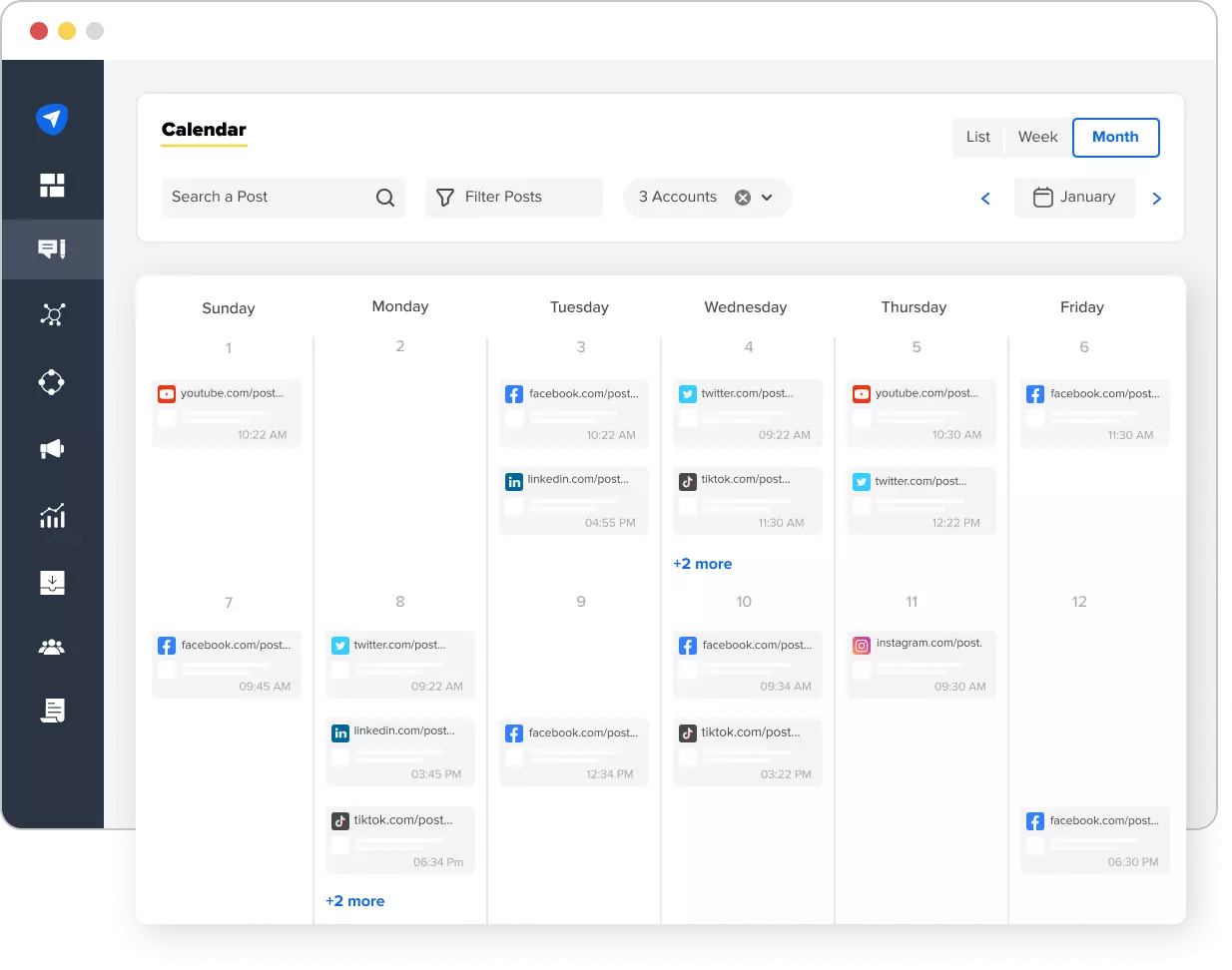 A content calendar tool will help you streamline your efforts and avoid wasting time on unnecessary steps from content ideation to content publishing. To speed up the process, you can always use templates and tools. You can use a content template to ensure consistency in formatting or use a social media scheduling tool to schedule posts in advance.
8. Build a Strong Community Around Your Brand
Building a community helps you engage with your audience. It helps you to create a sense of belonging and establish trust among your customers.
To build your community, begin by engaging with your followers, responding to comments and messages, and participating in conversations related to your industry or niche.
To build and maintain a community, one can get on Q&A sessions with customers through Stories, host exciting giveaways, feature user-generated content, and acknowledge loyal followers.
The brand Away, for instance, does its best by featuring user-generated content and showcasing how brands can be responsive to win a community.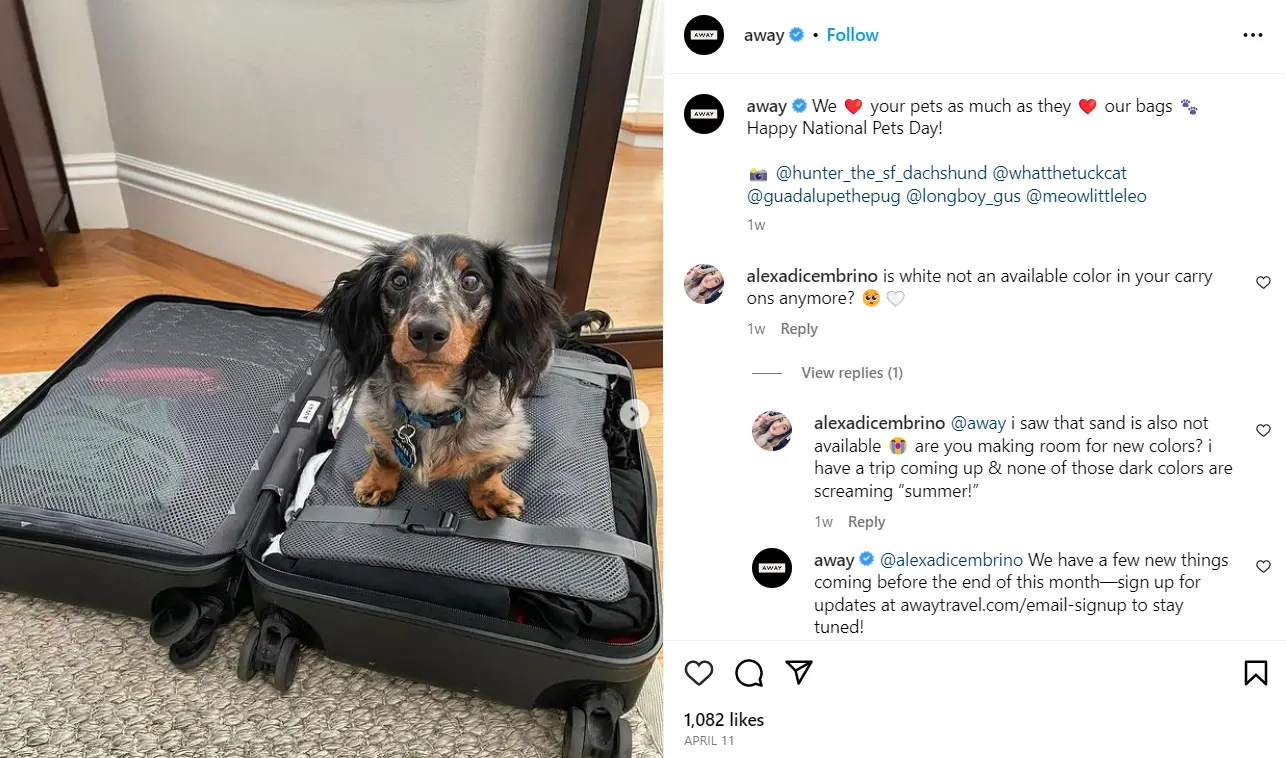 In this post, Away doesn't restrict itself to promoting UGC content but also reflects responsive behavior by engaging with commenters on the post. Being responsive is the key to building a loyal community, as it signals that you are an accessible brand and your audience can count on you.
Another effective way to build a community is to cross-promote your content on all your social channels. For example, you can share your Facebook page link on Twitter or share your Twitter profile link in your Instagram bio.
Doing so will help you attract and retain an audience from different platforms and convert them into loyal followers.
However, conducting and engaging in such outreach initiatives can take a lot of leg work.
The best way to organize, streamline, and manage all social interactions is to use a social listening tool and ensure seamless communication across your social media profiles.
9. Leverage Paid Advertising to Boost Your Social Media Presence
More than 93.79% of businesses use social media for marketing their business. With that level of competition, it is hard to get noticed by your potential customers without paid advertising.
Paid advertising will help you reach a larger audience and target specific demographics relevant to your business. It also allows brands and businesses to attract new followers and find potential customers.
Here is how you can leverage paid advertising for social media marketing:
Set a budget: Determine how much you want to spend on your paid social media advertising campaign. You can either set a daily budget or a total campaign budget.
Create an eye-catching ad: Make sure to create a visually appealing ad that can grab the attention of your target audience. You also need to include a clear call-to-action (CTA), such as a link to your website or make a purchase.
Monitor and adjust your campaign: Keep an eye on how your ad is performing and make adjustments as needed. You can track metrics such as clicks, conversions, and engagement to see what is working. Use this data to optimize your ad and improve its performance.
10. Track and Analyze Your Social Media Marketing Results
Monitoring and measuring the results of your marketing strategy helps you evaluate the performance of your marketing campaigns.
To begin monitoring, track metrics like engagement, reach, clicks, conversions, and revenue. You can use the built-in analytics tools provided by social media platforms to gain insights into how your content is performing. You can also set up tracking links to determine the amount of traffic and conversions coming from your social media channels.
Regularly analyze your data to make informed decisions about posting content and optimizing it for better engagement.
Finally, adjust your strategy by experimenting with different types of content, posting schedules, and targeting options to improve your results.
To make the whole social marketing process easier, download your checklist now.
Conclusion
Whether you are just starting or looking to optimize your existing social media marketing strategies, using a social media marketing checklist can help you stay on track and achieve success. A checklist is essential for any business wanting to leverage social media to grow its brand, engage with customers, and drive sales.
The above checklist can help you achieve these objectives critical for the success of your social media marketing campaign. However, taking care of all the factors crucial for social media marketing can be tricky and time-consuming.
That's why you need SocialPilot, a social media tool that can take over a major chunk of your repetitive tasks. It can help you create a content calendar, publish content, schedule first comments, and monitor performance for all social channels without investing hours in social media management.
So, try our social media tool for free and take your social media marketing to the next level.