Hunting for social media post inspiration can quickly start to feel overwhelming — there is just SO much great content out there. Creating your own ideas can begin to feel like trying to draw blood out of a stone…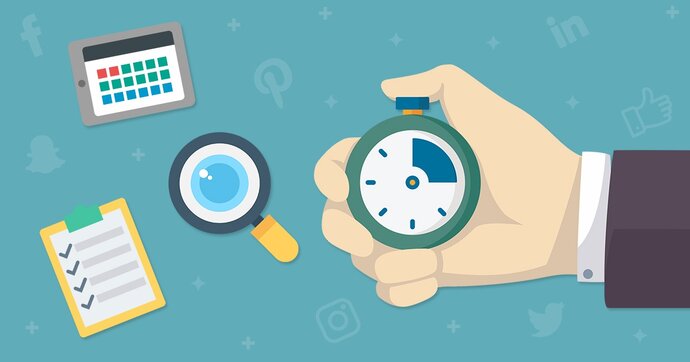 As a result, some marketers suffer from a form of 'social media block' and miss out on valuable social media engagement.
The truth of the matter is this:
Your business needs social media posting regularly. So don't make it into an all-day social media fest: time box it instead.
Beat social media at its own game. Be more efficient with any of these social media scheduling tools.
This post will offer you tips on how to condense your social media workload into just one hour a day through strategic social media scheduling.
Identify the Types of Your Customers
Audience research should make up the backbone of your social media strategy. You need to make sure that your content appeals to your audience's preferences, as well as providing them with the information they need to make an informed purchase.
What you should do?
Divide your audience into several 'ideal customer' types.
For instance, if you sell garden furniture you may attract affluent men and women with young families. Additionally, you may draw retirees with a smaller amount of disposable income. These two audience subsets will search for different products from your website — and they will also have different preferences for content on social media.
With this best social media posting tool, you can gain instant access to these demographic insights. From here, you can quickly draw up examples for your ideal customer personas.
Start by giving them a name and write out an example 'day in their life' paragraph. Naming these personas will help you memorize their needs and target your social media content more efficiently.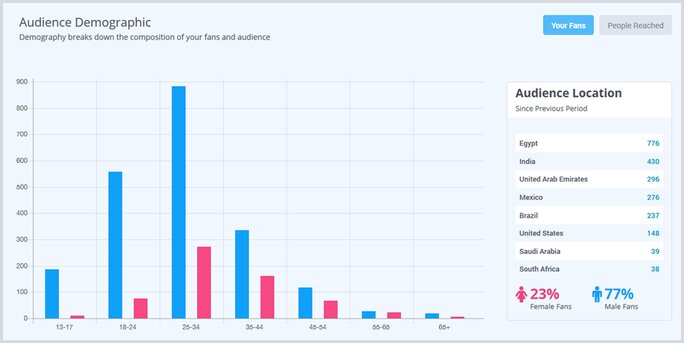 Use the data to figure out customer preferences across social media networks and the optimal times of day for posting. Your younger audience members may spend more of their time on Instagram, whereas Pinterest and Facebook are excellent networks for targeting older audiences.
You will probably find that early evening is the best time of day for posting across both of these audience segments.
With all of this information, figure out how many times you need to post per day, and where, for each customer avatar. Doing this will help you eliminate the guesswork and focus your social strategy on what's needed.
Content Curation To Win The Game
From your insights, you will know what content your audience likes, and how much you need of it per day to keep your followers happy.
With SocialPilot, you can use the social media content curation to automatically aggregate blog posts that will be of interest to your audience.
For example, say you were scheduling posts for a garden furniture store: you could search keywords such as 'waterproof garden' or 'foldaway garden chairs.' From here you can repost ideas like DIY videos, designer tips, celebrity garden inspiration, and so on.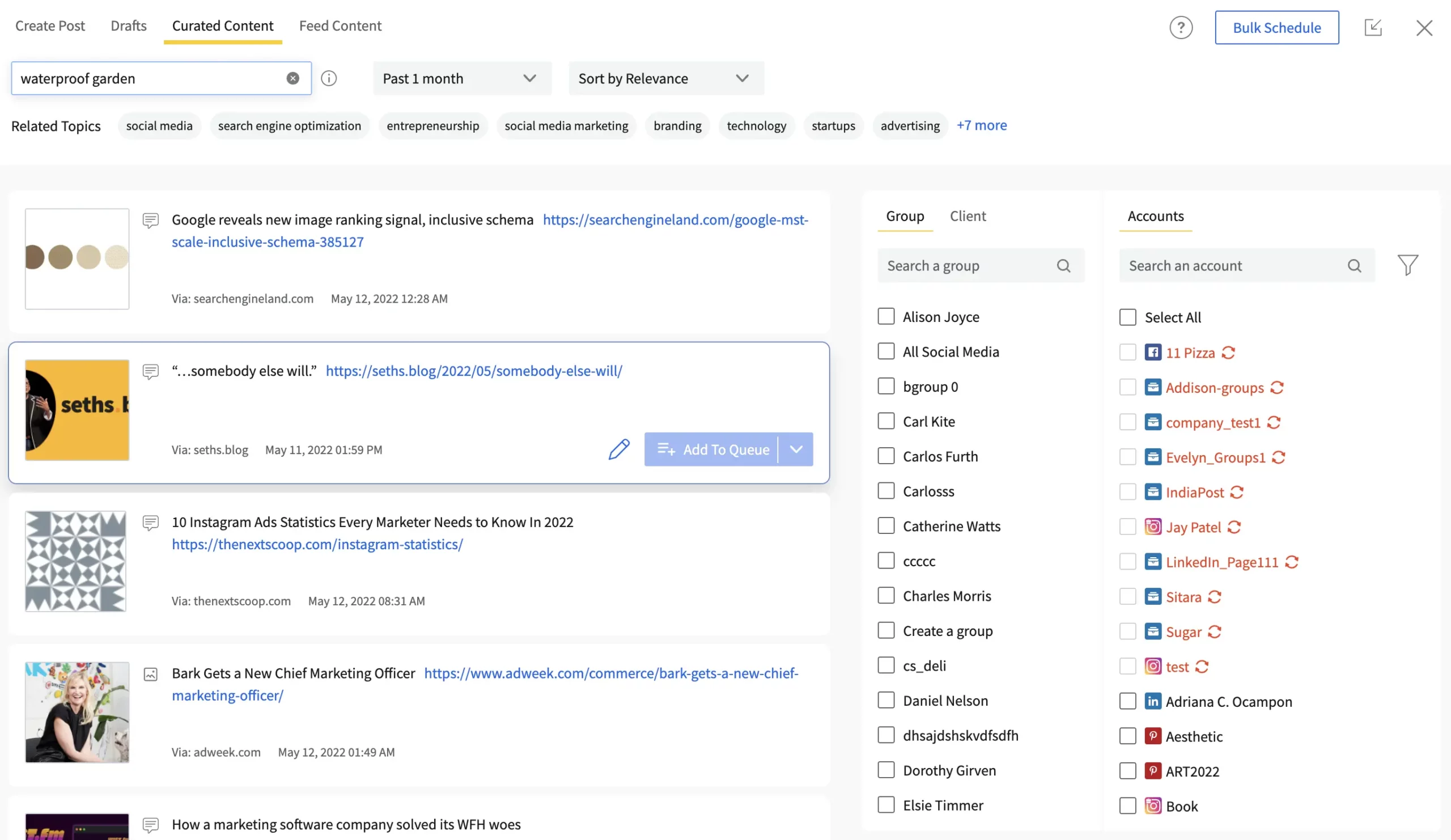 Next,
You need to get smart about the content you're creating elsewhere, such as your site's blog. Don't waste time planning your blog content calendar and social media as separate entities double-up and write your posts simultaneously.
Once you have written a blog, get into the habit of writing up quick social media blasts, taking ideas directly from your content and research notes.
You will need several versions for each network; this will help you promote the post for a few days after publishing. You can also go back to your old pieces of content and give them a new lease on life by reposting them to your feeds.
One Goal for Each Audience Segment
If you are streamlining your workload to one hour a day for scheduling, you will need a razor-sharp focus.
Choose just one goal for each audience segment and make it your North Star metric. For example, a North Star metric for your retiree audience segment might be to encourage email newsletter sign ups.
Having just one goal will help you crystallize your content strategy for social media. You will also have a useful yardstick to measure your success against in your social media analytics dashboard.
Principles Of Paid Marketing
Aside from solving customer problems and focusing on your goals, you will also need to create some paid advertising posts.
Consider the 80/20 rule across all your social networks, i.e., 80% of your post should be compelling content, 20% of your posts should be a direct plug to your products. This can be a paid advertising or a small part of your blog post.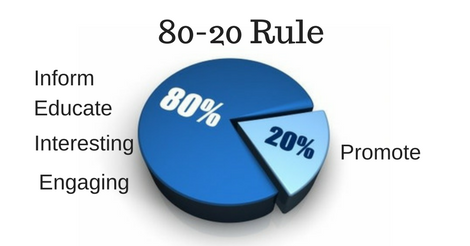 Explore marketing app marketplaces and find a wealth of ideas and A.I assistants to help you effortlessly promote your business online.
Tip: Automated apps save you time and give you heap of content to use for your paid Facebook campaigns. User-generated content apps, for instance, allow you to collect customer photos. From here you can click and repost the best images to your followers.
Image Editing Hacks
Imagery drives engagement on social media. Your posts need to be eye-catching, and a tool like Canva can help you whip up some pretty posts pronto.
The tool comes with many pre-loaded social templates and free graphic design elements you can use to get your message across.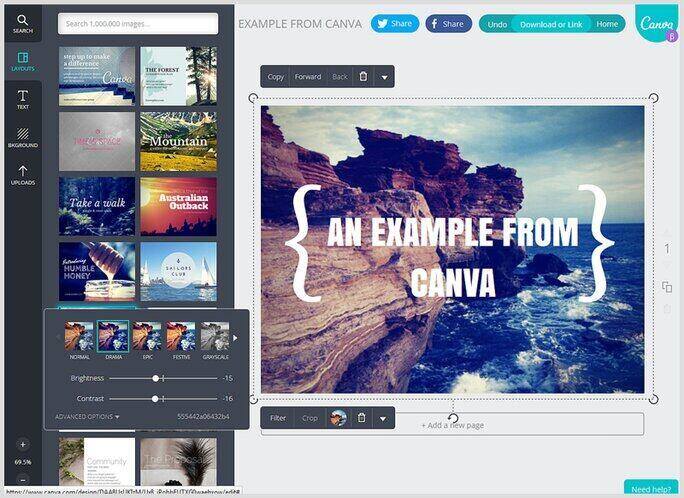 Save a font style and color palette for text elements, upload your images in advance, and simply alter text. Create all your new posts this way, without too much fuss or pre-planning.
Crafting Calls To Action
Remember, you are not trying to elicit a 'Buy Now' command with every single post. In some cases, a 'Find Out More' CTA will be useful — if you have an exciting piece of content to backup your claim that is.
Try a bit of humor from time to time — CTAs shouldn't be dry and dusty.
Tip: Analytics accessible from your dashboard give you real-time insights on the CTAs that are working for you. Make sure that your landing page contains an email pop-up, or some other opt-in, to make the most of your social media click-throughs.
Conclusion
If you only have an hour to devote to social media each day, make every second count. All of your efforts should be designed to get you stressing less and posting more. Automate as much as you can and eliminate the social media overwhelm. And don't forget to share your total time saved after adopting these ideas.