This is the third chapter of the growth hacks series. In the last chapter, we talked about the type and form of content you should create to impact your audience. But what if you are banging at the wrong door? Two things could go wrong here – audience targeting and platform targeting. We dealt with audience targeting by working on creating SMART goals and messaging.
Now, let's talk about platform targeting – choosing specific platforms for specific purposes to maximize the growth of your brand/business.
Today, there are a lot of brands trying to get the word out on social media. This means that your target audience scrolls through countless pieces of content – deciding which ones they wish to consume.
How do you ensure that your target audience consumes your content and acts on it in this scenario? You must spend more time and effort in distributing and promoting your content than you spend on creating it.
Why?
Firstly, all the resources you spent creating content will serve no purpose if people don't read or watch it. The only way to ensure it reaches them is by distributing and promoting it properly.
Secondly, having different distribution and promotion processes helps you optimize your content as per different social platforms. If you are promoting a blog, you might create a short video for promoting it on Facebook or a GIF for promoting it on Twitter.
In this section, I'll be sharing growth hacks that'll help you distribute and promote your content in the best possible manner.
Promote Your Content on Different Platforms
This can go both ways.
If you are absolutely sure that the majority of your target audience uses one social platform (say Instagram), it gives you a reason to focus on that platform.However, if you were to restrict all your marketing activities to Instagram, you'll lose the chance to engage your audience on Facebook. Yes, there might be some of them who are more active on Facebook than on Instagram.Setting a social media marketing strategy is the first step. It's wise to choose 2 to 3 platforms where your target audience is active and which suit your brand's personality and message.

You may maintain a good presence on all platforms but focusing your resources on all of them won't help you achieve any positive results.So, for a B2B business' ideal social media distribution would be the ideal distribution of resources across various social platforms:
LinkedIn 50%
Twitter 30%
Facebook 10%
YouTube 10%
These numbers are based on the content promotion and platform usage patterns of B2Bs across the world:
LinkedIn 80%
Twitter 67%
Facebook 91%
YouTube 54%
Instagram 66%
The ideal distribution of resources across various social platforms for a B2C businesses would be something like this:
Facebook 45%
Instagram 35%
Twitter 15%
YouTube 5%
This is how B2Cs, across the world, use social platforms to promote their content:
Facebook 97%
Instagram 78%
Twitter 57%
YouTube 54%
LinkedIn 46%
When it comes to promoting content on different platforms, marketers use a fancy term – cross promotion. Many think the term means promoting content on multiple platforms. Well, it does mean that we are missing an important point here. Cross-promoting content involves customizing the content for each platform and then sharing it.
I've seen tweets by people with nothing but links to their Instagram posts. If you ask them, they'll say they have successfully cross-promoted their content. But have they? Sure, the tweet will lead the audience to their Instagram page. However, if they had invested more time and effort in adding interesting elements to their tweets, they could have received better impressions and engagement.
Customizing content for each platform helps you use the unique characteristics of the platform to your advantage. For instance, posting a GIF on Twitter gets you more clicks.
How do I customize posts for each platform?
The various elements that you would have to optimize to post across various social media platforms are –
The length of your posts
Visual elements in your posts
Size of media files
Posting schedule
The length of your posts While long posts work well for Facebook and LinkedIn, Twitter values the strength of 140 characters.
Visual elements in your posts Twitter loves GIFs. LinkedIn isn't very kind to them. Visual elements include images, videos, infographics, etc.
Size of media files The post structure of each platform is different, hence it displays your posts in different ways. You must ensure that the media files you are posting fit these guidelines.
Posting schedule The time period of highest amount of activity varies for each platform. So, your 11 am post might receive great engagement on LinkedIn but not on Facebook.
Whenever you promote your content on different platforms, ensure you have ticked off every point in this checklist.
Content Promotion trumps Content Creation
Like I said earlier, spend more resources on promoting than you spend on creating content. Paid ads aside, social media helps you promote your content for free. It starts a cycle that keeps driving people to your brand.
If people like your page, then your content shows up on their newsfeed. If they comment on your post or share your status, then it further gets promoted to other people to like your page, and they get to know more about your business.
It might take a while for you to build a huge fan following but, even if it helps you get a couple of loyal customers organically, you've been successful.
So, how do you promote your content on social media?
Experiment with formats
Does your target audience like GIFs or blogs? Does the format justify the content? Find a format that fits both criteria, and you'll hit the jackpot.
Host contests to promote your content
A trick that most companies use to get more customers on board is host contests or give out promo codes. These codes will let customers get a discount on their products. This will get more people to check your page out and follow you to access discount codes. Another way is to give away free resources like ebooks, whitepapers, templates, etc. to winners. You can get existing customers to retweet for you so that the message reaches a bigger audience. Make sure you announce contests periodically to have your audience glued in.
Utilize popular hashtags or create your own
Make sure you make complete use of the hashtag feature so that it is easier to find you and make it simpler for the audience to access your products and campaigns. The hashtags have to be relevant and have a proper connection with your products if you want to sell it in a better way. It is also a good idea to come up with targeted ads that can be used to target a certain section of the audience.
Create unique links to track results
Use link shorteners like Bitly or Sniply to create URLs so that it is easy for you to track results of content you've promoted on different social media platforms.
Pro-tip: An excellent way to keep track of your social posts is to maintain a dynamic social media content calendar. This will help you plan for weeks or months ahead of time. Also, you can avoid any inconsistencies in your schedule like empty slots.
Reshare The Most Engaging Content-pieces
Remember, I mentioned analyzing content data? Well, you would need to do the same here. With the right data, you can reshare the content that garnered the highest engagement in 'X' days and get more eyes on it.
The first time I learnt about evergreen content, I was a bit surprised. We live in a world where things change so quickly, and it's quite rare for something to be relevant months and years after it was first introduced. And yet you and I have created content that people have been consuming for months now.
How do you identify evergreen content to distribute across social media platforms?
Look for that blog post receiving consistent traffic or that video that people are still watching on your YouTube channel. Again, the numbers will be a clear indication that your audience loves that content and attracts new readers/viewers every day.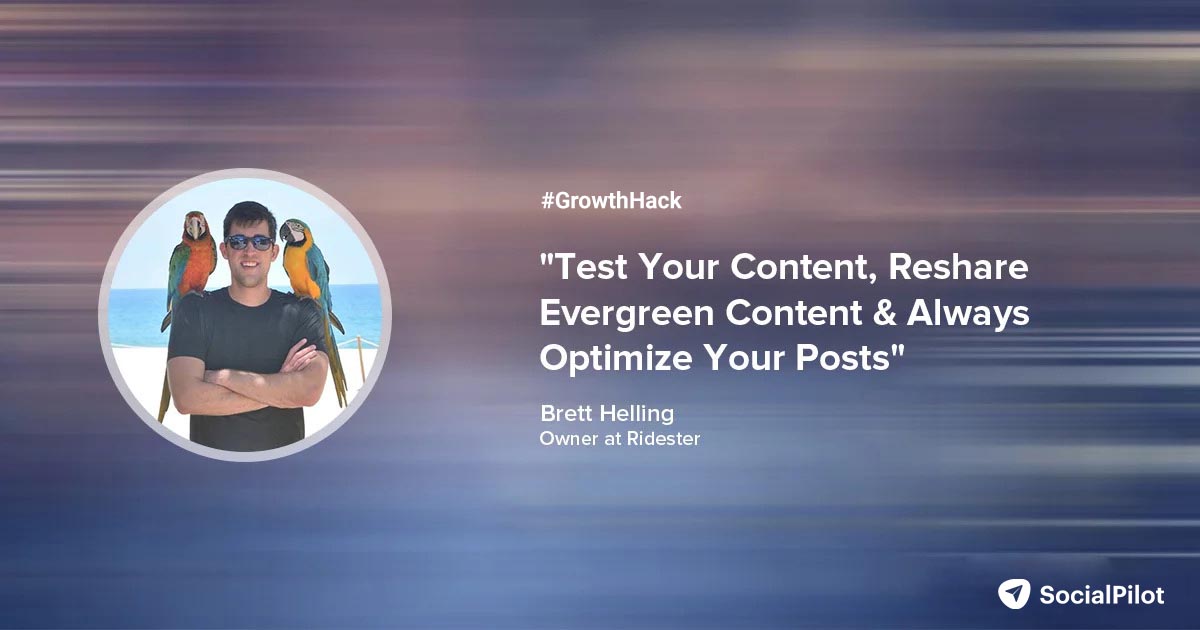 Speaking from a business perspective, evergreen content is the sweetest 'content' deal. In order to get the best results from this content, you must repost it on your social. Therefore, I would advise you to share this content on your social media more than once.
However, before you begin you must keep a few things in mind:
Refurbishing evergreen content
While evergreen content will surely be relevant for your audience, a change in format will help you target another group. If it's a blog post, take the gist of the entire post and use it to create an infographic or a video. This way, you'll attract the section of your audience that likes to consume visual content.
Reposting the content in a different manner
Ever you repost, remember that you must share the message differently. Reposting the same message multiple times will get you tagged as a spammer. To help you avoid spamming, I've listed a few ways you can rock reposting:
Mention that it is a new update
The first time you share a message on social media about this content, make it a point to highlight that it is a new piece of content put out by you or your brand.
[New Post Alert] Need help in creating ads that convert like crazy? Our new blog has SociallyFit's ad manager Tracy Wills sharing secrets about how she achieved a conversion rate of 5.1% with Google ads.
Ask a question
When you post this message the second, share it in the form of a question. Questions engage the audience's attention and drive them to think about the answer. Consequently, they'll click the link and read your blog post.
Is it really possible to get a conversion rate of 5.1% with Google ads?
Mention an interesting fact/statistic
If you've used a fact or a stat in your content, mention it in the social post. This will add an element of surprise or relatability.
67% of marketers surveyed confess they haven't achieved good conversion rates with Google ads.
In this case, the person will either be surprised that so many marketers have failed or relate with the number as he/she is struggling with ads, too.
Mention an actionable statement as a quote
If you content has pro tips, hacks, or tricks that are useful and actionable, mention them in the post.
Adding verbs to your ad copy increases conversion rates by 2%. Want more tips like this? Check out this blog:
Set a smart schedule for reposting
This schedule should help you get more clicks. So, spread your posts over a period of time. I've created a schedule for you here.
| | |
| --- | --- |
| Immediately after the content is published | One Facebook post, One Twitter post, One LinkedIn post |
| One day later… | One Twitter post |
| Two days later… | One Twitter post |
| Next week | One Facebook post, One Twitter post, One LinkedIn post |
| After a month | One Facebook post, One Twitter post, |
| Then every month… | One Facebook post, One Twitter post, One LinkedIn post |
This schedule may vary depending on which platforms you use, but the pattern of posting works well for any group of platforms.
Distribute Content of Other Credible Sources
Self-promotion doesn't work well. You can't possibly provide all the value. So, recognize and distribute content from other trustworthy industry sources. This is actually a strategy that not many people know about. When you share content from relevant, credible websites and blogs, it shows that you're more interested in helping people than selling your products or services. Therefore, it strengthens your relationship with your audience and makes them want to read/view your content.
I understand that you wouldn't want to share your competitors' content. But consider other authoritative sites that are relevant to your product, service, or industry. Look at them as potential allies. A good relationship with another brand can be mutually beneficial. By mentioning each other on your channels, referring to each other's content, and promoting one another, you are both increasing your chances of audience growth.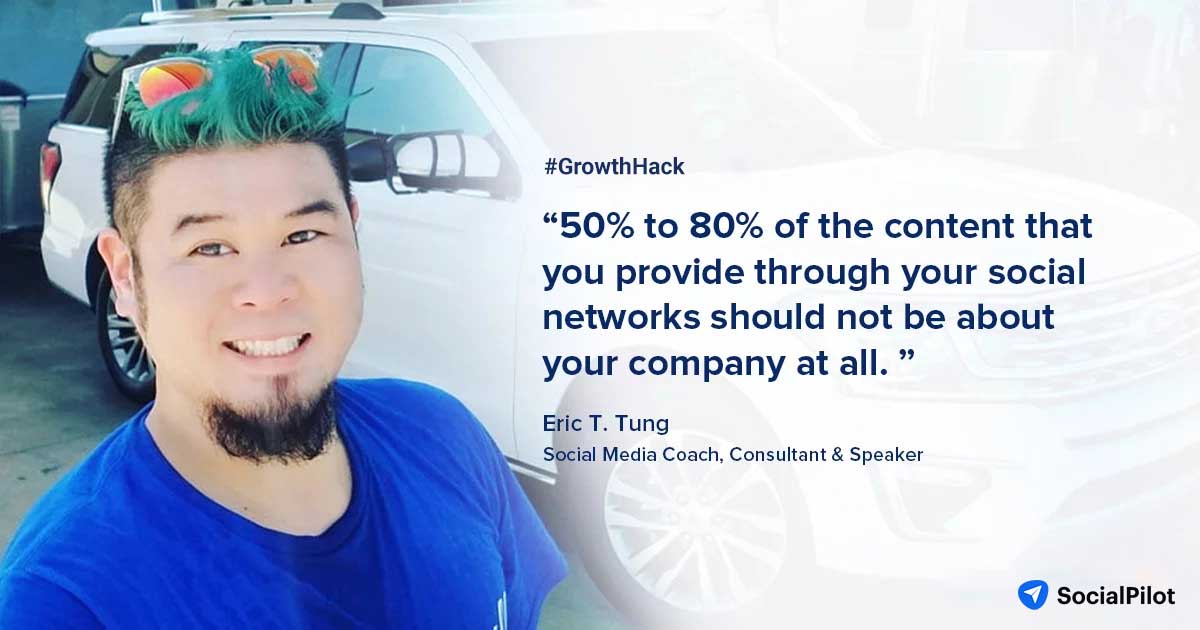 I've known brands to share third-party content in a lot of ways:
How to make your home child-friendly in 15 minutes via @happyhomes ?
Sharing feedback on other's content
Say you checked a content piece produced by a brand and found it to be very useful. Share it with the world on your social media and give the brand a shout-out for producing such great content.
This one has useful tips for women entrepreneurs struggling to fund their ventures. Thanks for the great article, @sherry!
Share your user experience
If you use a product or service that plays a crucial role in business processes, add your user experience when sharing their content. For your audience, this establishes your relationship with that brand – you are its user.
We wouldn't get any work done if it wasn't for @teamspace. The tool has helped increase our team's productivity levels while ensuring they are having fun. Here's their blog about productivity myths.
Suggest content to your audience
I know many CEOs and influencers who share a daily list of blogs they found to be interesting – suggesting their followers to read them. A simple 'check these out' works wonders. If the audience likes those blogs, they'll remember it happened because of you.
The blogs I read today
Art of procrastination by @unwind
Why majority of Americans don't know how to invest by @jeoffrey
My journey of building a self-sustaining business by @startupguru
Forging relationships with brands by sharing their content can lead to beneficial partnerships or collaborations in the future.
Prepare a Content Schedule For Your Posts
Why are my posts not getting any engagement?
One simple answer is inconsistency. Unless you have a content schedule or a content planner, finding that balance of posting and engaging will get difficult. Your job does not end at creating engaging social posts. No matter how perfectly crafted your posts are, they won't serve a purpose unless they get seen by people on their feeds. So, your next step should be to create a posting schedule for each of your social accounts.
This schedule must factor in the following:
When is your audience most active on that platform?
Which time zone suits the majority of your audience?
Is your posting consistent?
You and I could argue all day about how many times you should post and when you should post. The truth is, there isn't a 'one size fits all' solution to this. The answer to that question is unique to your brand and audience.
I've analyzed audience activity on 5 social platforms and created templates for each of them. You can use these templates to set your posting time slots for Facebook, Twitter, LinkedIn, and Instagram.
Template for Facebook
Template for Twitter
Template for LinkedIn
Template for Instagram
How Often Should I Post Across Social Media?
Here is an example of how often should one ideally post on various social media platforms –
| | | | |
| --- | --- | --- | --- |
| | Too Less | Perfect | Too much |
| Facebook | 1 post/per week | 2 posts | 4 posts |
| Twitter | 3 posts | 10 posts | 20 posts |
| Instagram | 1 post | 2 posts | 4 posts |
| LinkedIn | 2 posts/per week | 1 post | 2 posts |
| Pinterest | 3 posts | 10 posts | 15 posts |
Find out whether or not your posting schedule is near ideal or not. Reach your ideal number based on the the questions above and the ideal distribution across social media platforms.
Take a day to work, create all posts, and schedule them. It will save you a lot of time and, most importantly, will allow you to create a cohesive content schedule.
Consistency and frequency are an important part of social media success. You can use a number of strategies to increase your followers, but if you do not present them with interesting content regularly, you will have little or no engagement with your followers. They will eventually become ghost followers.
This answers the WHERE of social media growth hacking. It's ok if you are mid-way or just starting. Implementing these small changes will noticeably shift your content's visibility on social media.
If you are looking to decode the HOW of growing on social media, the next chapter in the series unearths the answers to maximizing social media engagement. One of the key factors to growth.