Believe it or not, social media marketing isn't even at its peak. Its potential is still untapped by a number of marketers.
But thanks to the emergence of advanced social media marketing tools, it's no longer a tough feat. PromoRepublic is one such tool that has been picking up fame in the industry for its excellent capabilities to dispense a smooth sailing marketing experience on social media.
If you are someone whose day instantly gets better with visually appealing posts on social media, then PromoRepublic is the tool you would want to add to your quiver. It has all the major features that a social media scheduler has.
However, there's a flip side. It lacks the heavy-duty support that SMBs require while scaling up their promotion on social media. It also lacks support for networks.
That's why scouring through potential PromoRepublic alternatives is a must before making the final choice. And this blog is the starting point for that hunt.
It lists the top 10 PromoRepublic alternatives that will aid you in catering to your audience on social media.
Let's get started!
10 PromoRepublic Alternatives for Social Media Managers in 2022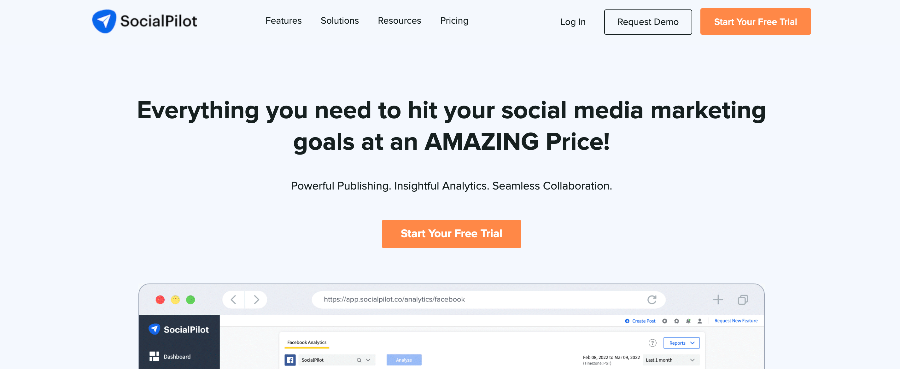 SocialPilot is one of the best PromoRepublic alternatives that can aid even novice marketers to manage social media marketing like an experienced professional. The tool is beginner-friendly, loaded with features that automate posts on 7+ popular networks like Facebook, Instagram, TikTok, LinkedIn, Twitter, Pinterest, Google My Business, etc.
Trusted by more than 8500+ professionals, SocialPilot plays a crucial part in aiding marketers to adjust to the fast-paced world of social media with its state-of-the-art capabilities.
SocialPilot allows you to schedule a month's worth of posts in one sitting. You can curate content, repeat posts, track campaigns, set up RSS feeds and workflows with assigned roles. For agencies that struggle to cater to several clients, its white-label feature is a must-try.
SocialPilot's key features include:
Bulk schedule 500 posts at once
Schedule on top social media profiles for better reach and exposure
Post previews and customization based on the network
White-label reporting for agencies managing multiple clients
Workflow and approvals setups to facilitate better collaboration
Canva integration for accommodating last-minute changes to graphics
RSS feeds and content curation features for a better posting strategy
URL customization with flexible scheduling
Analytics for tracking the performance of marketing campaigns and daily posting
Why You Should Opt for SocialPilot
You can manage platforms like TikTok, Instagram, Facebook, Twitter, Pinterest, LinkedIn, Google My Business, and more.
The bulk scheduling feature comes in handy when you need to schedule posts in mass.
Curate unlimited content and reshare existing posts for a dynamic social media presence.
It has excellent customer support that answers queries in less than 4 hours.
Social inbox lets you manage engagement with your customers and leads online.
Kate W
Over the years, I have used quite a few of the social media management packages. I always found something that jarred with each one…. until I tried SocialPilot. Not sure how many years I have been using this now, but I love it, and it forms a big part of my engagement strategy. The best thing about it is that it's so easy to tailor messages to each channel and tag relevant businesses in the posts on Facebook and Twitter. Analytics are good, the calendar view is great, support is excellent. Fabulous. Thanks to the team at SocialPilot. It makes my life easier working on different client accounts.
Burt R
I own multiple businesses, all in multiple places. I want to keep posts flowing, and this allows me one place to do it all in one dashboard. I also love the Calendar view, so I can see past and upcoming dates of posts.
John M<
Easy to use while still being priced in an affordable way. Having tried many others, this program has suited our marketing agency to grow and achieve success. We can give logins to each customer that wants access which is extremely beneficial for those customers. Integration with Canva is key to keeping our labor costs down.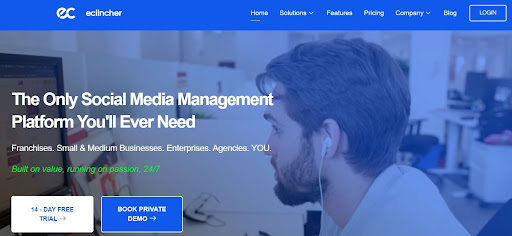 eClincher is one of the PromoRepublic competitors that fits the needs of businesses of all sizes. The tool boasts of its extremely clean interface and its modernized attempt at marketing automation.
eClincher has several useful integrations apart from the usual posting capabilities. The tool has also been vital in spiking ROI for their customers with a frictionless execution of the scheduling process.
Its pivotal features include:
Smart queuing with auto-sharing to save time and post better
Run social media campaigns and track its performance
Link shorteners for clutter-free posting
Live feeds for direct engagement
Listening features for managing brand reputation
Pros
Find top relevant content and influencers with keywords.
It has an in-built library to store all images, videos, and media for posting.
It has a centralized inbox that lets you engage with customers on social media.
Francis M
Analysis and reporting features. Eclincher is the only platform that met our needs in terms of inbox analysis. All interactions received on the pages of the brands we manage are collected by the platform so that we can analyze them in detail later. Automated reports are available, but there is also a world of possibilities in terms of data visualization in custom reports.
Cons
Though the UI is clean, it doesn't provide the best experience at all times.
The tool is expensive for the features it offers.
The tool is painfully slow and lags a lot.
Danielle R
Eclincher is very clunky. It takes a long time to load, it has certain strange rules regarding linked Instagram and Facebook accounts. Multiple times it has notified me that something I scheduled has been posted when it has not.
---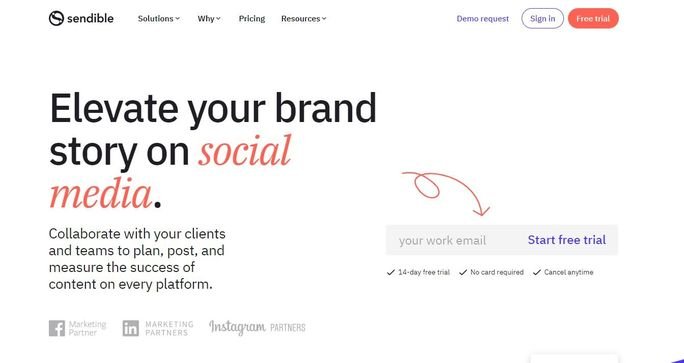 Sendible is one of the PromoRepublic competitors that is quite famous already. If you are tossing and turning while managing several clients at once, Sendible can be your ally.
The tool is quite intuitive with its content recommendation feature that pulls out diversified topics to share based on any keyword you enter. Another feature that is worth mentioning is its inbuilt CRM for building fruitful customer relations.
Its key features include:
Schedule queued posts in bulk to the best times
Get previews before scheduling any posts
Access in-depth reports that sum up your social media performance
Engage with customers with every brand mention
Collaborate with your team for a seamless strategy execution
Pros
You can add multiple accounts to your Sendible dashboard.
Its unified inbox lets you manage engagement from multiple social media platforms.
You get access to custom reports.
Luke F
The three things that I like the best about Sendible are the content calendar and its functionality, analytics and customizability with great data charts, and the monitoring aspect.
Cons
It lacks proper calendar features.
Pricing is high compared to other alternatives.
The tool isn't so user-friendly.
Verified Sendible User
Sometimes the integrations don't work 100%. Instagram often doesn't pull featured images even when fetched. Hashtags sometimes run together after they're added to various services. The mobile app seems to have a lot of bugs, and the Services concept takes a little bit to get used to.
---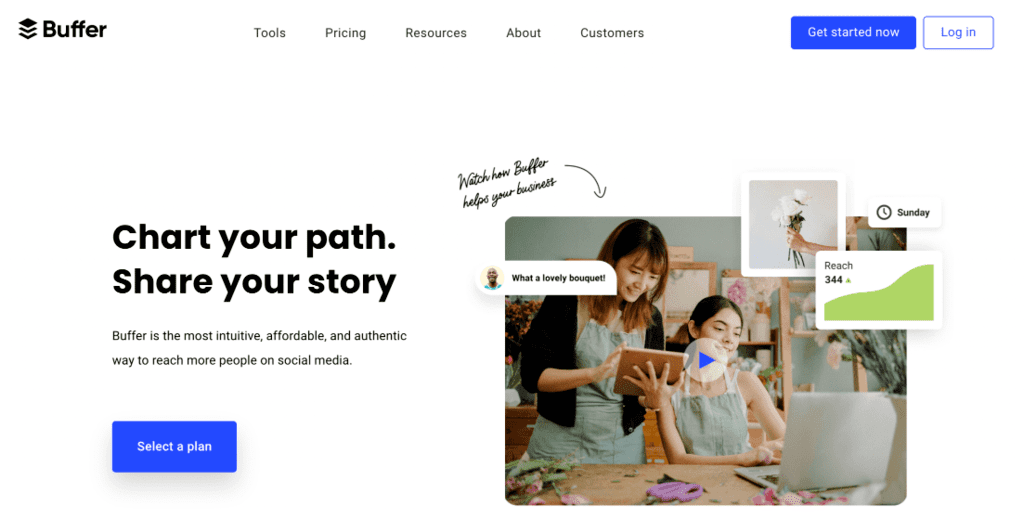 Buffer is one of the PromoRepublic alternatives that you must have heard of at least once when hunting for social media tools. It is widely used by individual marketers and SMBs to market their campaigns and be updated with usual postings.
It offers a mobile app and chrome extension too, so you can share posts at one go. However, Buffer can prove to be pricey down the line. Most of the features are add-on services. Therefore, the final bid becomes hefty if you want to utilize it to the fullest.
Some of the key features of Buffer are:
Preview posts before scheduling
Recycle your top-performing posts
Go in-depth with detailed analytics and trackable metrics
Integrates with multiple apps and extensions
Import RSS feeds for a better content strategy
Pros
It has a clean interface that elevates the user experience.
There is a free plan, but it has its own limitations.
Customize posts as per platform specifics before sharing.
Matt P
The only downside I've found while using Buffer is that sometimes scheduled posts don't post. I may get an email stating a post had trouble going through, so I'll have to log in and manually share the post.
Cons
Scalability isn't quite affordable.
There is no content curation feature.
Bulk scheduling capabilities are missing.
Jorge L
Buffer is missing some crucial collaboration features offered by other softwares that make it hard to use for working as a team. And the pricing is just too high for the present standard on social media pricing applications. If you have the money, it is not a problem.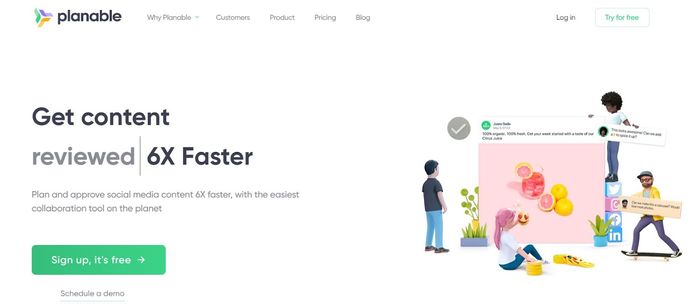 Planable is one of the budding PromoRepublic alternatives that makes collaboration with bigger teams easier. You get multiple timeline views to visualize your content strategy in a better way.
Planable also offers unlimited storage for all the media files you need to post on social media. Another remarkable aspect of Planable is that they have tons of guides and resources which customers can use to understand the platform and its intricacies with precision.
Other prominent features of Planable are:
The content library is available for future use
Optimize campaigns and gauge their performances
Set up automated workflows and grant privileges
Color-coded labels for priority posts on the calendar
Share posts with non-Planable members with guest sharing
Pros
The platform is beginner-friendly and easy to use.
The multiple views for posts is a total game-changer.
The tool is visually appealing and quite enticing.
Christian M
Planable has a simple interface that allows me to schedule out my social media posts across platforms. I especially appreciate the free tier that allowed me to try out the full Planable interface for long enough to really learn the tool.
Cons
Planable doesn't offer the best customer support.
You can't upload a custom thumbnail to videos whale scheduling.
It doesn't provide you with crucial analytics.
Tanya V
I find posting to Instagram to be quite glitchy. I often have issues and then end up posting to IG manually – especially where videos are concerned. Many times due to this, I am individually posting to each platform as Instagram doesn't want to work, and Twitter has a character limit. It is a bit frustrating at times.
---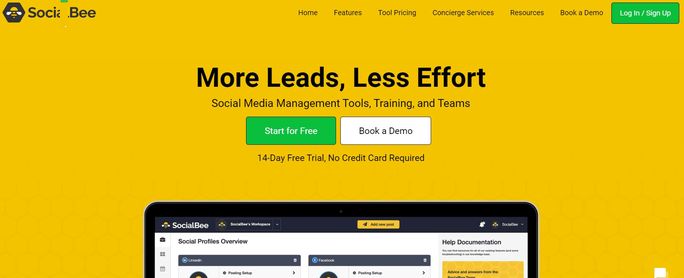 SocialBee is yet another name in the list of PromoRepublic alternatives that can help you ace your marketing game on social media. Agencies mostly prefer this tool to automate publishing by scheduling.
SocialBee's reporting and analytics are quite efficient too. You may also easily manage dozens of accounts at the same time from networks like Facebook, Twitter, LinkedIn, Pinterest, Instagram, Google My Business, etc.
Prominent features of SocialBee are:
Design your social media posts with its Canva integration
Customize posts and preview them in real time
Identify best performing posts for resharing
Workflows and approvals capabilities included
Category-based posts scheduling
Pros
Track your brand performance with analytics.
You can assign posts to each category for easy retrieval.
Recycle content to refill social media queues.
Joseph K
I love how the application organizes the workspaces and accounts for each organization or person. We use this tool to manage multiple accounts, and it is super easy to switch between the accounts while working in one session.
Cons
The dashboard isn't user-friendly and intuitive.
There is no dedicated brand listening or monitoring feature.
No provision for hashtag research.
Samraddhi S
SocialBee doesn't still allow users to tag users from LinkedIn. It should also allow the users to design posts on SocialBee. It will be much easier to design templates for social media on SocialBee and post it from there itself. SocialBee can also have an automatic hashtag generator. It'll make scheduling posts much easier.
---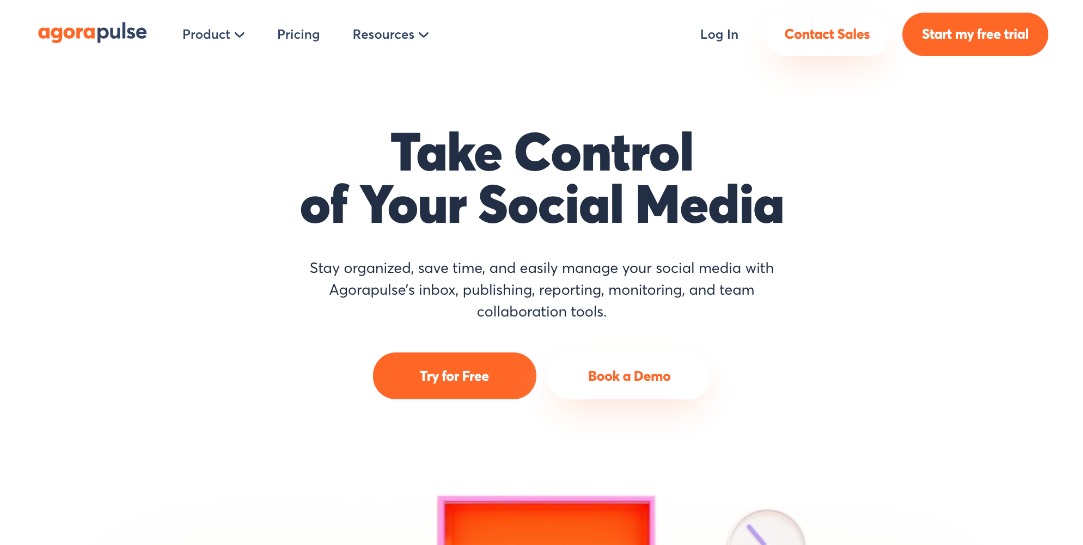 Agorapulse is yet another of the PromoRepublic competitors that can make your brand gain popularity on social media. It provides a simple, user-friendly interface that can be implemented straight away.
It is a powerful social media management tool that enables small businesses to manage their social media profiles, establish communities, and moderate content. Its users take less time to get used to its working.
Some key features of Agorapulse are:
A unified inbox that collates every comment, message, and discussion
Prospects of customer engagement
Tracks competitors for competitive advantage and benchmarking
Customizable publishing options
Responsive customer support
Pros
You can keep track of evergreen posts and repost them to garner more views.
Color coding as per the status of the posts is available.
Custom analytics report is available.
John C
Honestly for me, I have always been about data. For me, the biggest tool/advantage (even at an extra monthly cost) is the Power Reports. Being able to create 'Labels' for each post, regardless of social media profile, and run a report strictly on that label is HUGE – both from a time-saving standpoint and for demonstrating ROI to internal teams.
Cons
The images sometimes get blurry when scheduled.
The reporting feature is pretty basic.
Pricey for the feature set it offers.
Anna Beth R
The analytics on Instagram stories is quite limited, and we do a lot of work and community building through those, so it would be great to have a better drill-down of engagement (beyond message replies). Additionally, the draft box on the publish feature is quite small and has no option of dragging to make it bigger, making it frustrating to use for editing longer captions. Additionally, the scroll bar on the draft box tends to scroll all the way up or down, compounding the problem.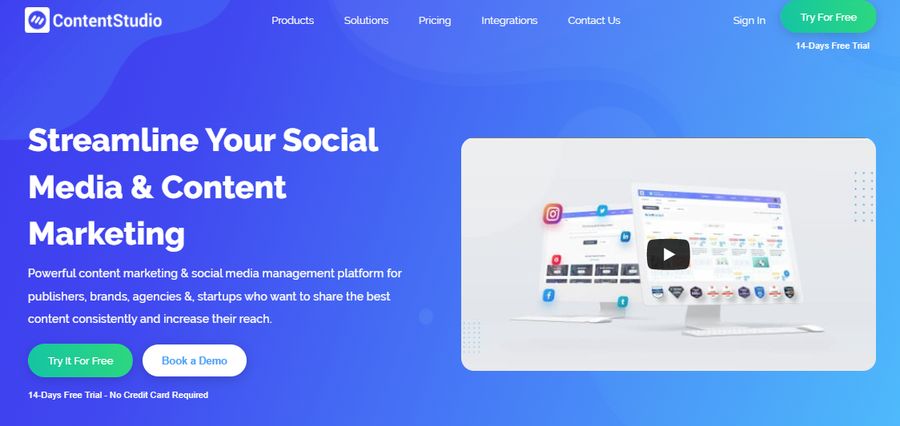 ContentStudio is another contender in the race of PromoRepublic alternatives that aids marketers in establishing a diabolic presence on social media. Apart from connecting you to social media platforms, it also integrates with blogging platforms like WordPress and Medium.
ContentStudio has a content curation feature that assists you in finding, planning, publishing, and analyzing material for social media networks. It also provides hashtag suggestions and has a built-in SEO toolkit.
Key features of ContentStudio include:
Bulk scheduling capabilities
Import from RSS feeds
Unified social inbox to track all conversations
In-built SEO toolkit for content promotion
Team collaboration features
Pros
The product is super easy to use.
Its customer service is praiseworthy.
You can have multiple workspaces for your clients.
Alex M
I have used ContentStudio for several years now. I'm a big fan of using something that can simplify my content creation and posting. ContentStudio's automation features keep me consistent with my social media management. The composer is easy to use and gives a great preview of what your post will look like on your different social channels.
Cons
Its mobile app is not as robust as its desktop application.
It misses out on vital integrations with popular apps.
Several limitations are a huge blow to the overall experience.
Brad Ford P
The content approval flow is a little wonky for the client or collaborator. The discovery area is nice, but there's a lot of clicking to filter what you want, and there's no way to save that filtering.
---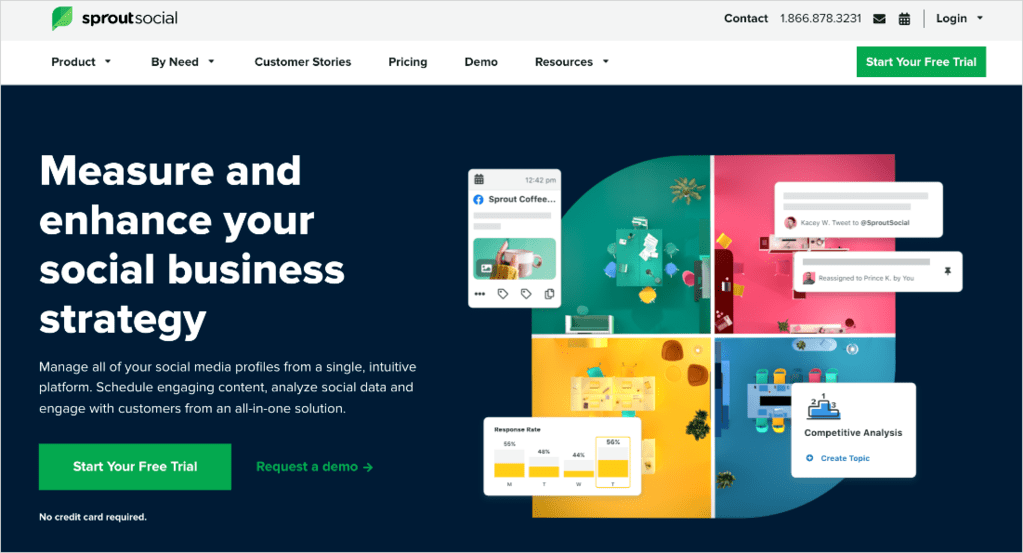 Sprout Social is one of the PromoRepublic competitors that has been around for quite some time now. Sprout Social helps you increase your social media profile's activity numbers in a couple of days with its automatic posting, engagement, and analytics features.
The tool provides hashtag tracking features, RSS feeds, team management options, and scheduling functions. Sprout Social is a fantastic tool that can assist you with social media listening insights like sentiment analysis, trends, conversation tracking, and more.
Other key features of Sprout Social includes:
Social inbox listing all engagement-related threads in one place
Schedule posts well ahead of time
Collects lump-sum data and produces detailed reports
Trace out trends from social conversations
Empower your branding with employee advocacy
Pros
It offers scheduling, analytics, and listening capabilities in a single place.
You can even reap the benefits of a few reputation management features.
The tool is rich with useful integrations.
Rachel P
The Smart Inbox in Sprout is my favorite feature. It allows us to see what's happening on all of our platforms at once and is so convenient to react and reply to customer messages.
Cons
Integration with TikTok isn't available yet.
Video scheduling is glitchy.
The tool is expensive for individuals and solopreneurs.
Kendall D.
Its pricing is very high. It has limited social media platforms to be integrated with. You can only have four social media accounts at a time. If you need more apps, it will cost more fees. It is very expensive for teams because the more people you need to interact with, the more you have to pay.
---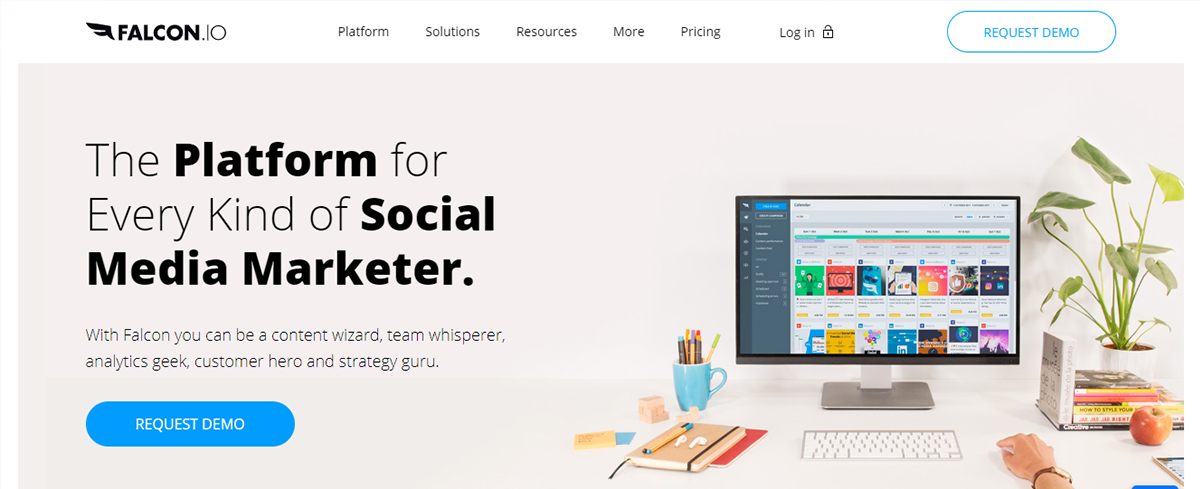 Falcon.io is one of the fast-evolving PromoRepublic alternatives that is giving tough competition to other social media management tools. Using the campaign planner feature, you can run marketing campaigns on Facebook, Instagram, Twitter, and LinkedIn.
Falcon.io also offers a single calendar to see all of your planned posts. Coordinate with your team members for the same. You can even run ads, publish content, and track metrics with the tool.
Here's a quick glance at all its major features:
Create organic and paid posts for social media
Manage community and engage with customers easily
Connects with CRM for better audience insights
Performance tracking and benchmarking
Social listening and brand building
Pros
Collaboration features are top class.
Save assets for faster access in the future.
Integrates with CRM to provide unique insights.
Joakim K
The service of Falcon Social is very good – you will get a personal contact that you can get in touch with at any time if you have any requests, feedback, or concerns.
Cons
Support for Pinterest and TikTok is still unavailable.
Analytics are quite preliminary and standard.
Not many pricing options are available.
Suzanne M.
There are constant API and posting errors. There are some features I was sold on but weren't actually what I asked/needed. It's very high maintenance. Reports weren't as customizable as expected.
Every day is new on social media. New trends to chase, new posts to make. You might lose your grip quite easily. Hence, investing in a social media tool like SocialPilot is mandatory if you want to continue in the race for long and emerge victoriously.
Though almost all PromoRepublic alternatives we discussed here are capable of scheduling posts, SocialPilot still stands out from the rest because of its exceptional value for money.
Take its free trial right away and put your social media marketing on autopilot to experience the revolutionized marketing.