How to start a social media marketing agency is a popular topic as digital marketers and brands seek assistance in establishing a thriving online presence. However, beginning such a venture without prior experience can be daunting.
Challenges range from managing time effectively, building a strong online presence, onboarding and retaining clients, and meeting deadlines and expectations.
You can launch a successful social media marketing agency by breaking down the process into achievable steps. This article outlines 11 practical tips to help you initiate and grow your agency. So, instead of guessing where to start, utilize these tips to establish a flourishing social media marketing agency.
How to Start a Social Media Marketing Agency?
With severe competition in the industry, marketers and businesses desperately need help growing their brands on social.
Why? Because over half (59.4%) of the world's population uses social media.
Also, 137 million new users joined social media sites in the past year, making it a top focus for business growth. The report also reveals nine in 10 online users are on social media, as per data compiled by DataReportal.
Further research by Statista shows that global social commerce generated over $724 billion in earnings in 2022. Also, with the expected 30.8% compound annual growth rate (CAGR) from 2022 to 2030, revenues are predicted to reach a whopping $6.2 trillion in the latter year.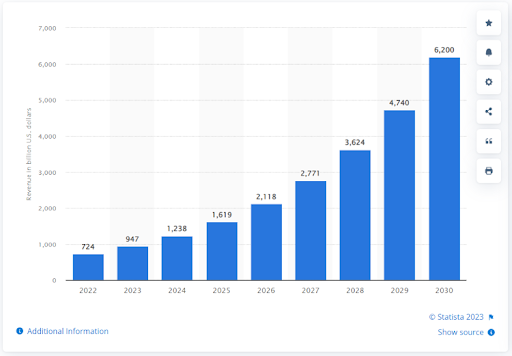 As a result, intelligent marketers and brands want to tap into the social economy. But it's good news for social media marketing agencies because it means more jobs and increased revenue.
Follow the tips below to learn how to start a social media marketing agency:
1. Choose Your Focus Area
To begin a social media marketing agency, it's essential to determine your area of focus. The more defined your niche, the better you can establish your target audience and attract potential customers.
You can offer multiple social media marketing service packages or focus on a single platform. The goal is to serve enough clients to generate substantial earnings. You must identify your target audience and the clients you want to attract to achieve this. Locate their online presence and focus your efforts on those sites.
However, to effectively communicate with your target market and attract the customers you seek, create marketing content that entertains and encourages engagement. Doing so can effectively promote your agency and attract potential clients.
2. Understand Your Value Proposition
Your value proposition (a.k.a. the value prop or benefit statement) is crucial because it communicates the unique benefits that your agency provides to potential clients. It sets you apart from your competition by highlighting the specific reasons why your target customers should choose your agency. By clearly communicating your value proposition, you can attract more clients and grow your social media marketing agency.
However, bear in mind that your value prop or benefit statement differs from your mission statement. While the two have remarkable similarities, they are not the same.
How?
Your value proposition is a critical component of your marketing message because it directly communicates your agency's benefits to potential clients. This concise statement highlights the unique value that your agency provides and sets you apart from competitors. By clearly communicating your value proposition, you can attract and retain clients and drive the growth of your social media marketing agency.
On the other hand, your mission statement provides a broader context for your agency's purpose and goals. This may include your agency's vision, values, and long-term objectives. While your mission statement is an essential component of your agency's branding and messaging, it may not have the same direct impact on attracting clients as your value proposition.
Example of Value Proposition
Intelligent brands with exceptional value proposition statements can easily influence first-time visitors. An example of a compelling value proposition is SocialPilot, which prominently displays its statement on the homepage of its website.
The statement emphasizes the agency's ability to provide all social media marketing services at an affordable price, including publishing, analytics, team collaboration, and more. This makes it an ideal option for brands that need help with consistency and performance analysis on social media platforms.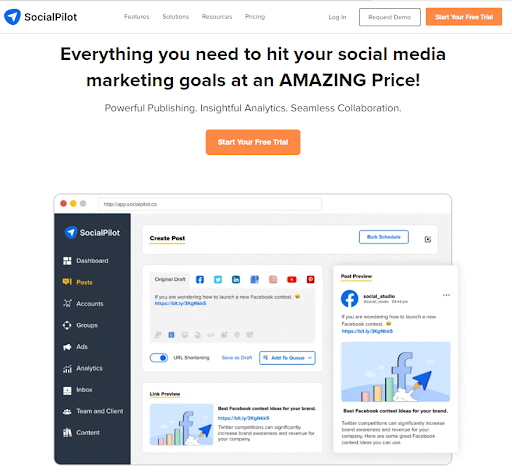 SocialPilot's value proposition statement also includes an enticing call-to-action and dashboard slides, which make the overall package more appealing to potential clients. By highlighting these key benefits, SocialPilot can easily influence first-time visitors and demonstrate its unique value proposition in the competitive social media marketing industry.
3. Choosing Your Agency's Services
So, what marketing agency services can you offer?
For many new social media marketing agencies, offering "social media management" is all there is for a flourishing social media marketing agency. However, there is more involved.
For example, social media management is:
Creating and publishing social media posts (you need a social media content strategy for better results).
Tracking engagement, brand mentions, and content performance (social media analytics is crucial).
Growing a community of loyal followers (this calls for social media engagement & community management).
As demonstrated, you can offer many services as an all-inclusive package or independently.
Examine the following social media marketing services packages your agency can offer:
a. Social Media Management
This service is about managing a company or marketer's social media presence. Your agency can offer this service to manage a brand's social media existence on multiple platforms.
Your agency could undertake the following responsibilities:
Handle client's social media strategy
Create various marketing content and ad campaigns
Community management
Social media monitoring and reporting
You can offer these services as an all-inclusive package or as separate bundles. In that way, you help clients save time, reduce stress, and focus on other essential aspects of their business and personal life.
b. Social Media Content Strategy
A social media content strategy is a crucial roadmap that directs a brand or marketer's journey from start to finish. It ensures success by determining what content to create and post, when to publish, and how frequently.
However, developing a sustainable social media strategy can be daunting for many brands, making it an excellent service to offer as a social media marketing agency.
c. Social Media Content Creation
Some agencies that offer social media content creation services produce content in-house. But you have two options for tackling this task.
Create content in-house
Work with qualified freelance writers and graphic designers
If you're starting as a solo agency owner, it might be overwhelming to produce all content in-house. You can avoid burnout by outsourcing work to freelancers. However, ensure that the content you or the freelancers create aligns with a brand's voice and social media strategy.
Then use a durable social media management tool like SocialPilot to schedule your posts and simplify the publishing process. Given this, you can help businesses improve their social media performance and increase ROIs.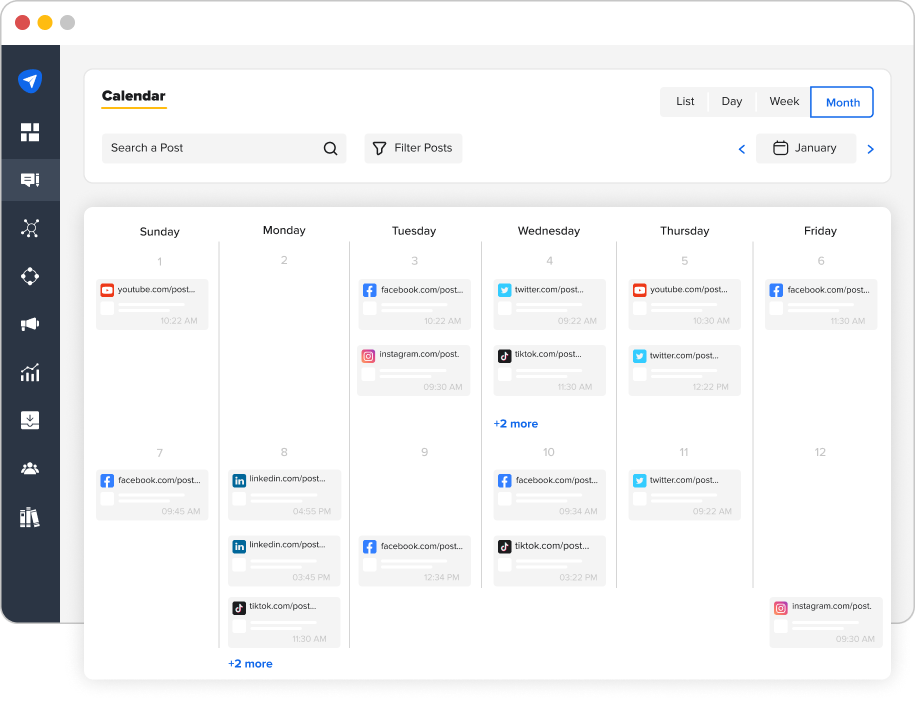 d. Paid Social Media (aka Social Media Ads)
Paid social media or social media ad management is a lucrative service your agency can offer for the following reasons:
Enables clients to reach a new audience
Increases product sales
Reduce churn rate
Builds a database of loyal customer
Increases revenue
Several companies are turning to social media advertising campaigns due to declining organic reach. Thus, your agency can help businesses to create, implement, and manage successful paid social media strategies and campaigns.
e. Community Management
If your agency offers social media community management services, you will establish energetic communities and groups across networking sites.
Though time-consuming, this can be rewarding because your agency can help customers increase awareness of their brands and boost customer loyalty. You will actively engage in social media discussions and answer users' queries on various platforms.
f. Other Social Media Services Your Agency Can Offer
Social media monitoring
Social media engagement
Influencer marketing
Lead generation
Reputation management
4. Set Your Social Media Services Pricing
Once you determine your services, the next is to establish your digital agency services price structure. Your services pricing is one of the essentials to consider when considering starting a social media marketing agency. Therefore, put a price on your service offerings and start reaching out to clients.
However, the fees you charge should be based on your experience in the industry. According to data from PayScale, the average annual salary of a social media manager is almost $55,000.

While the figures in the image are not typical, you can use them to calculate how much you charge and structure your social media agency pricing to earn more per month. Additionally, you also need to decide whether to charge an hourly rate, per-project rate, or a standard monthly rate for your agency services.
Lastly, when detailing your social media marketing agency pricing, remember to indicate whether or not you're charging for value-added tax (VAT).
5. Create a Social Media Strategy
Social media marketing is critical to business growth, but competition among marketers and companies makes achieving results difficult. However, your agency can deliver success for clients with a well-crafted social media strategy.
Developing a marketing strategy for your agency is essential to ensuring that your client's social media efforts yield positive outcomes. Your strategy provides direction and guidance, which are crucial to success. Without a social media content strategy, you may shoot in the dark, leading to imprecise outcomes and inadequate returns on investment for your clients.
Therefore, it is essential to develop a solid plan for social media that tailors every aspect of your agency business to your client's overall business objectives rather than relying on guesswork.
But if you need to learn how to create a strategy for social media, there's help. You can use this free editable social media strategy template and fill in the blanks.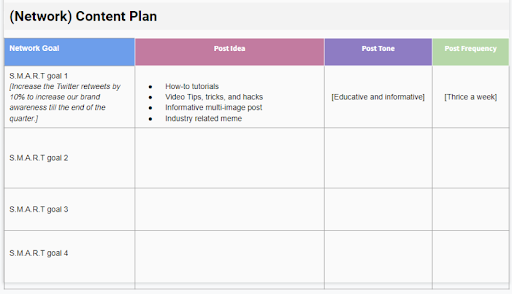 6. Build Your Agency's Online Presence
Establishing a digital presence enables your agency to develop connections with potential customers. It offers an ideal communication channel to engage and interact with your target audience and prospects. Moreover, your online presence provides the convenience of crafting your brand story and distinguishing you from competitors.
By humanizing your agency's voice and making it relatable, you can attract more business as your target customers are on social media platforms.
A website and blog is an excellent starting point, but having a presence on social media is also important as it enhances your brand's visibility across all touchpoints. Social media offers a free resource to establish a robust online presence, and neglecting it implies lost revenue for your agency.
What are the Key Elements of a Viable Online Presence?
A blend of three crucial strategic marketing components are essential for a sustainable online presence, and these are:
Portfolio website
SEO
Content
These components are vital and should combine to create a unique online presence that sets your agency apart from competitors.
For instance, your agency must demonstrate its credibility and ability to deliver desired results to attract high-paying clients. Creating an exceptional portfolio website showcasing impressive campaigns, case studies, and proven achievements can help you build trust with clients and differentiate your agency from the competition.
This trust factor is vital in persuading prospects to choose your agency over others. By leveraging these strategic essentials, you can create a compelling online presence that establishes your agency as a leader in social media marketing.
7. Build Your Team
One of the key factors to consider when starting a social media marketing agency is your team players. Your agency's success relies heavily on combining various skill sets and expertise to create a formidable force. In other words, building a solid team of top talents is essential.
To effectively manage social media campaigns, you will need a team to handle various tasks such as copywriting, graphic design, community management, and more. As you start your agency, you may not have a complete team, but it's vital to consider which roles are important and non-negotiable.
By assembling a competent team, you can cater to your client's needs, provide high-quality services, and deliver results that exceed expectations. With the right people on your team, you can establish your agency as a reputable brand in the industry, attracting more clients and building long-term relationships with them.
8. Launch Your Agency
With all the above areas covered, you can successfully launch your social media marketing agency. But before you do so, ensure your website and social media channels are active.
For example, your site's contact page/form, email signup forms, and phone numbers are correct and working. Also, you want to create a Google Business Profile for your social media agency.
Your Business Profile on Google will make your agency appear on other Google products, such as Google Maps and Google Search. In that way, customers can find your brand quickly.
Once launched, you can run paid ads for a month or so (if you have the budget) to increase visibility, build awareness, and attract clients.
You can use PRs to get your business on multiple industry publications for brand awareness. This helps introduce your agency to a broader target market.
9. Start Onboarding Clients
After a prospect decides to work with your social media marketing agency, it's crucial to properly onboard them to set clear expectations and establish a positive relationship.
A smooth onboarding process can lead to a better working environment and happier clients. To achieve this, develop a "Get to know you" form for new clients to fill out. This document should gather important information such as their contact details, links to their websites and social accounts, and legal disclaimers.
By having this information, you can better understand each client's needs and serve them more effectively. Without a proper client onboarding process, you risk making mistakes and relying on trial and error, leading to miscommunication and complaints. Taking the time to onboard each client ensures you can avoid these issues and retain satisfied clients.
You can onboard clients over different platforms, including
Zoom
Skype
Various social media sites
10. Automate Your Social Media Marketing Agency
When calculating how to start a social media marketing agency, workflow automation is one of the top methods to consider.
Why is automating your social media agency so important?
By automating your agency's workflow, you can optimize your time and resources, ultimately leading to increased productivity, profitability, and flexibility. With the help of automation tools, you can reduce errors and enhance lead generation efforts while freeing up time to focus on meeting clients' objectives.
Investing in the right social media automation tool can elevate your agency's professionalism and provide a competitive advantage in the market. You can explore free and premium services based on your budget and needs. So, consider automating your agency's workflow to streamline tasks and grow your business effectively.
A social media management tool like SocialPilot is perfect for any new social media marketing agency. This automation tool is exclusively designed for businesses, small to enterprise-sized. With this versatile tool, expect to enjoy many features such as social media scheduling, calendar management, content curation, robust analytics, client management, and more.
11. Determine Your Payment Options
Having multiple payment options benefits your social media marketing agency since it minimizes discord and makes transactions quicker, better, and more flexible. Moreover, offering multiple payment options is a tactical customer retention process that eliminates client hassle and guarantees payments from clients.
With several payment options available, choosing opportunities that work best for your agency makes sense.
Here are some of the best agency payment providers you can use:
Stripe
PayPal
Square
Collect
One Page Pay
DepositFix
Checkout HQ
These small business online payment options allow you to collect money from clients for your social media marketing services packages.
Evaluate these factors when searching for the best payment options:
Reliability
Use-friendliness
Clients' preferences
Failed payment rates
Credibility and security
The total cost of operation
As a social media marketing agency owner, selecting the best payment opportunities will help you get paid faster and ease cash flow concerns. It will shorten the time spent manually resolving issues and decrease CAC.
5 Skills to Run a Successful Social Media Marketing Agency
1. Social Media Strategy
Having a solid content strategy for social media is essential to achieve your agency's objectives. It acts as a roadmap outlining your goals and how to attain them. Additionally, social media marketing strategies help you determine which platform to focus on and what type of content to post at the right time when your audience is most active.
To assist you in developing a durable social media strategy, here's a six-step process for creating a social media marketing strategy. You can also use this free social media strategy template to cut the learning curve.
2. Social Media Content Planning & Publishing
Publishing content consistently on social media enables your audience and potential customers to find you easily. However, randomly creating and publishing content on multiple social media platforms does not help you maintain consistency. You need to plan your content and use a time-saving tool to schedule your content for posting on multiple platforms. By doing so, you maximize consistency and reach your followers and potential customers when they are online.
3. Ads on Social Media (Social Media Advertising)
Social media advertising is crucial when allocating funds to grow your clients' businesses. Advertising on social media incurs costs, so your clients want to reach an audience they wouldn't reach organically.
Mastering paid social ads is essential because it's your ticket to reaching more people beyond those who follow you or your clients. Advertising allows you to define who sees your ad campaigns using various parameters to create a target audience.
4. Listening to Social Conversations and Engagement
Posting and engaging with your audience and customers is an excellent way to build your online business. As you post content frequently, people will engage with it by liking, commenting, and sharing it. You need to use social monitoring or listening tools to know what people say about your agency. Monitoring social conversations will help you find users' feedback, respond to and rectify any issues, and leave a positive impression.
5. Social Media Analytics and Reporting
After publishing marketing content throughout the month, it's time to analyze and report your posts' performance. Analytics will show you who uses your brand hashtag and how often it has been used. You can also identify which content is not working using the reporting tool. Analytics and reporting are crucial to measuring the ROI in social media efforts.
Conclusion
Starting a social media marketing agency in 2024 can be challenging, but with the right approach, you can succeed. It's crucial to have a clear business plan, understand your target audience, and develop your skills in social media marketing.
Following the steps outlined in this guide, including defining your niche, building a team, and creating a social media strategy, you can start your agency and compete in the market. Remember to stay up-to-date with the latest trends, invest in automation tools, and measure your performance through analytics and reporting.
Building a social media marketing agency takes time and effort, but with dedication and hard work, you can achieve your goals and help your clients grow their businesses online.