So – you want to be a successful social media content creator? Not only is it a fun, creative role that – with the right application – offers almost limitless opportunities to grow but also an important one.
For many people, social media has supplanted movies or TV as our primary source of entertainment and replaced news outlets as our go-to authority for what's happening in the world. (After all, an estimated 4.89 billion social media users are out there – so to say these platforms are simply 'popular' is an understatement!)
That makes a social media content creator's job both a crucial and lucrative one. But it begs the question: what is a social media content creator, and how can I become a good one?
Below, we answer these questions; we'll explore the best platforms for social media content creators, round up the top tools for producing superior social content, and explain how to ensure the consistency and growth of your social content efforts.
What's a Social Media Content Creator?
A social media content creator is someone who creates content – be it videos, articles, photos, graphics, or short-form posts – for social media.
The goal?
To engage, entertain, and educate audiences across several different social media channels: including Facebook, TikTok, Instagram, Twitter, Snapchat, and YouTube.
That said, when we refer to social media content creators, we're not talking about people posting their latest holiday snaps on Facebook or firing off a quick Twitter post to complain about the slow public transport in their city. No – the content social media content creators produce tends to be more strategic; more targeted.
For professional social media content creators, their job is to attract – and retain – a key audience. Typically, this is in the service of advocating for a brand: whether that's promoting a product or simply raising awareness of a business or service.
Social Media Content Creator vs. Social Media Manager
The distinction between a social media content creator and a social media manager is not as obscure as it might seem. In fact, it's right there in their job titles.
A social media content creator is all about content creation. This involves planning, producing, and curating content. Their skill set revolves around creativity, platform expertise, staying updated with social trends, and managing brand partnerships and collaborations.
On the other hand, a social media manager has a more comprehensive role. Their responsibilities span strategy formulation, account management, community engagement, analytics, and advertising. They oversee the brand's daily activities across social platforms, monitor content performance, handle inquiries, and run paid social media ad campaigns.
So, how can we simplify this distinction? Think of it this way: while creators are the architects of the content, managers are the ones who schedule and post it.
Best Platforms for Social Media Content Creators
As a budding social media content creator, you might be wondering, "How do I choose the right platform?"
The social media channel you select will hinge on several factors:
The type of content you plan to produce: LinkedIn is the go-to for business-focused content, while Instagram and TikTok are the hotspots for short-form videos.
Your target audience: TikTok is a hit with Gen Z, Instagram is a magnet for millennials, and Facebook is a favorite among Gen X.
Your personal comfort with the platform's interface and features: We all have our preferences! While you should aim to create content for multiple social platforms eventually, starting with your favorite is a smart move.
To help you navigate this decision, we're diving into the top five social platforms and showcasing five influencers who are acing the game.
1. Instagram
Boasting over 2.35 billion monthly active users, Instagram is one of the most popular social media platforms – with both millennials and Gen Z. Its sleek, user-friendly interface, convenient messaging tool, and strong visual focus make it a hit.
The platform's emphasis on photos and videos makes it a fertile ground for social media content creators. You can post photos or videos directly to your profile page or as a 'story'—temporary, real-time highlights that vanish after 24 hours.
Moreover, Instagram's 'Reels,' introduced in 2021 to compete with TikTok, lets you record 15- to 30-second videos set to music. Ideal for highlighting a product or service's key features, Reels quickly became popular with influencers like Melbourne-based content creator @geo.gina.
With over 103,000 followers, @geo.gina has carved a niche for herself by sharing easy yet delicious recipes and creating videos of her sourcing ingredients, preparing meals, and enjoying them. This kind of bite-sized content thrives on Instagram's fast-paced, visually-oriented interface. So, remember to make your photos captivating and your videos concise yet engaging.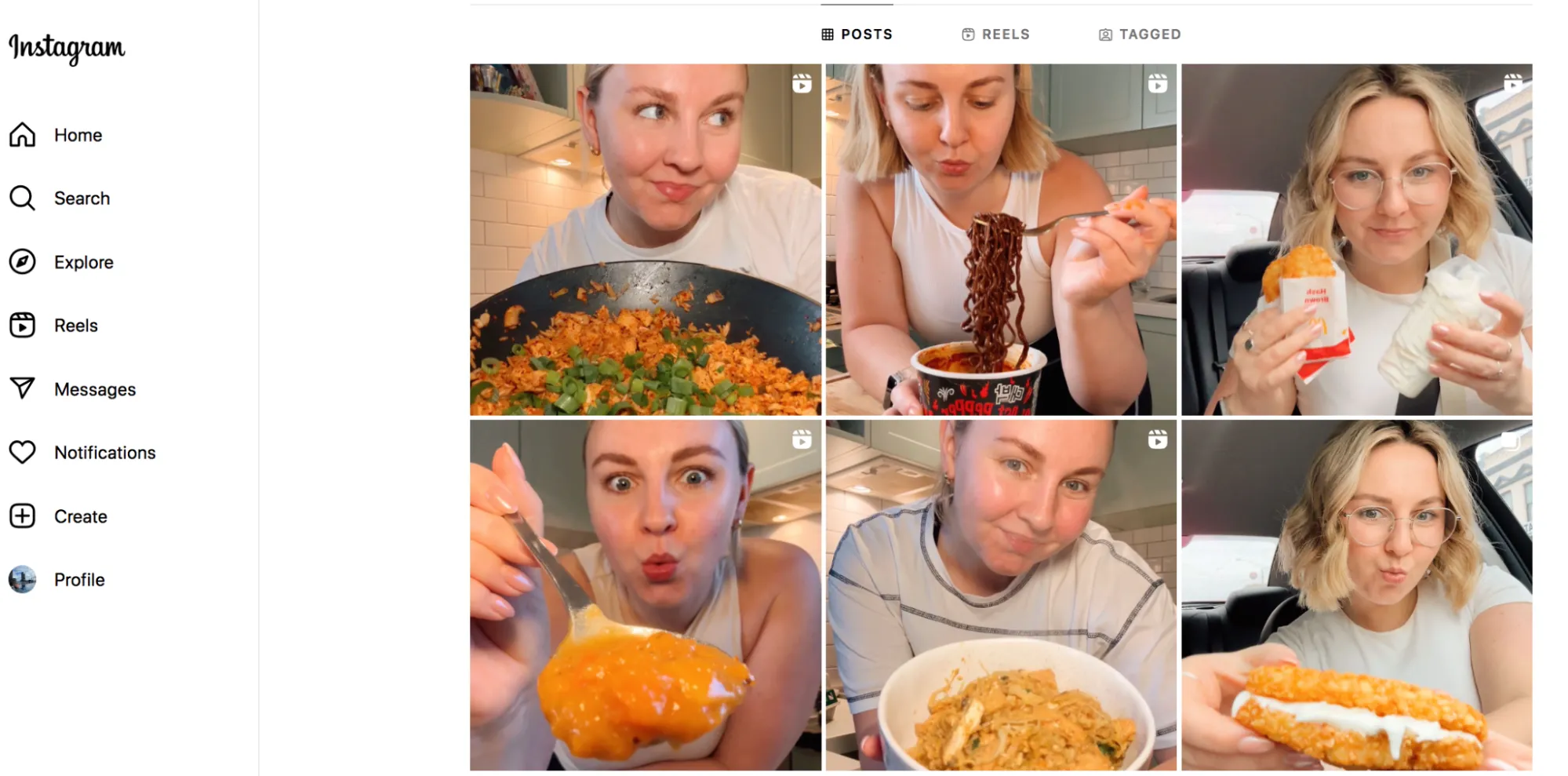 Australia-based @geo.gina has built a brand around creating and sharing simple, convenient (yet scrumptious) meals with her followers.
2. Facebook
If social media platforms were ice cream flavors, Facebook would be the classic vanilla. It's a hit with millennials and a stronghold for Generation X. So, if your content targets an older demographic, Facebook should be your go-to.
Unlike Instagram and TikTok, which are visually oriented, YouTube, which is video-focused, or Twitter, with its character limit, Facebook is a versatile platform. It allows you to:
Share long-form content like blog posts, thought leadership articles, and how-to guides.
Post videos using the 'Stories' and 'Reels' features to entertain your audience.
Stream live videos for a real-time connection with your followers.
Join relevant groups and share your content with a highly engaged audience.
Facebook's broad user base and diverse content options make it a favorite among celebrities who've built their following elsewhere, like movies, reality TV, or other social platforms. Take Perez Hilton, for instance. This blogger, columnist, and media personality uses Facebook to share his news and blog content with his 1.7 million followers.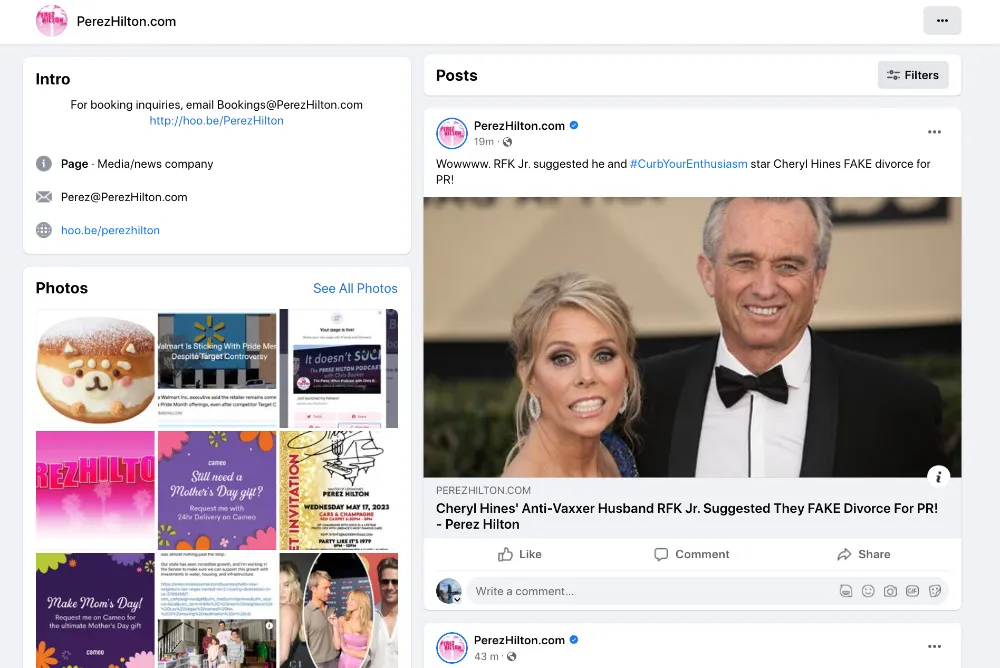 For Perez Hilton, Facebook is a quick, convenient way of sharing celebrity-related blog content with a large audience of social media users.
3. TikTok
Launched in 2016, TikTok took the social media world by storm in 2020, during the onset of the COVID-19 pandemic. Its unique selling point? Short, shareable, and addictive videos. From lip-syncing to dance challenges, makeup tutorials to comedy skits, TikTok has it all.
One social media content creator who's seen immense success on TikTok is Charli D'Amelio (@charlidamelio). With her background in competitive dancing, Charli leveraged TikTok's visual and energetic nature to launch her brand. With a whopping 150 million followers, she's one of TikTok's most-watched personalities.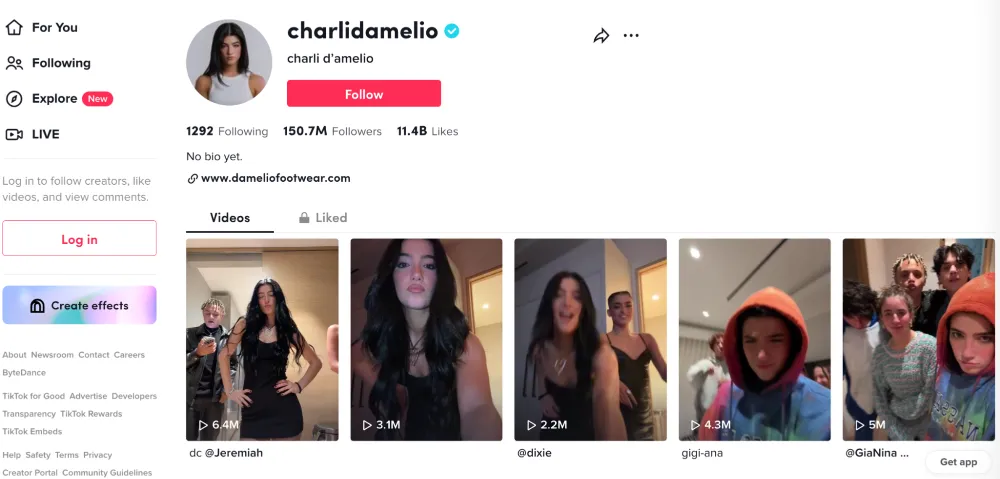 With a staggering 150 million followers (and counting!) Charli D'Amelio is one of TikTok's most-watched personalities.
TikTok, especially popular among Generation Z, emphasizes trends and virality. On TikTok, a single piece of content can go viral and catapult its creator to stardom.
4. YouTube
If video content is your forte, YouTube is your playground. Unlike TikTok and Instagram, which focus on short clips, YouTube is designed for long-form videos. This makes it perfect for posting in-depth movie reviews, extended comedy sketches, and comprehensive travel guides.
But the real charm of YouTube, especially for those aiming to monetize their content, lies in its partner program. Once you've accumulated 4,000 hours of watch time and gained at least 1,000 subscribers, you're eligible to join the program and start earning from your videos.
A prime example of successful YouTube content creators is The Try Guys. This adventurous group, who "will try pretty much anything for their audience's entertainment," boasts over eight million subscribers and nearly 600 videos.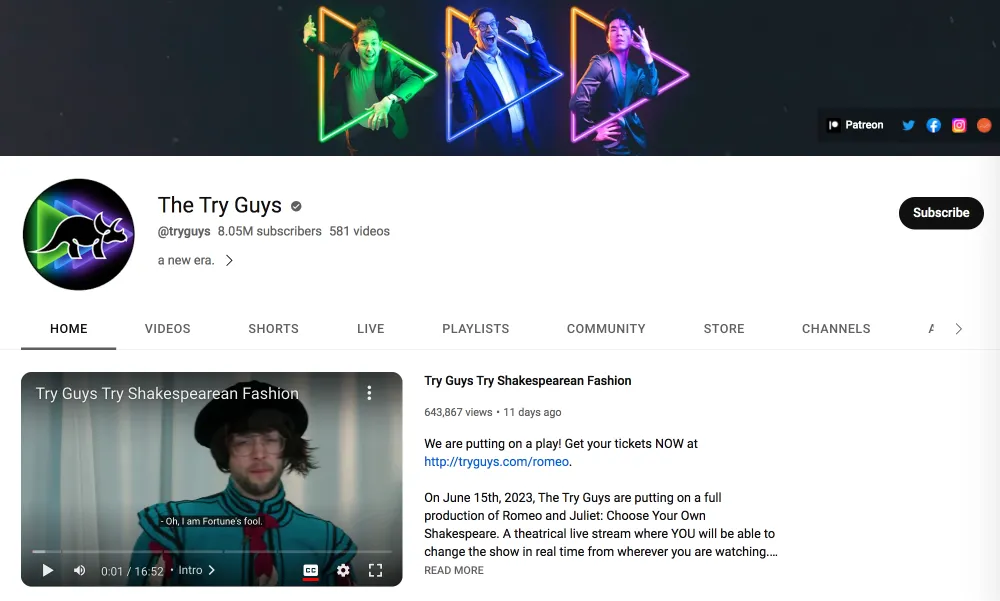 YouTube is Try Guys' primary social platform, and it's working for them!
5. Twitter
Twitter – now, sadly, known more for its controversial owner than for its own merits – allows users to post 'Tweets': short, broadcast-style snippets limited to 280 characters. Tweets can feature words, images, videos, and links to news or blog content – and users can like them, share them, and add their own thoughts and analysis to continue the conversation.
It's that aspect of real-time dialogue that Twitter harnesses to great effect. With the right ideas, the right sentiment (and, crucially, the right hashtags), posts can generate not only immediate engagement. But immediate traction – to help your short-form social content transcend the limitations of your own circles, connections, and follower count.
One popular social media content creator on Twitter? Elise Quevedo – an author, speaker, advisor, and brand ambassador who advocates for tech and the role of digital methods in helping brands grow. She has over 6,000 followers.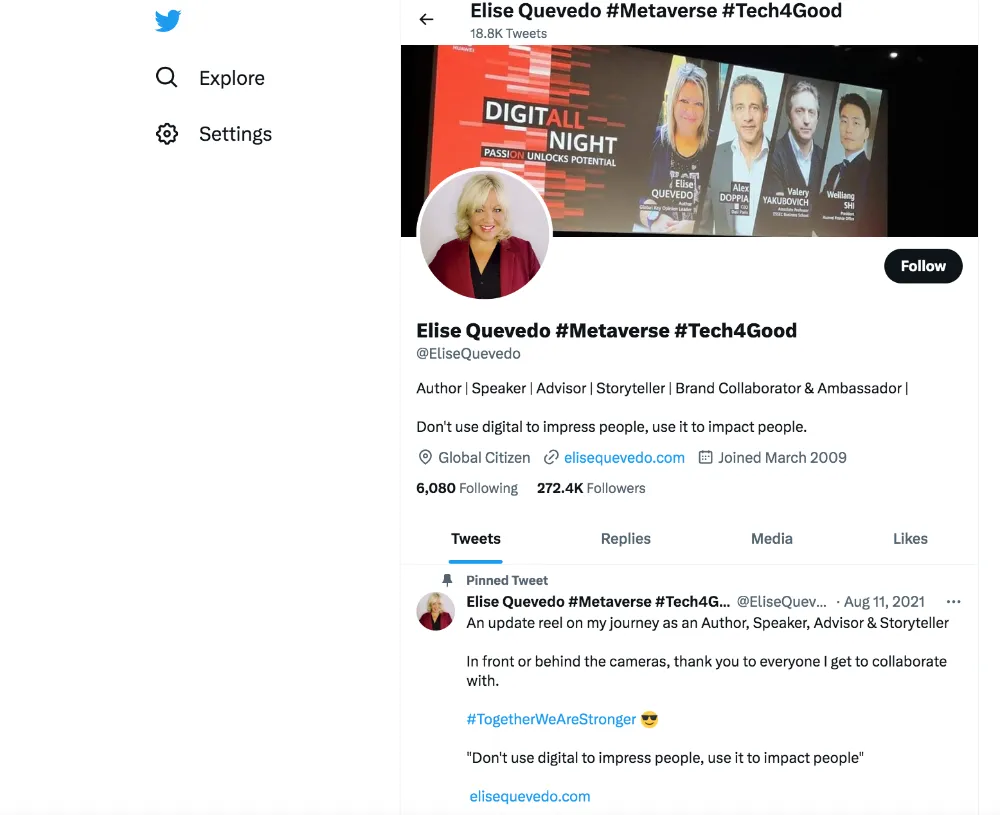 Elise Quevedo, a tech advocate, utilizes Twitter to share content relevant to her personal brand and purpose: be it through blogs, videos, images, or short snippets of text.
Best Tools for Social Media Content Creators
It's a given that top-notch social media content creators need the best tools. So, which tools can elevate your social media content game? Let's explore.
1. Canva
Who said you need to be a professional graphic designer to create stunning graphics? Canva, an easy-to-use design tool, lets you create professional graphics for social media.
Whether it's captivating 'sliders' for Instagram or refreshing your profile's look across Facebook, Twitter, YouTube, or LinkedIn, Canva has you covered. It's user-friendly, free to use, and offers advanced features for a monthly fee.
2. Adobe Creative Cloud
The Adobe Creative Cloud is the 'Godfather' of design tools. Encompassing a series of Adobe's leading and most advanced content creation tools – including Photoshop, Illustrator, Premiere Pro, and InDesign – the suite helps you edit photos and videos, create graphics, and even design the layouts of print publications.
3. SocialPilot
As a social media content creator, you don't want to simply be creating content, then sending it out into the ether. You need to understand how effective every single piece of social media content is.
How many people are you reaching? What portion is engaging? And who are those people in the first place?
The answers to these questions lie at the heart of your ongoing success as a social media content creator – and SocialPilot can help you unearth them.
SocialPilot allows you to schedule and publish your posts across multiple social platforms – and get 360-degree visibility over them from a centralized dashboard that's as easy to use as it is on the eye. Better still, you can manage multiple accounts from it – so no juggling hard-to-remember passwords for six different social accounts.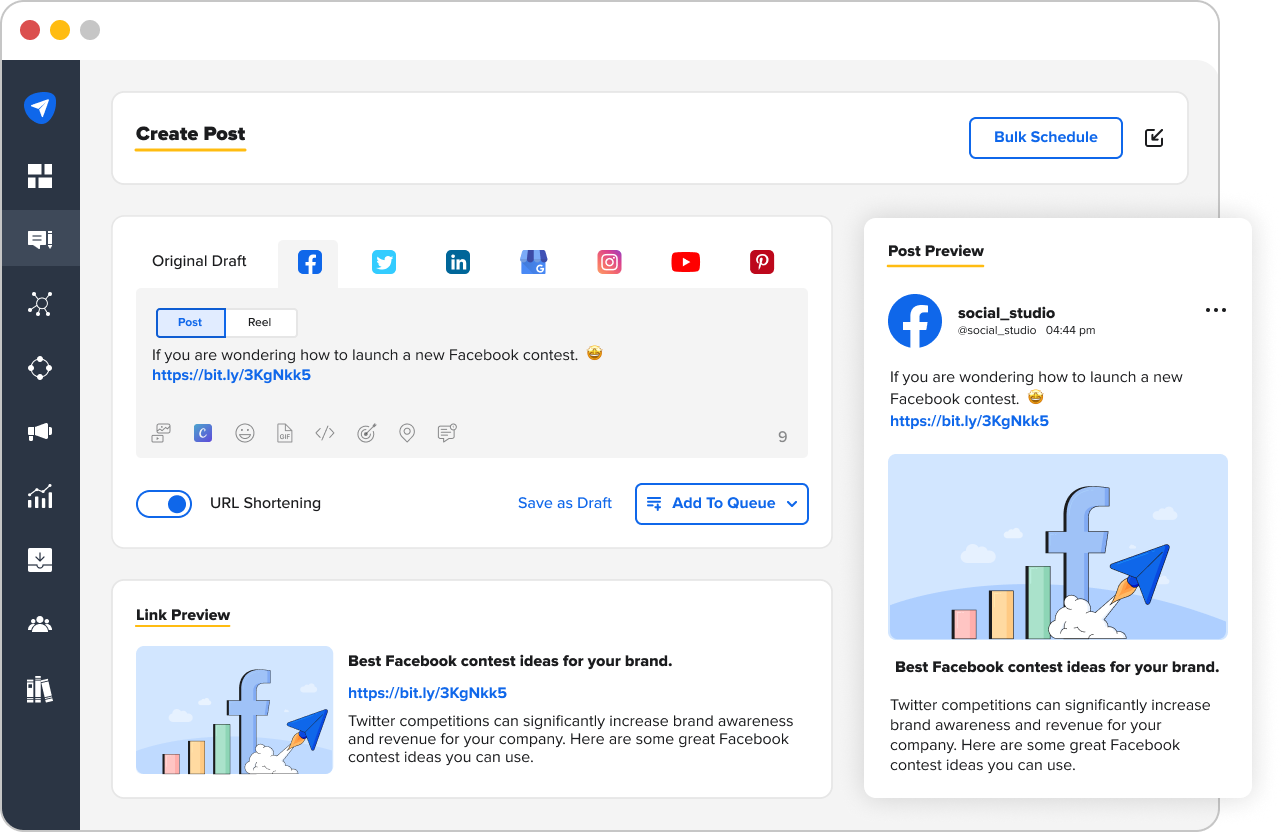 SocialPilot also makes it easy to monitor engagements on your posts, as well as the success and performance of your social media campaigns. Keep an eye on reach, clicks, and follower growth to understand what's working well – and where there's room for improvement!
4. Trello
Trello is a simple, free project management tool for organizing social media content ideas, workflow, and schedules. The platform allows you to invite multiple stakeholders onto boards to keep them in the loop around project progress – without getting caught up in a million different email threads. With a series of straightforward, Kanban-style boards, you instantly visualize everything in your content pipeline.
5. Google Analytics
Google Analytics is essential for tracking website traffic and understanding audience behavior. It provides insights into traffic, time spent on your site, and bounce rate. If you don't have a website yet, don't worry. A website builder can help you create a functional site in no time.
6. Grammarly
Typos and misspellings can undermine the credibility of your content. Grammarly, a free tool, automatically detects errors in your writing, helping you avoid basic yet easy-to-make mistakes. Paid plans are also available.
7. Buzzsumo
Buzzsumo is a popular social listening tool. It allows you to monitor relevant keywords and stay on top of trends. It's also great for identifying trending themes, understanding their traction, and generating fresh ideas for your content.
Conclusion
The marketing industry often reverberates with the adage, "Content is king." Indeed, whether it's for Google ranking or building a loyal, engaged social media audience, content's importance in 2023 is unparalleled.
However, we'd like to add another saying: "consistency is king." Regular, relevant posting to a designated niche is crucial. Understand your brand's identity, selling points, and audience. Continually optimize and iterate to identify which platforms resonate most with them.
Above all, remember you're not alone. Tools like SocialPilot, Canva, Trello, and Grammarly, many of which are free, are at your disposal. They can help make your dream of becoming a successful social media content creator a reality.