"Advertising works most effectively when it's in line with what people are already trying to do. And people are trying to communicate in a certain way on Facebook – they share information with their friends, they learn about what their friends are doing – so there's really a whole new opportunity for a new type of advertising model within that." 
Mark Zuckerberg (The Co-founder Of Facebook)
With a user base that surpasses 3 billion active users a month and millions of brand pages on the platform, Facebook might be the next big thing for B2B marketers. What was once considered a B2C platform, is now a prominent name among the B2B forums as well and an essential channel for successful content distribution. Promoting your brand on Facebook might be considered a double-edged sword by some, but if we are being real, it still has untapped potential.
When we talk about promotion, brands are always finding ways to get their message across to the target audience by cutting through the noise. One of the most prominent ways is by offering discounts, special deals and exclusive offers to the audience.
Why Should I Promote My Offer On Facebook?
But why do marketers need to come up with new offers and deal regularly? Why can't they just create a product, highlight its strengths and keep things moving from there? The answer is simple— competition.
[Reason 1] A Unique Offer
What do you have to offer that isn't already up for grabs with the competitors? Moreover, even if you sell your products for a discount, you are paving the way for more customers to get on your brand's bandwagon and boost loyalty for the existing customer base.
[Reason 2] Improved Social Media Engagement
In addition to that, new offers are a great way to increase social media engagement. Offers make your brand more valuable in the eyes of your followers and bring in more traffic from different stages of the marketing funnel.
[Reason 3] Decision Making
Discounts and special offers give buyers the final push needed to complete a purchase and a well-timed post about the same will pique their interest and pursue them to make a decision.
[Reason 4] Revenue Generation via Facebook
Offers can also be used to nurture new leads and drive them towards conversion campaigns. Once leads reach the final stage of the marketing funnel you can send customized posts to them in order to make a sale and increase revenue for your brand.
Now that we have a clear idea about the benefits of offers and discounts on Facebook, it is time to find out the different types of offers you can introduce and how it can be promoted on your Facebook page.
What type of offers can I promote on Facebook?
In-Store Only
These offers can only be redeemed by the customers by showing the offer at a physical store in the form of a print or on their mobile.
Online Only
Users can redeem this offer online only on a brand's online platform like a website
Both In-Store and Online
It is a flexible option where users can redeem the offer either online or at a physical store located nearby.
Steps to create an offer on your Facebook page using a web browse
Step 1: Log into your account and navigate to your Page.
Step 2: Click on Offers from the left vertical column of the Page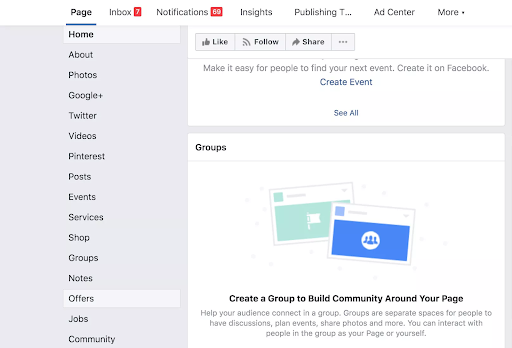 Step 3: Choose the Create Offer button.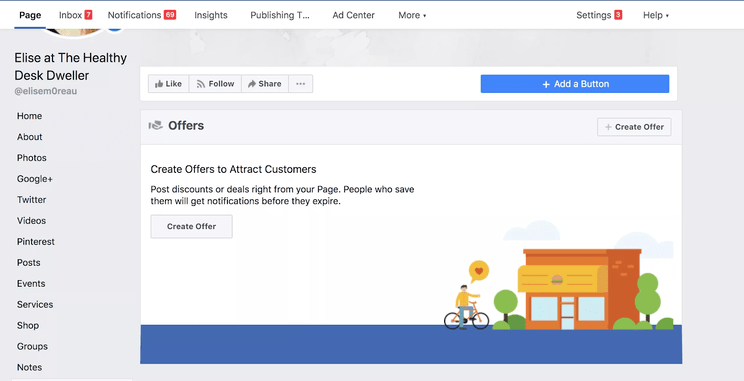 Step 4: Specify how you want people to redeem the offer— In-Store, Online or In-Store and Online.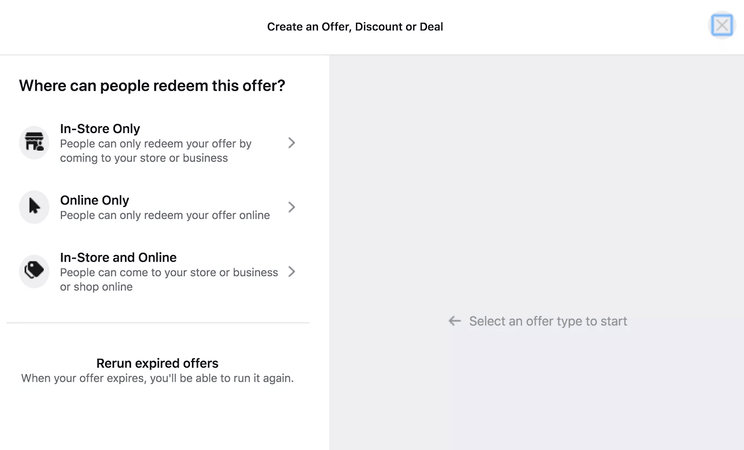 Step 5: Fill in the details about your offer in the given fields.
Step 6: Provide details about the offer by selecting its type from the dropdown menu
Step 7: Add a photo (optional)
Step 8: Specify an expiration date
Step 9: In the case of in-store offers, mention the address where users can redeem the offer
Step 10: For online deals, make sure you provide a valid URL from where the offer can be redeemed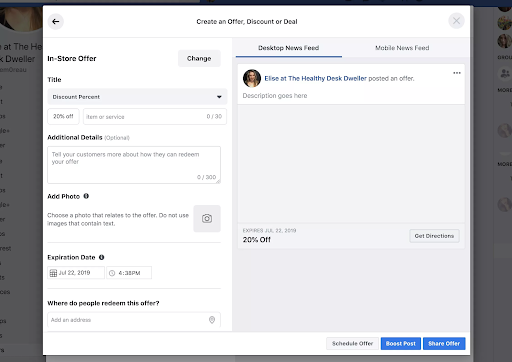 In the final step, use the Schedule Offer button to specify the date when the offer will go live.
Please note: You cannot make any changes once an offer has been posted,
What Method To Choose To Promote My Offer: Organic Reach V/S Paid Reach
Now the next question is how to promote your offers online. Should you stick to organic reach or maybe invest some money to promote the offer on Facebook?
While it has been said by marketers that Facebook's algorithm pushes sponsored posts to appear on top of the user's NewsFeed, ads are not the only way to reach out to more users.
Ways To Promote Offers Organically
Posting Unique and Awesome Content: It is a hyper-competitive market out there and every brand is trying to come up with creative ways to promote themselves. But why stick to what's worked for you in the past. Go a step ahead and publish awesome content that even you would like to share with your friends. Find out what's trending and get people talking about your offer through use of creativity.
Optimize Targeting: Remember, there are multiple parameters on which you can optimize your page's targeting. Specify what sort of audience you are looking for, these parameters include gender, age, education, relationship status, language, and interests. In order to do so, select 'Allow targeting and privacy options when I create posts on my Page' from the settings. Once the option is enabled a targeting icon will appear at the bottom left location of the publisher.
Publish at the Right Time:Early morning and night time are often considered best for posting new updates. Since the majority of people work during the day, they are likely to access their News Feed in the evening. In addition to that, you can always refer to your Page's insights to get a clear idea of the best time for your posts.
Stay Active on Weekends:A lot of people have more time to check out their social media accounts over the weekend. On top of that, only a few brands make the effort of posting updates over the weekend and your chances of appearing in their News Feed can increase. Try creating weekend-friendly posts to promote your offers and get more customers on board.
Go LIVE:Facebook Live broadcasting feature can be leveraged to showcase live-streams of your brand's promotional activities or can also be used as a means to interact directly with the users and boost user engagement. Get the most out of this feature by using it frequently.
Embed Posts in Your Blogs:One of the best ways to improve your page's visibility is to embed the links to relevant posts on your Facebook page under different sections of your blog posts.
Ways To Promote Offers Via Paid Ads
Facebook allows you to "Boost" a post that has been published on your page. This means you can reach and engage with a larger, targeted audience through Boost posts. Now let's take a look at how you can Boost your offers to increase the effectiveness of the offers you have put out for your users.
But before that, here are the key components of a Facebook boost for you to keep in mind –
Target Audience: To define who will be receiving your boosted post based on parameters like gender, age, location, and interests. In addition to the aforementioned factors, the target audience can also be narrowed down to the audience of your existing followers and people who have expressed on your business page before.
Budget: To decide the amount of money you wish to invest to boost your posts. While Facebook usually shows the default value at $7, you can easily start promoting content for as low at $1 a day.
Duration: To decide the period of time for which the boost is going to be in action.
Please note: The pricing structure of a boost varies on the basis of who you are targeting. If you wish to explore how the cost changes based on demographics and other parameters, feel free to experiment with them and get a clear idea about estimated pricing before punching in your credit card details.
How To Promote My Offer via Facebook Boost Post?
[Step 1] Choose an Offer to Boost: If you have multiple offers running on your Page, boost the one that is on the top of your priority list at the moment. Simply click the Boost Post button in the lower right portion of the post you wish to boost.
[Step 2] Define Your Target Audience: After clicking the Boost Post button, you will be redirected to a menu that will present you with a wide range of targeting options. While the default settings point at all followers and their friends, you might want to narrow down the parameters to every little detail. In case you do not find the desired demographic in the list, click on Create New Audience option to create a custom audience. Here, you will be able to edit the location, change the age range and include users who are not in your follower's friend list but are interested in specific topics on your Page.
[Step 3] Finalize the Budget: After defining the target audience to every last detail, finalize a budget for the promotional campaign. The more narrowed down your target audience the better will be the post reach. You can start with $1 per day and extend it across multiple days
[Step 4] Fix a Duration:Choose the duration for which you wish to run the ad. You can opt for a single day or maybe extend the campaign to a specified date in the near future based on the overall budget for the project.
[Step 5] Review Your Post: Do your best to make your ad copy creative and engaging. Review it properly and make sure that it is free of errors and that every visual element in the post looks amazing. Remember, you won't be able to make any changes to the post once it goes live.
[Step 6] Choose a Payment Option:Facebook accepts payment through multiple payment options like Credit/Debit Cards, Internet Banking, and Paypal to name a few. Just select the one that you prefer and proceed.
[Step 7] Boost Your Ad: Once you have boosted your post, Facebook will review it and it might be several minutes before you see that your offer has been published. You can find out about the status of your Boosted post from the Delivery column in the Ads Manager.
Boost your top-performing offers, reach out to thousands of new people and leverage the Facebook platform to an optimum level.
Is there something more to it, still? Yes! When your offer hits your audience, they want to know what to do next; how to contact you to get additional information about the deal. Guide them to your Facebook Messenger where they can instantly connect with a bot and get quick answers to their queries. It acts as a medium that builds brand trust among them and makes them feel that they are heard and valued. Activating Facebook Messenger bot is easy with a few steps that we have explained in our next chapter.