With over 1.16 billion monthly active users, Instagram shines out as a powerful social media platform. On average, there are 95 million photos and videos posted each day with 3.5 billion likes.
But what makes it stand out more than other social media platforms? Of course, the Instagram hashtags!
Social media hashtags have been around for more than a decade, right from 2007 when they first came to Chris Messina's mind, a former Google employee.
how do you feel about using # (pound) for groups. As in #barcamp [msg]?

— Chris Messina (@chrismessina) August 23, 2007
He tweeted his idea attracting a flood of audiences as it was new and really unique for social media users. The idea went down well, and soon Instagram officially introduced the hashtags feature on January 26, 2011.
But integrating any social media marketing hashtags will not fetch you desirable results. Many businesses still don't know how to use hashtags effectively. You need to make sure that you're using the best hashtags in the RIGHT way because using them in a WRONG way can result in losing your followers and likes. Following Do's and Don'ts will help you grow your profile, increase engagement (likes, comments, and followers), and attract new customers to your business.
Want to learn more about hashtags for other platforms too? Download our all-in-one hashtag kit – 365 Days of Hashtags for 2021 Kit that is packed with the 3 very useful resources.
Trending Hashtags for 2021 Social Media Calendar: Why wait for just big holidays when you can celebrate everyday? You can use the holiday calendar with top 10 social media hashtags and content ideas for every day of the year.
Hashtag eBook Guide: Want your engagement score off the charts without spending a dime? Learn about creating an impeccable social media calendar, strategy, and successful campaigns for upcoming holidays from famous brands.
Ready-Made Design Templates: Stuck in a creativity block? Take some inspiration from our editable graphics for your next posts, and get the social wheel spinning!
#Do – Use a combination of long-tail hashtags and short tail hashtags
Any SEO strategy is incomplete without considering keywords. They are the most important factors that will help you reach success by ranking your business on the first page of Google.
Similarly, Hashtags also help reach new audiences on Instagram. With a user-focused social media strategy, you can quickly get more followers and engagements. The only thing you need to consider is selecting a hashtag mix that can attract relevant and targeted audiences.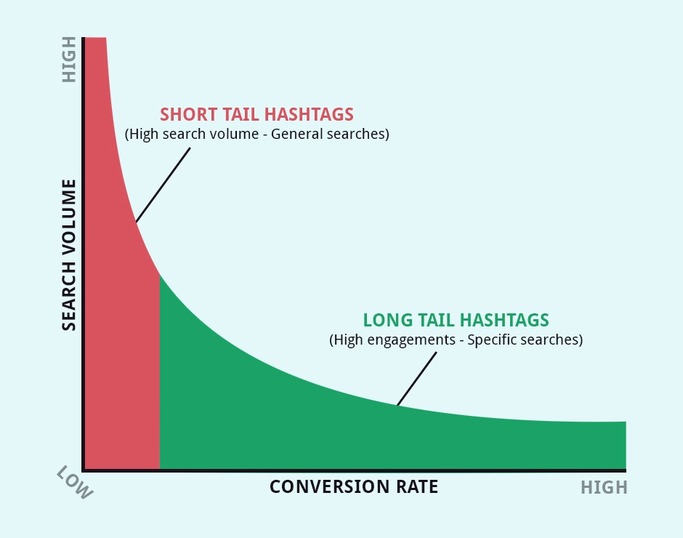 But finding the right type of hashtags for your brand is like solving a jigsaw puzzle. With so many hashtag options, it is challenging to select the right combinations that replicate your brand. Both long-tail and short-tail hashtags can be used for branding your business.
Long-tail hashtags have more specific words to follow and are of 3 or more words. But, what makes the long-tail hashtags different from shorter ones?
Well, the good thing is that the longer the hashtag, the more targeted it would be. Let's take an example of a long-tail hashtag named #baliweddingphotographer.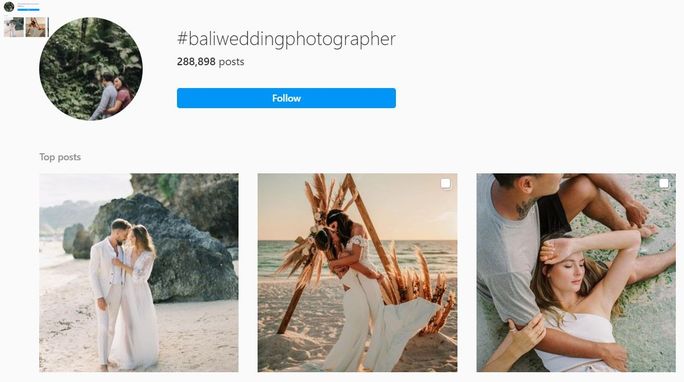 Doesn't it apply to users who want to get married in Bali? Yes, it might not bring as much traffic as short tail hashtags, but the traffic is interested and looking for the specific product/services.
Now short tail hashtags are 1-2 words long. They are quite generic and highly competitive. Short-tail hashtags are usually preferred more for local businesses.
The reason behind this is you can include more of these short hashtags in your posts without violating the imposed character limit.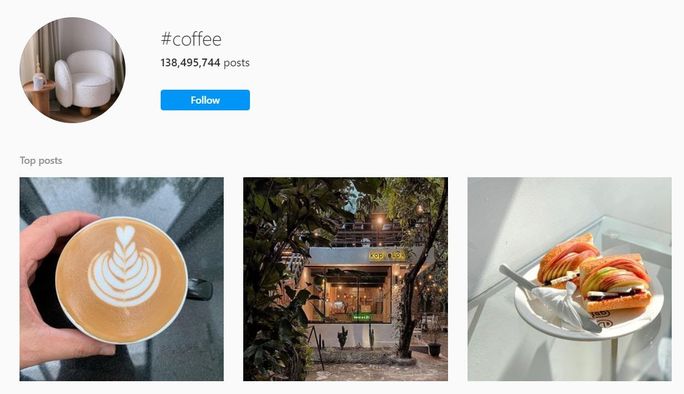 #coffee is a common hashtag, and hundreds of posts use this. And what's the reason? Because when someone is looking for coffee-related queries, they will first start searching with the most obvious keyword coupled with a pound sign. And if you are a Bistro owner, you can't lose out on this at any cost.
Now the question is, which hashtag is more helpful in growing the followers and engagement ratio? Thanks to Instagram hashtag limits of 30, you can bury this worry down.
The best way is to use a mix of these two! Use 5-11 hashtags using a permutation of these tags. For a better idea, here are some of the benefits of a hashtag mix.
Long-tail keyword leads to more conversionsWhile the short ones will bring you essential traffic, long-tail hashtags will define the brand's focus and start converting viewers to prospects.
The engagement spikeEngagement is like gold on social media, and by using a mix, you can bring in massive and targeted traffic to your brand.
Power of the perfect hashtag blendThere are chances of misspellings when using long-tailed hashtags, while short ones run the risk of your post being crushed underneath a million posts. A prudent mix of social media hashtags can definitely overcome this particular shortcoming.
Tip: Go for long-tail campaign hashtags and short-tail brand hashtags.
#Do – Conduct hashtag research correctly
Using the right social media strategy is the easiest way to increase the organic reach of your Instagram post. The best hashtags for your business are the ones relevant to your niche.
But how will you perform hashtag research to find them?
You can consider Instagram's built-in search option as the best place to start your research. Using Instagram autocomplete, you can search for the most popular hashtag options matching your business.
Say, for example, you sell fashionable bags. You can put hashtags relevant to Fashion bags in the search tab. It will auto-suggest you the most popular fashion bags relevant hashtags.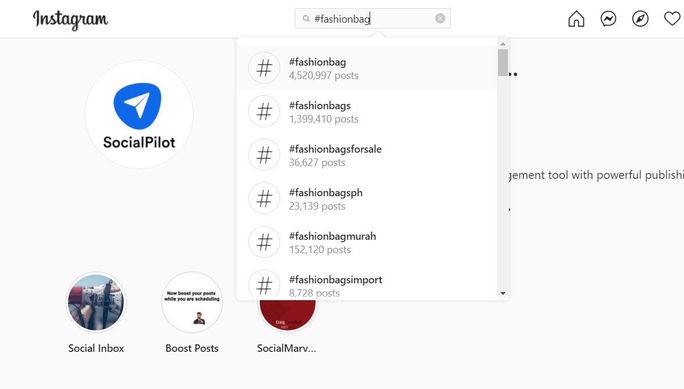 You will clearly understand that by simply typing #fashionbag, a list of the most popular hashtags pops open.
You can select the right hashtags for your brand or you can create your own hashtag idea for special posts for the national day calendar. Don't forget to consider the "related" hashtags. You can also check out the trending hashtags in the 2021 holiday calendar for later use.
It is a simple way to come up with brilliant hashtags very quickly. Once you examine the "related hashtags," you can explore other hashtags too. You can also use different Instagram tools to get examples of related hashtags like HashAtIt, Keyhole, and more.
After completing the entire research, select the hashtag ideal for your brand and simply dive into growing your business.
#Do – Create hashtags that are simple and easy to understand
If the phrase or sentence is simple and clear, it becomes easy for the reader to remember. Similarly, if your hashtags are unambiguous, there are better chances to attract more audiences.
No matter if it's a long-tail hashtag or a short-tail hashtag, if the hashtag is easier to understand, you are completely on the right track. Let's take an example of a hashtag that is dear to all.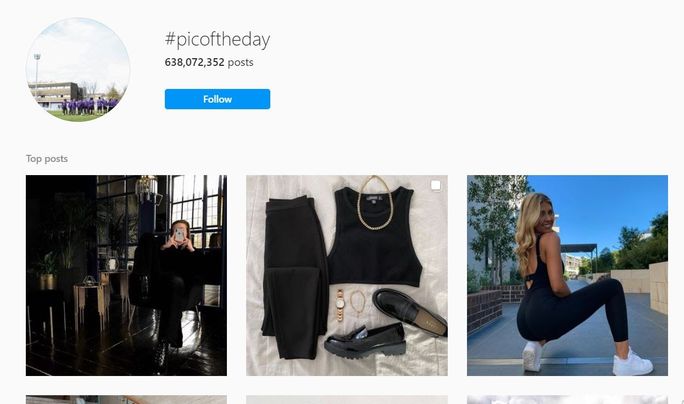 It is clearly visible that #picoftheday is one most popular hashtags on Instagram, which has ticked all the mandates like:
Easy to understand
Catchy
Engaging
So, this makes it pretty clear. If your hashtag is easy, simple, and catchy, then you're going to get a great response to your posts.
#Do – Use your brand-specific hashtags
What are brand-specific hashtags? Well, the hashtags created for your brand and by your brand are known as brand-specific hashtags. To get a better idea, let's take the example of Nike.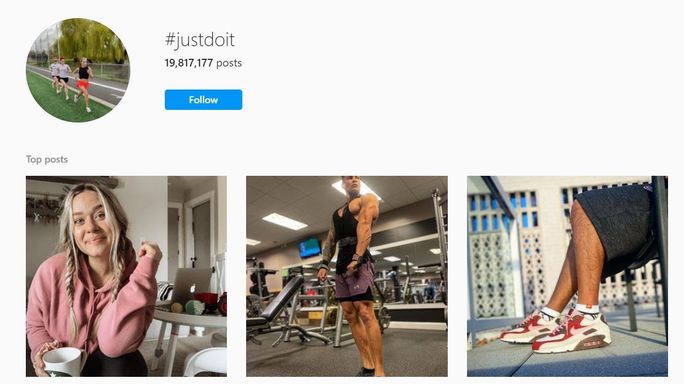 We are familiar with this brand. By hearing "just do it," the first thing that comes to our mind is Nike. It is because the slogan depicts the brand.
Nike has used a slogan as a hashtag. It's unambiguous, motivational, and brand-specific. Not only is it easy to spell for the customers and fans, but it is also creative and relevant, which makes people enthusiastic about sharing it.
Want to know what are the benefits of having your own brand-specific hashtag? Let's have a quick look!
A branded hashtag is a great way to start a conversation with your followers and increase your brand's reach.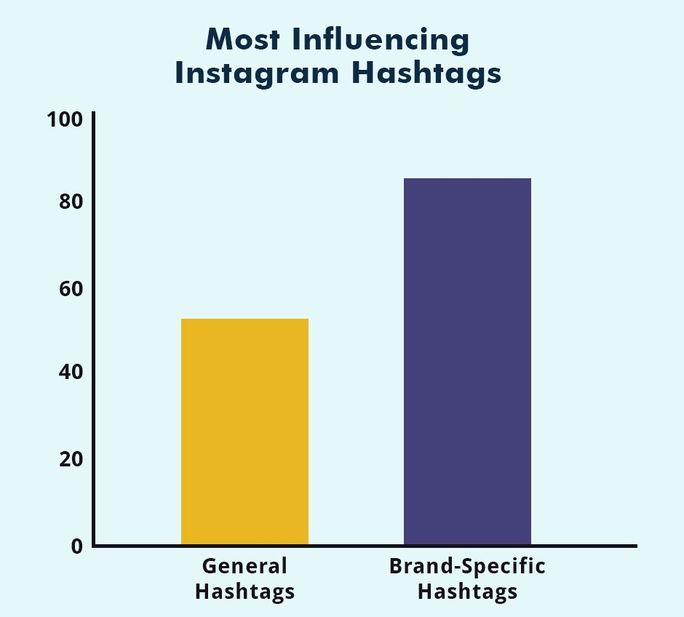 70% of hashtags on Instagram are branded! Here are some of the benefits of using brand-specific hashtags for your business.
Brand-specific hashtags are unique to your brand.
It is one of the most effective ways to establish your brand's presence on Instagram.
Brand-specific hashtags help grow your business by increasing the follower count and helping with overall engagement on Instagram.
Brand-specific hashtags help in carving out a separate space for your brand, it also helps increase your brand awareness on social media platforms.
So, here we complete the list of Dos. Now let's jump to the "DON'Ts."
#Don't – Please avoid using hashtags that are too common
If you think using the most popular Instagram hashtags will help grow your brand, you might be on the wrong track!
Any hashtag with over 1 million posts is definitely too popular. But when you add this hashtag in your post, it is immediately going to be buried within hundreds of other posts having the same hashtags.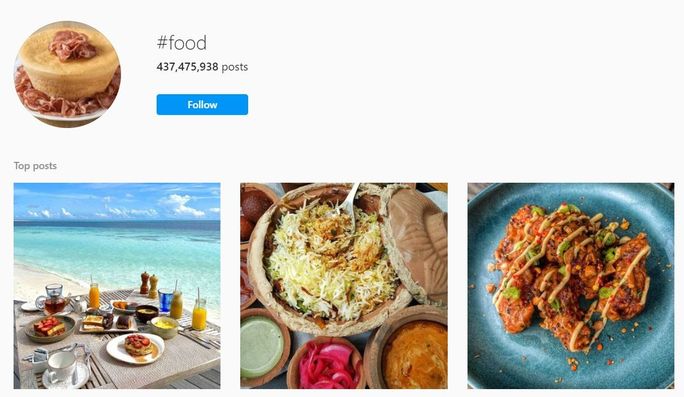 You can see #food has more than 1 million posts, which no doubt makes it popular but also overused. And you definitely don't want to go for something too common and reduce your chance of relevant engagements.
Instead of sticking to just popular hashtags, try out good combinations that relate to your brand and help your customers recognize you.
#Don't – Throw out unnecessary hashtags
Often we think using more hashtags in the post will help to expand the brand. Say for example hashtags like #but, #like, #wow, #this, #me, #you, etc.
But do you really think this will help you? Such hashtags are irrelevant because they aren't usually searched for. These hashtags don't offer an answer to a question, a description, or a subject in simple words.
Well, the below example will make you understand clearly.
There are several hashtags used in this post, which are not relevant to the image. Doing this will drive the number of clicks, but these clicks will not turn into followers.
So, do avoid using unnecessary hashtags and try using hashtags that are relevant to your brand.
#Don't – Please avoid using banned hashtags
No doubt hashtags can be a great way of growing your brand, but what if the hashtag you're using is not accepted by Instagram?
Yes, there are more than 114,000 hashtags banned or are no longer allowed by Instagram, and if you're using any of them, it will leave an undesirable imprint on your brand.
But is there a way to know if the hashtag you're using falls in the banned list? Of course, there is! Check out the list of banned Instagram hashtags.
Make sure you remove these banned hashtags in your previous posts. With an increasing user base, Instagram wants its platform to be a safe place. It is implementing stricter rules and shadow banning the accounts that are not abiding by them.
Final words
Well, now that you know how to use hashtags on Instagram, we bet you are ready to boost your reach. You will witness a rise in not only your followers' count but your engagement too.
Once you are done creating a list of hashtags you want to target on Instagram, it is now time to schedule your posts using Instagram marketing tools like SocialPilot. So get started right away.
Happy posting!