Instagram has evolved into a gigantic platform for creators and brands. Its rich features like reels, stories, product tags, shoppable feeds, AR filters, and whatnot hook a billion users for hours at a stretch.
Despite the benefits and added ways to get your product or message out there in front of your target audience, brands often struggle to find the best time and resource to continue their Instagram spree.
Whether posting for your own business account or client's profile, you have to dedicate some time to build an impressive Instagram marketing strategy.
And one way to ensure maximum success is to use some great Instagram tools. So we narrowed down the choices and listed only the best paid and free Instagram scheduling tools with no budget strain.
But before that let's inspect the platform itself!
The Power of Instagram
Whether you are a business or an influencer, posting regularly on social media is essential in remaining relevant. With over 1 billion monthly active users and 500 million daily check-ins, Instagram is not just for posting polaroids of trendy houseplants and funny cat videos.
It has the potential to connect you with audiences and build a lasting brand presence for lead generation and higher revenue.
Users can now create shoppable pins, live videos, reels, raise funds, create badges, and more. These recent developments call for Instagram tools to help users schedule posts, track analytics, create intensive reports, conduct hashtag research, and discover when their audiences are more active.
We have researched on your behalf and have put together our findings, so you discover which Instagram scheduling tools are suitable for your business needs.
Top 11 Paid and Free Instagram Scheduling Tools
If you are looking for an affordable yet reliable Instagram scheduling tool, SocialPilot is the undisputed choice. It is a solution-driven tool that combines all branding elements with direct Instagram scheduling.
Straightforward and simple to use, SocialPilot allows you to schedule posts on major social media platforms like Instagram, Facebook, LinkedIn, Pinterest, TikTok, Google My Business, Tumblr, YouTube, and VK.
It allows users to create, schedule posts, analyze, monitor, and report from one dashboard. This ensures that all your social media profiles share noteworthy content and bring you closer to your targets.
If you are stuck somewhere, you can reach out to its customer support. They are available round-the-clock via phone, email, chat, and social media.
Features of SocialPilot
Schedule customized posts, reels, stories, or videos for different social media platforms at once.
Add the first comment to your post and include all hashtags for reach.
Tag friends or collaborators while scheduling our posts on Instagram.
Use its in-app editing tool to perfect the images you want to schedule.
SocialPilot offers an Instagram inbox where you can engage with your followers.
Review your social performance with detailed social media analytics and reporting.
Manage about 100 social media profiles from one dashboard.
Manage your clients' social media accounts hassle-free.
Create an effective content strategy with the social media content calendar.
Invite team members to manage social media scheduling remotely.
Create engaging images from the post composer with Canva integration.
What do social media marketers say about SocialPilot?
Dan Fuoco
SocialPilot's ability to bulk schedule content is a giant time-saver. Having that feature plus an intuitive dashboard that was friendly to the new and intermediate user is a recipe for success. Lastly, SP is at the forefront of advancements and new technology.
Nicolle Huntingford
I run many social accounts, setting up these accounts is so easy in SocialPilot. I use this on a daily basis and can keep track of all my scheduled posts. I switched from Buffer as someone recommended to use SP for ease of use, and after the free trial, I just decided to stick by forever.
Karen Wisch
I like that I can schedule a post that I find from Facebook to a later date. I also like that it does not cost anything to look at analytics for your posts. Hootsuite was not as easy to use, and every time you wanted an analytic report, it was an extra $20 and the reason for switching to a better Hootsuite alternative – SocialPilot.

---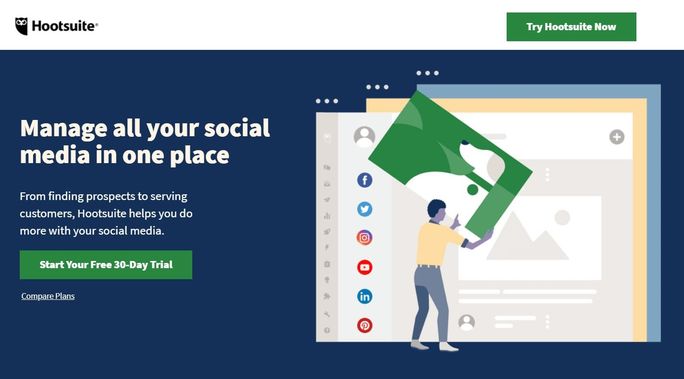 One of the popular Instagram scheduling tools used by experienced marketers is Hootsuite. You can also use it to manage multiple social media accounts on robust media workstations.
It allows you to create your social posts and lets you preview them before scheduling. Hootsuite is not just for Instagram. Users can schedule and post onto Twitter, Facebook, Linkedin, Pinterest, and even YouTube. Despite its popularity, it is quite complicated and pricey when compared to other Instagram posting tools.
Pros
You can monitor all activities and view all the results from the dashboard. It gives you swift and effortless reporting to review your successful campaigns.
You can connect with over 150 apps for a more efficient scheduling process.
Virgina
As a Hootsuite user for 7 years now, it is my favorite social media management software. Creating, optimizing, and posting social media for different platforms, etc.
Cons
It is difficult to use for beginners, and the vast options it offers could become overwhelming to new and small business owners. It's a more enterprise-focused tool.
The customer service team isn't responsive. If you want to upgrade the support available to you, you need to pay an extra sum each month.
Brie
The user interface is weak. It's not user-friendly, nor is it practical or modern looking. It tends to leg, it also isn't mobile-friendly, they do have an app, but again it's not easy to navigate.
---
Buffer offers a simple and effective method to publish and schedule onto a selection of social media channels. It is often a recommended tool ideal for beginners. Along with the ability to schedule onto Instagram directly, users can also post on Facebook, Twitter, Pinterest, and LinkedIn. The option to choose and change the time and date of the posts is ideal for smaller companies who seek a flexible tool for convenience.
Pros
It gives you the ability to schedule and publish posts on the intended time and date.
It offers basic analytics and link shortening.
It comes with a basic free version for those wanting to test their services.
Marcos
Over many projects and jobs, I've used Buffer as my go-to social media management tool. Link your Instagram, Facebook, Twitter, and LinkedIn accounts (others, if you wish), and you are ready to rock and roll.
Cons
You need a third-party app called BulkBuffer for bulk uploads.
You have to upgrade to a whole different plan to analyze your social media accounts.
It costs extra to access hashtag manager, publish Instagram stories, and create a shop grid.
Duane
They raised their price for individual accounts from 10 to 15 a month. Go for the free plan, and then you lose posting abilities. The software has always had issues with it, as each "upgrade" can result in a loss of features. I hesitate to upgrade because of this.
---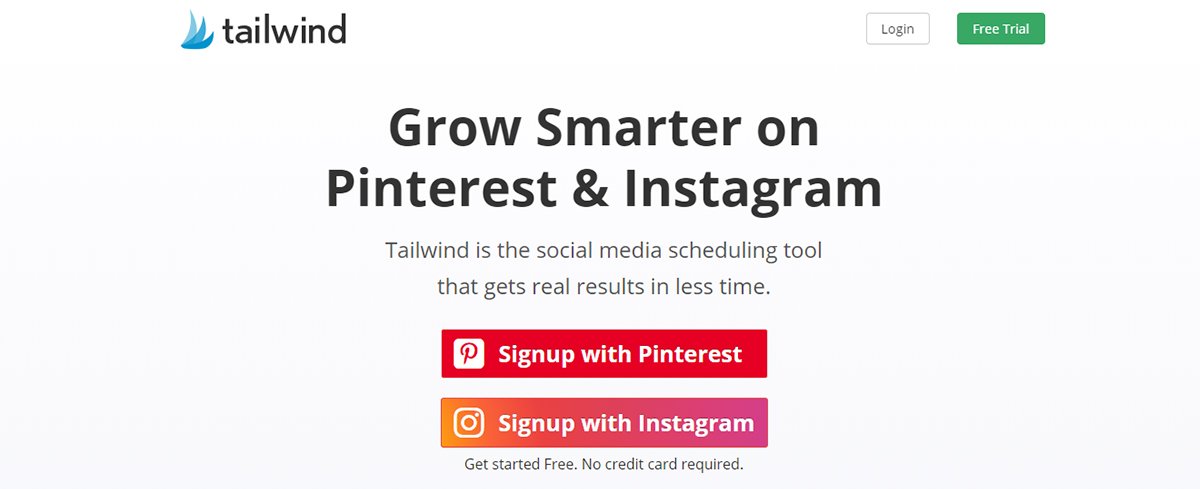 Tailwind is another free Instagram scheduling tool that's aimed at small businesses. It is also used for posting and scheduling Pinterest boards. Easy to use and simple to navigate for even the less tech-oriented people, Tailwind offers something many other apps lack. It has the ability to bulk upload posts with drag and drop functionality. You can also track your profile metrics, trend reporting, and engagement benchmarks.
Pros
The ability to bulk upload Instagram and Pinterest posts.
Offers the ability to schedule the date and time of your posts.
Simple and clear design.
Joanna
This software is mostly beneficial for planning, tracking, and evaluating progress for posts on Instagram and pins on Pinterest. This software addresses the issue of posting scheduled pins to Pinterest, which for a long time was not an option with other scheduling sites.
Cons
It is only available for Pinterest and Instagram.
Tailwind for Pinterest and Instagram are two separate products and will need to be purchased separately. You can't manage both social media accounts from one dashboard.
It can't be used to schedule posts for other social media accounts like Facebook, LinkedIn, Twitter. Quite a lot of limitations when using this as a complete social media tool.
Kate
The main menu could be a little more basic, then offering options to navigate away from the main screen. I feel the main screen jumps right into the product, which can be a bit overwhelming.
---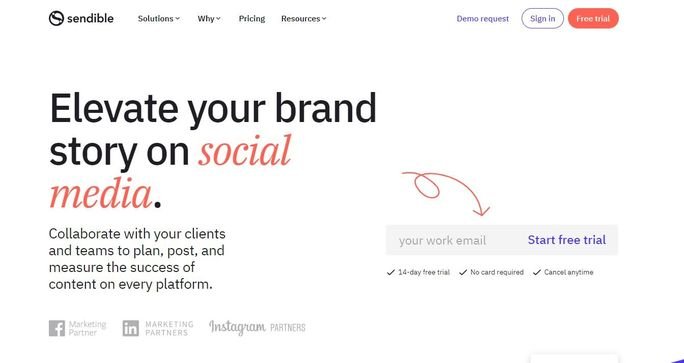 Another popular Instagram scheduling tool that allows users to schedule both images and videos as social media posts directly is Sendible. It enables users to choose and select specific time slots before adding them to a queue to be posted automatically.
Sendible even offers users the ability to recycle their old content and reshare them. An all-in-one tool that allows users to schedule, design, create and promote posts across a range of platforms like Facebook, Twitter, and even Tumblr.
Pros
It comes with an built-in inbox that allows users to manage and respond to comments and mentions across various social media platforms.
Sendible also features a built-in CRM with a team management system.
You can review keywords and hashtags searched by your target audience.
Nikki
Sendible provides the features most important to me at a price that doesn't break my budget. I feel their support team has been responsive, and I look forward to continued improvements with this product.
Cons
Users have highlighted that adding and setting up new users and teammates to the tool can be confusing and time-consuming.
The mobile app has been reported to be prone to glitches and crashes. Editing Instagram posts can be challenging too.
It has also been found that sometimes posts are shared without images and need additional monitoring.
Caitlin
This software is so glitchy. I often have to log out and back in to make features work. Sometimes they disappear altogether, or when I click them, they don't fire.
---
Later is the official partner of Instagram and serves as an excellent Instagram scheduling tool. This software is used by over 1 million users worldwide and comes with loads of handy features. Whether you are an agency, influencer, or a small business, this tool can prove to be quite valuable. Some of the main features include planning and preparing content through a calendar view and previewing them on Laters' Instagram Planner.
Pros
Users can bulk upload posts at one time and sync images from Dropbox, Drive, or even their desktop.
It offers users the ability to track and review performance with its in-built analytics.
There is an added option for eCommerce users to sell products by including Linkin.bio integration.
Laura G
Later has legitimately changed the way I do business and how I think about social media as a whole. Social media is not a burden anymore, but something that I am very intentional with.
Cons
Later is definitely more focused on Instagram and lacks to help you on your overall social media strategy.
Some scheduled Instagram posts are not always processed before being posted. However, this appears to be a fault within the app.
The analytics option available is fairly limited and is nowhere as in-depth as other Instagram scheduling tools offer.
Laura P.
The analytics part would improve if it could give more details about the overall engagement of our profile. This means it would be great if we could have graphics that sum up all the reactions for our stories, posts, and clicks on our link altogether.
---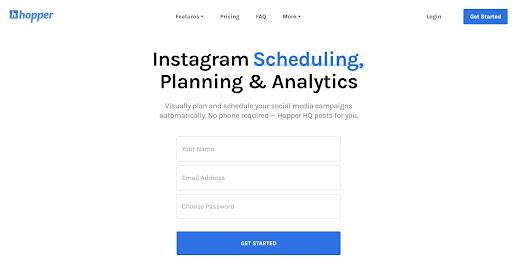 Hopper HQ is one of the simple Instagram scheduling tools for businesses of all sizes. It is an effective Instagram tool that allows you to schedule and prepare posts in advance with editing and uploading posts in bulk. Hopper enables users to post, track and review the analytics of their Instagram activity. Within this Instagram scheduling tool, users can also collaborate with other team members and auto-publish on Instagram.
Pros
It allows teams to collaborate, create, schedule, and bulk post on Instagram, Twitter, and Facebook.
Hopper enables users to post and schedule videos onto carousels on Instagram automatically.
Anne
I find Hopper to have functionality and ease of use that I've not had before. When we have had issues with the software, customer service has always been top-notch!
Cons
Some users have found that the software disconnects from the login details. Regular connectivity check is recommended.
Hopper does not allow the option to tag people within the posts at present.
It can be expensive for influencers and those on a budget to manage multiple accounts on multiple social media.
Cara
It's constantly disconnecting. There is no point in scheduling posts if you have to go back and check that your scheduling tool is working every day.
---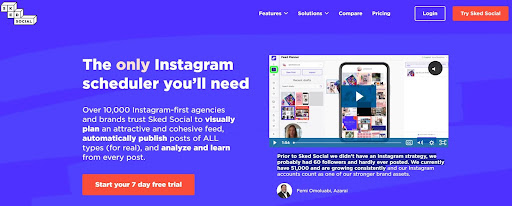 Sked Social is viewed by many to be the all-in-one time-saving tool. This Instagram scheduling tool allows users to schedule, auto-post, and track the performance of every post, along with measuring the ROI of social media efforts.
Like many other Instagram posting tools, Sked Social offers bulk uploading of content. It also comes with an in-app photo editor allowing users to edit both text and filters while adding stickers. Along with the posting of Instagram images, Sked Social has the ability to post on Facebook, Pinterest, YouTube, LinkedIn, and Twitter as stories, carousels, and even videos.
Pros
You can create a Sked link which, on clicking, will show multiple destinations a user can go to.
They offer a free 7-day trial to gauge the platform's functionality better.
It has good in-app photo editing features for adding stickers and overlaid texts.
Alexa
The interface is very fast and is very user-friendly software. It has all the features that you need to post on Instagram. The calendar view allows you to plan ahead of time. I just put the information there, and Sked does all the work for me!
Cons
Some users have found that it would be useful if this scheduling tool offered them the option to edit and update posts before scheduling them.
The monthly cost of Sked Social can rapidly add up if you add more users and social accounts.
Amen
Even though it has IG story options, it doesn't have all the options to add the polls links, which we all know are very powerful. Also, customer support isn't the greatest. I was a loyal customer on an 'old' plan paying £32/month where on their website it's advertised from £19.
---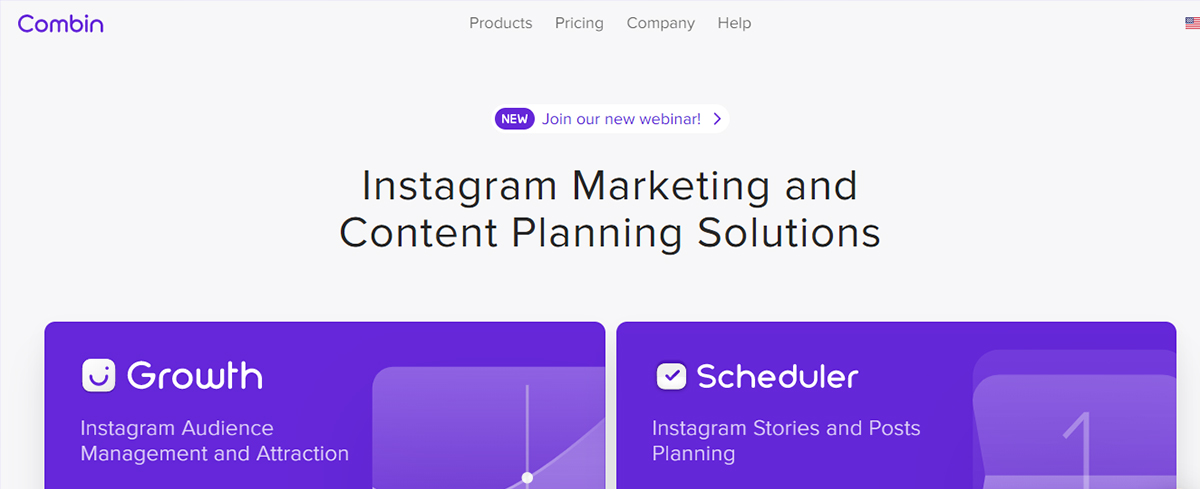 Combin is a free Instagram scheduling tool for those who are unsure of where to start or not yet ready to commit to a more developed app. Not just posts, you can even schedule and post Instagram stories with Combin. It allows users to drag and drop images and combine them, so you create engaging and meaningful stories. Once created, you can publish them directly to your profile. Though the tool is free, you need to pay to add more accounts and use all of its features to their full potential.
Pros
It allows users the option to schedule ahead or post immediately.
Along with creating and scheduling bulk posts, Combin enables users to edit the image sizes.
Users can even choose the locations of followers, so their posts are geo-targeted.
Patrice
I like how much time it saves me from liking photos, commenting, and following users. I like how I can add in my own comments, select specific accounts and hashtags, and automate a lot of the tedious parts of growing an Instagram account.
Cons
It lacks analytics options and the ability to review which followers have engaged with your posts.
Some users have discovered that Instagram will sign them out of their account and regularly ask them to change their password when using Combin.
Free accounts come with limits letting you connect with only a few social profiles.
Patrik
Most features did not work properly. After contacting support and trying their alternative ways, it didn't really change much at all. In the end, it didn't work at all, even to like one image.
---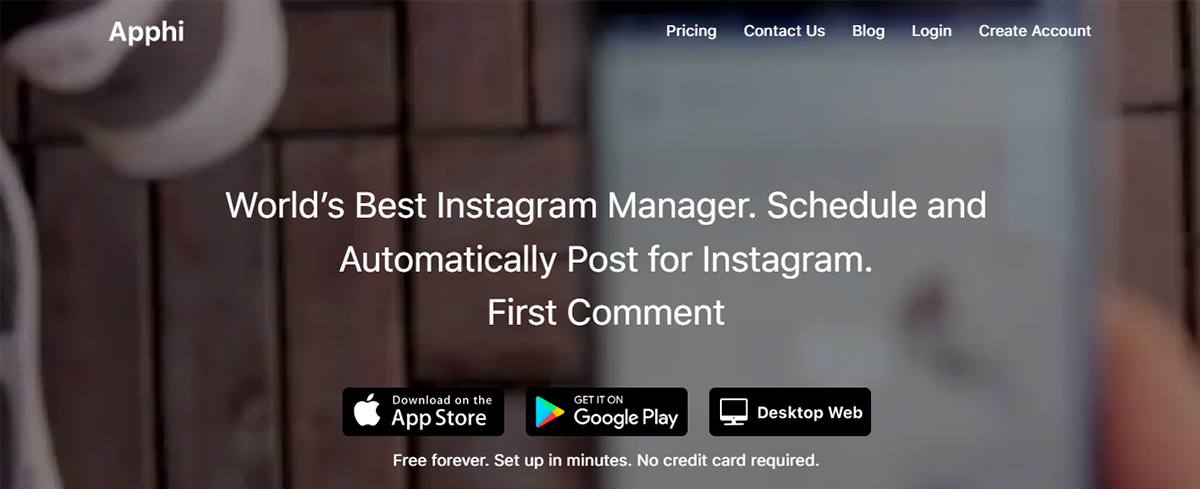 Apphi is a simple tool that allows users to schedule multiple Instagram posts and is ideal for those Instagram users who have tight deadlines. It offers the ability to save their most-used captions and hashtags.
This Instagram scheduling tool can be used on both desktop and mobile and offers an analytics option for Instagram, Facebook, and Twitter. What sets this Instagram software tool apart from others is its ability to schedule not just Instagram posts but also videos, stories, and even IGTVs while receiving valuable information on their followers' activity.
This ensures that the content is being received and is viewed at optimal prime time.
Pros
Along with scheduling posts on Instagram, Apphi allows users to schedule videos, stories, and IGTVs.
Users can also gain insight into their followers' activity to ensure that they share content at prime time.
Manage Instagram, Facebook, and Twitter from a single place.
Helen
I have been using this app for a few days now, managing more than one IG account, and when they say you can schedule your posts in advance, you literally plan, schedule, and then forget about it. It does it for you!
Cons
Many users have found that auto-scheduling doesn't always work.
Some users complain that their Instagram accounts were blocked because of this third-party app usage.
Customer service is not always helpful for fixing and recommending a solution to the bugs and failures within the tool.
Ella
However, the auto-post doesn't work for me as whenever I schedule something to post after it's supposed to have been posted, it just says expired and doesn't post, even though I haven't used any of my free auto-posts.
---

Iconosquare is an excellent Instagram scheduling tool that is also known for its robust analytics. You can use it for scheduling posts, monitor your competitors, and work earnestly towards community building for your brand.
You can keep track of diversified analytics like post impressions, reach, and trends related to engagement. You can even use its hashtag tracking feature to get better visibility.
Pros
You can use this tool for getting Instagram story analytics.
The interface is quite intuitive and can be used by anyone.
It also lists demographic details of your content.
Eirik V J
I love the simplicity and the impressive underlying data set and all the great analytics that they share. I also enjoy the fact that I can dig into the data as deeply as I want.
Cons
You need to resize images if you are using Iconosquare for scheduling and posting.
Multiple breakups of categories and content can be overwhelming.
Devyn D
Some of the categorizations of features are a little confusing. The names of the categories are not necessarily user-friendly, but once you get the hang of it, it's fine.
With the functions of Instagram constantly changing and our priorities switching, using a tool is a must for upscaling. They help you stay relevant with the latest advances.
Along with making sure that your chosen tool can complete the essential tasks, finding a tool on an appropriate budget is crucial too. They keep your marketing efforts in line with your company's requirements and support your ever-growing needs at all times.
Whether you are looking for a free, straightforward, or multi-functional tool that can review the trending hashtags, inform you of your audience's activities while recommending the best time and date to post, the tools listed above will surely come to your rescue.
If you want a tool that gives you the master control of every major social media platform, then SocialPilot is the ultimate choice. Take its free trial and let us know your first-hand experience of using it.